On the occasion of its 100th anniversary, the Warner studio is bringing its greatest classics to the cinema. Among them, "Joker", worn by a Joaquin Phoenix at the top of his game.
What is it about ? The film, which tells an original story never before seen on the big screen, focuses on the emblematic figure of Batman's sworn enemy. He paints the portrait of Arthur Fleck, an uncompromising man despised by society.
Critical and commercial success
Released in 2019, Joker was a phenomenal success: with an estimated budget of $55 million (which pales in comparison to the usual superhero blockbusters eyeing around $200 million), Todd Phillips' film has exceeded $1 billion in worldwide revenue.
Film critics and spectators were also generally won over. This is evidenced by the feature film's press rating of 4.1/5 (on AlloCiné, for 44 critics) and its spectator rating of 4.4/5 (which makes it the best DC film since The Dark Knight, which has a rating of 4.5).
In addition, Joker won the Golden Lion in Venice, an extremely rare event in the superhero genre. Joaquin Phoenix was then, among other things, crowned with the Oscar for Best Actor (a first for a comic book adaptation, Heath Ledger having received the Oscar for Best Supporting Actor).
Weight loss for Joaquin Phoenix
To interpret the Joker, Joaquin Phoenix lost weight until he was just skin and bones. He had already been subject to such discipline for The Master (2013), where he had made sure to weigh 15 kilos less. For the Todd Phillips film, he lost 25 kilos!
"The first thing you had to do was lose weight. That's where I started. Because it actually affects your psychology. You start going crazy when you lose that much weight. weight in such a short time. (…) This way of life was horrible"said Phoenix.
Martin Scorsese as inspiration
Todd Phillips claims several influences for his Joker. First, Taxi Driver, Raging Bull and La Valse des puppets by Martin Scorsese. The comic book The Killing Joke was also a source of inspiration for the filmmaker, who preferred to create an original story rather than adapting a DC Comics comic book.
Moreover, in Joker, Robert De Niro plays Murray Franklin, an arrogant television host close to the character played by Jerry Lewis in The Waltz of the puppets by Scorsese. In this film, De Niro plays Rupert Pupkin, a failed comic who decides to kidnap this presenter who also turns out to be his idol.
Things are very different in Todd Phillips' feature film, since this time it's De Niro who plays a detestable small screen magnate (while Joaquin Phoenix plays the comedian/loser clown)!
Tensions between Phoenix and De Niro
According to director Todd Phillips, there was some tension between Joaquin Phoenix and Robert De Niro ahead of the filming of Joker. Scorsese's favorite actor wanted to read the script before filming, something that Phoenix hates. Under the impulse of the filmmaker, the interpreter of the Joker has all the same lent himself to the exercise, without putting in his own.
This greatly annoyed De Niro, prompting some somewhat heated explanations between the two stars. In the end, the actors kept their distance during filming and didn't talk much to each other. Opposed in the narrative of the feature film, these tensions undoubtedly contributed to the credibility of their respective characters and their relationships. Long live the actor's studio!
Joaquin Phoenix talks about the Joker
Joaquin Phoenix talks about his choice to accept the role of the Joker: "As always, I take a lot of time to choose a role. My way of doing it is obviously to read a script, meet the director and continue to meet [Todd Phillips] to discuss. I find him impressive, he knows this universe well and knows what he wants to tell about it."
"It seems unique to me, it's almost a world apart that he created, and it scares me, somewhere. Three or four years ago, I called my agent to ask him why [les producteurs] did not take a [personnage de comicbook] to make it a lower budget movie that's a character study, and why not about a supervillain?"
"I thought I couldn't do the Joker because it had already been done, so I was trying to find other characters and [mon agent] wanted to organize a meeting with people from Warner Bros; i said i can't go on this kind of date… so i forgot [ce projet] until i heard about this idea [de film solo sur le Joker] which excited me."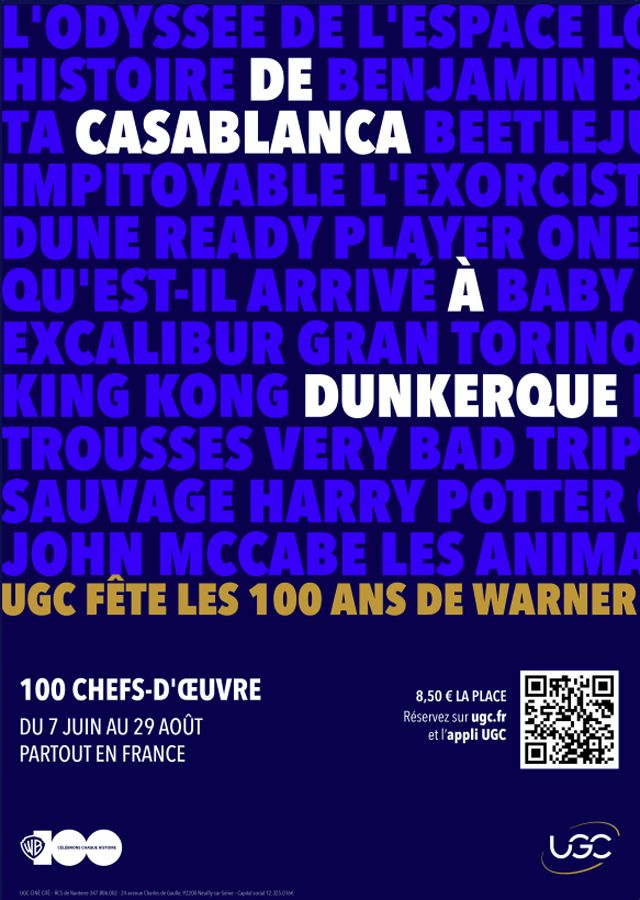 From June 7 to August 29, UGC cinemas are celebrating 100 years of Warner Bros., with an exceptional program of 100 studio masterpieces in 20 UGC cinemas across France, all summer long, at the price of 8, €5 per seat.
All the programming on ugc.fr:
UGC Ciné Cité les Halles: 1 film per day, i.e. 84 films during the summer and various events and entertainment to accompany this anniversary program
UCG Ciné Cité Bercy: exceptional retrospectives around franchises and filmmakers (The Lord of the Rings, Christopher Nolan, DC universe, etc.)
Dedicated programming in 18 cinemas across France on Saturday and Sunday evenings: UGC Ciné Cité Vélizy, UGC Ciné Cité Créteil, UGC Ciné Cité Cergy, UGC Issy les Moulineaux, UGC Ciné Cité La Défense, UGC Ciné Cité SQY Ouest, UGC Ciné Cité Rosny, UGC Ciné Cité Parly, UGC Ciné Cité Noisy-le-Grand, UGC Ciné Cité Part-Dieu (Lyon), UGC Ciné Internationale City (Lyon), UGC Ciné Cité Atlantis (Nantes), UGC Ciné Cité Bordeaux, UGC Ciné Cité Bassins à flot (Bordeaux), UGC Talence (Bordeaux), UGC Ciné Cité Lille, UGC Ciné Cité Strasbourg, UGC Nancy.