A raw power of 22 TFLOPs for the future GeForce RTX 4060 Ti
Next graphics cards from NVIDIA will they have enough fishing to convince video game enthusiasts?
In a few weeks, we should be able to count on the GeForce RTX 4070s so that NVIDIA's Ada Lovelace generation will be a little more affordable… while we wait for the arrival of the RTX 4060 and 4060 Ti.
22 TFLOPs on the 4060 Ti, 15 TFLOPs on the 4060?
According to the latest news, these two models could be marketed at the very beginning of the summer – or even as early as May – and the first technical information is slowly beginning to reach us.
Of course, NVIDIA isn't used to revealing the technical details of its GPUs so soon, so these are still just rumors. Rumors whose source is reliable and which advance credible elements such as this raw power of 22 TFLOPs for the RTX 4060 Ti while it would still be 15 TFLOPs in the case of the RTX 4060.
On the first, this represents 3.7x less computing power than the RTX 4090, while its little sister would be 5.5x less beefy than the flagship model of the Lovelace generation.
Power calculations which are based in particular on the clock frequency of the GPU of the RTX 4060 Ti. Thus, based on the reference model, we are talking about 2,310 MHz while the boost frequency would reach 2,535 MHz.
We don't yet know for sure if NVIDIA is considering releasing a Founders Edition for this reference, but the source from our colleagues at Videocardz says on Twitter that the custom RTX 4060 Ti – the partner cards – will be able to reach 2,685 MHz in boost.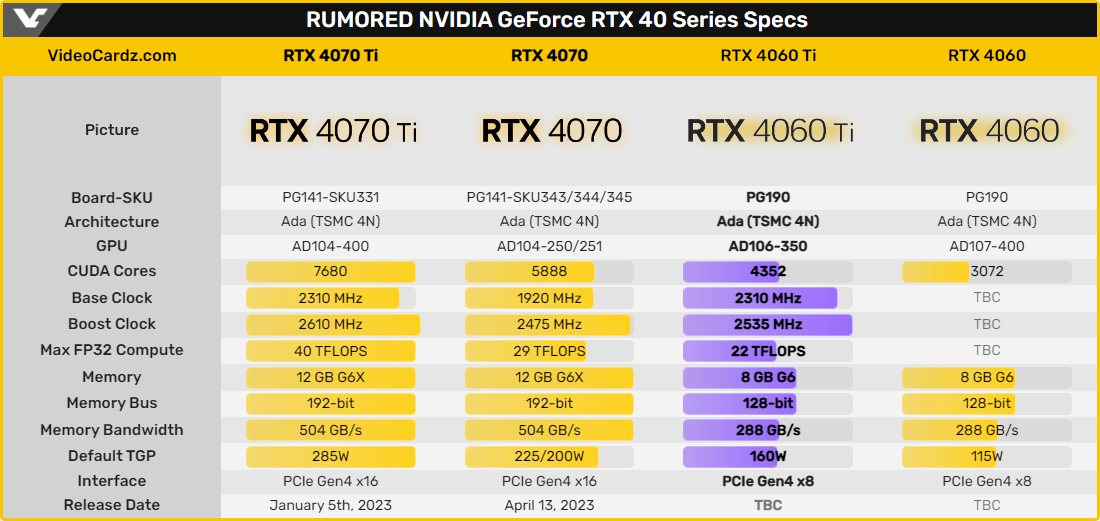 We will not know more for the moment, but remember that the RTX 4060 and 4060 Ti are supposed to be distinguished by a much lower cost linked, in particular, to a reduced memory subsystem: 8 GB of GDDR6 on a 128 bus -bit for 288 GB/s bandwidth. It still seems a bit low, doesn't it?
Graphic card

Computer science

PC components

NVIDIA