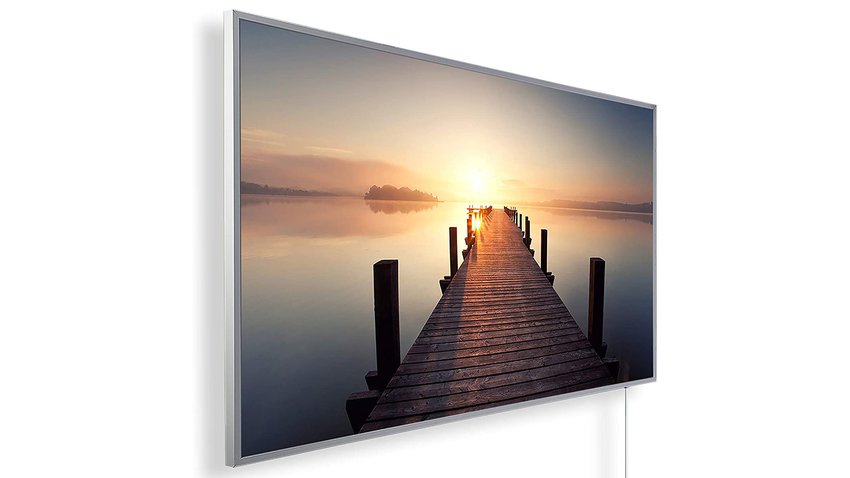 ---
If you are currently looking for an alternative to your gas heater that you can control much better and that is not so noticeable in the room, then an infrared heater could be something for you. At Amazon you can currently get a picture heater with different motifs a little cheaper.
Amazon sells infrared heaters with different motifs cheaper
Infrared heaters are currently very popular because they can be installed without any problems and heat up you and objects in a fairly targeted manner instead of the air. If you don't want white infrared heating hanging on the wall, but would rather have a picture, then Könighaus will provide you with just such a solution. Currently there is the infrared heater with mural motif and one Output of 1,000 watts with a 5 percent discount for only 237.40 euros (view at Amazon). You can choose from many different themes.
Such a 1,000 watt infrared heater can supply a room with 14 to 26 square meters. There is also a smart home thermostat that you can even control with your cell phone. In this way, the performance can be regulated individually. An infrared heater without a picture motif is only slightly cheaper at 200 euros (view at Amazon).
A balcony power plant can provide the necessary energy:
For whom is infrared heating worthwhile?
Infrared heaters have often been used in places where no other heating is available and cannot be installed because it would be far too expensive. For example, hobby rooms, basements, storage rooms and the like. The big advantage of an infrared heater is that it is simply plugged into the socket and generates heat immediately. This is particularly worthwhile for people who have a photovoltaic system, where the required electricity comes from. But also if you want to heat very specifically. Then the power consumption is limited and you don't have to wait until the gas heater has fed the heated water into the radiator of the room. But many people just like the warmth of infrared heating, as it heats the body directly, not the air around it. That's very efficient. Infrared heating is therefore worthwhile – but not for everyone.