With the PinePhone Pro, Pin64 would like a, with Open source Linux operating system equipped, smartphone put on the market, which one better hardware than its predecessor, the PinePhone, offers. Comparison with the top dogs from Apple, Samsung, Huawei and Co. is the The gap is still quite big. After the announcement in October last year, the device end of the month shipped in the US.
Hardware corresponds to entry level
The selection of matching components is not so easy for the manufacturer Pin64 in this case, since most of the large chip manufacturers such as Qualcomm or Samsung do not release open drivers or schematics want. However, these are required if the device is designed for the desired Open source principle should work.
In the PinePhone Pro, the choice is therefore on the less well-known ones Rockchip RK3399 as SoC fallen that over two Cortex-A72 CPUs and four Cortex-A53 CPUs has. According to initial assessments, the processor should have roughly the same performance as mid-range SoCs from Qualcomm from the year 2o16 correspond.
The other technical data of the device are also more in the entry-level range. The phone has a 6 inch LCD screen with 1440 × 720 pixels (HD), 4 GB RAM, 128 GB eMMC memory and one 3,000 mAh battery. There's a USB-C port with 15W charging power, a headphone jack, a 13 MP main camera and an 8 MP front camera.
variety of additional interfaces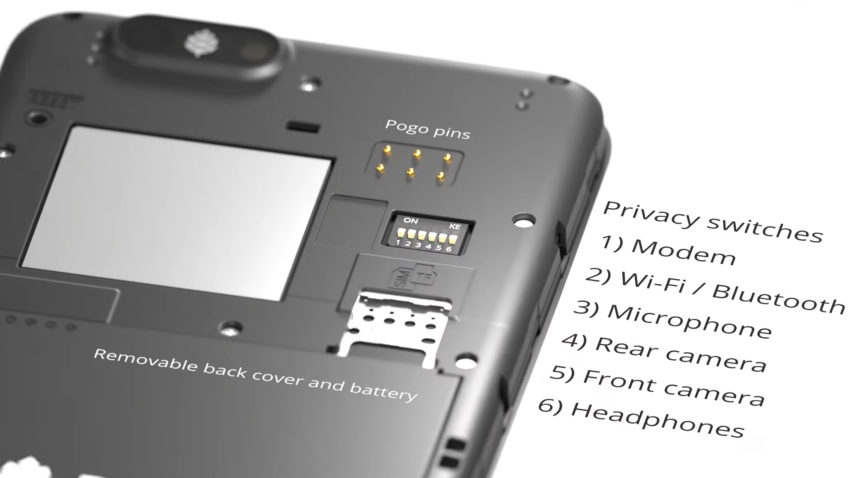 It is remarkable, however, that the back cover can be removed and thereby both the Replace battery, as well as the internal storage can be upgraded via a microSD slot. Together with the headphone jack almost a certain retro charm is created.
There is also a series of Privacy DIP switches, with which you can connect the modem, Wi-Fi/Bluetooth, microphone, rear camera, front camera and headphones switch off can. They are just as accessible as pogo pins.
the pogo pins support a variety of attachable backsthat are compatible with both the original PinePhone and the PinePhone Pro. For example there is none built-in biometrics, but Pine64 sells a $25 backboard with one capacitive fingerprint reader. There is no wireless charging, but a $10 backplane can be purchased that adds this feature. The fanciest option is a $50Keyboard case with a 6,000 mAh battery. This turns the cell phone into one mini laptop.
Open source principle probably only suitable for a certain audience
As for the software, thanks to the Open source principle, leaving it up to the user what is to be loaded onto the device. But the clear target group is Linux enthusiasts, ready to work with some rough edges. The original PinePhone, which is still for the price of $150 available will continue to be produced. The delivery of Pro model starts on January 24th.
Source: arstechnica.com