Benjamin Brière, a Frenchman arrested in Iran in May 2020, has started a hunger strike to denounce his imprisonment and the espionage charges against him.
Saturday, they were a hundred at the Trocadero, in Paris, to proclaim: "Free Ben". This rally, organized by the family of Benjamin Brière, aimed to draw attention to the fate of this 36-year-old French tourist arrested in Iran in May 2020 while he was crossing the country in a van, and since then put in examination for "espionage" and "propaganda against the system". "This gathering made us very, very heartwarming, it showed that we were not the only ones to be outraged by such a situation. It did us a lot of good and allowed us to support Benjamin, to insist on the fact that today he is putting his health in danger. Saturday, we were at 15th day of the hunger strike, it was something important to stand up for. We all fight for him and we support him. We wanted to make as many people as possible understand that he must get out of there as quickly as possible, "explained Blandine, his sister, who launched an online petition to demand his release, denouncing in particular the fact that he did not has still not been heard by a judge since his arrest. "He puts his health and his life on the line because he only has that left to protest against the human rights abuses he is suffering."
"He's pretty determined in his hunger strike, even if it's starting to be very difficult for him. He needs to protest from where he is and act as he can, "she added. The thirty-something started this protest against the refusal of the management of Mashhad's Vakilabad prison to let him call his relatives for Christmas. But in normal times, Blandine Brière sometimes has direct news from her brother: "I am often told the day before or even in the morning to call at noon sharp the number of a telephone in an office near her cell, which picks up or not at their whim. He can call his lawyer and the consul almost whenever he wants. I also have news via the Quai d'Orsay. " Since his incarceration, Benjamin Brière has received a visit from the French consul "every two to three months", for 45 minutes during which "he transmits letters in both directions".
"The first time I got him on the phone he was completely scared, and so were we."
His family insists: the accusations of espionage against Benjamin Brière are unfounded. "Benjamin is in events, in the organization of shows, he has been working abroad for more than 10 years. One day he decided to build his van. He returned to France and arranged it in our parents' garden, in the Parisian suburbs, and he left for the Nordic countries, then in September 2019 to the East. He arrived in Iran in December 2019 and clearly fell in love with this country, under the spell of the people he met, "Blandine told us. He was arrested in a national park in northeastern Iran, accused of taking pictures with a drone: "The first time I got him on the phone, he was completely scared, and so were we. The call was recorded, he kept repeating: "I'm fine, don't worry". He was completely lost. " And if they are in regular contact with the Ministry of Foreign Affairs, the relatives of the imprisoned thirty-something feel helpless: "I know they are doing what they can to change the situation but it is not enough, we asks them much more because we have nothing to cling to, no perspective of evolution on the future of Benjamin. "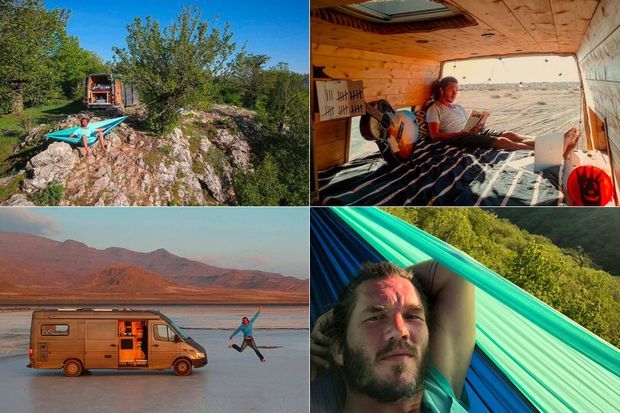 The Frenchman is the only Westerner detained in Iran who does not have Iranian nationality. Franco-Iranian researcher Fariba Adelkhah has been under house arrest since October 2020, nearly a year and a half after her arrest with her companion and colleague Roland Marchal. Fariba Adelkhah was sentenced to five years in prison for attacks against national security and Roland Marchal was released in March 2020 in exchange for the release of the Iranian engineer Jallal Rohollahejad – whose extradition the United States was asking for. US sanctions on Iran. "Today he is taken hostage by the Iranian authorities. He is illegally detained, Iranian justice has still not decided which court will judge him, 20 months after his arrest, "says Blandine Brière in the petition. "The Iranians know that Benjamin did nothing. It is a bargaining chip ".
Any reproduction prohibited