Your new laptop has very limited connectivity? Are you looking for a USB-C Hub for your Windows PC or your new Macbook? You have come to the right place. In this buying guide, we have selected the best USB-C docks on the market. Follow the guide.
Our selection of the best USB-C Hubs in 2022
Dell D6000 Docking Station
The times are changing. Nowadays, traditional USB-A connectors are gradually being replaced by USB-C ports. Many laptops on the market, including the latest Apple MacBooks, even bet only on USB-C. To be able to connect all of your peripherals, you will therefore need to find a simple and effective solution. To avoid piles of wires and various adapters on your desk, we advise you to opt for one of these USB-C hubs. With a single object, you can greatly improve the connectivity of your laptop. But not all Hubs are created equal. We have therefore sorted out the best solutions on the market for you.
Amazon Basics 10-Port USB-C Hub
Amazon Basics 10-Port USB-C Hub at the best price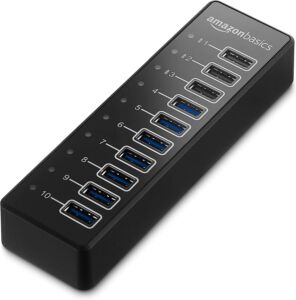 Amazon

42.21€

Discover the offer
This Amazon hub is distinguished by the presence of 10 USB-A ports. 7 of these ports are USB-A 3.1 with data transfer speeds of up to 5 Gb/s. The 3 other USB-A ports allow fast charging of your devices but also the transfer of data. The other particularity of this Hub is to require a 220V power supply. This will allow you to connect many self-powered external hard drives to the Hub.
Sold around 40 euros, the Hub is mainly aimed at users wishing to connect devices connected by USB-A, such as a tablet, a smartphone or a USB key, to the same place. It compensates for the lack of USB-A ports on your machine, whether when travelling, in the office or at home.
On the other hand, it obviously lacks versatility since it only offers USB-A ports. It is therefore incompatible with peripherals such as external HDMI screens for example. Finally, we will regret its design entirely made of plastic.
| The + | The – |
| --- | --- |
| A decent price for a very handy tool | Only USB-A ports |
| 10 USB-A ports | Requires 220V power supply |
| 3 fast charging ports | Cheap plastic design |
Vava 8-in-1 USB-C Hub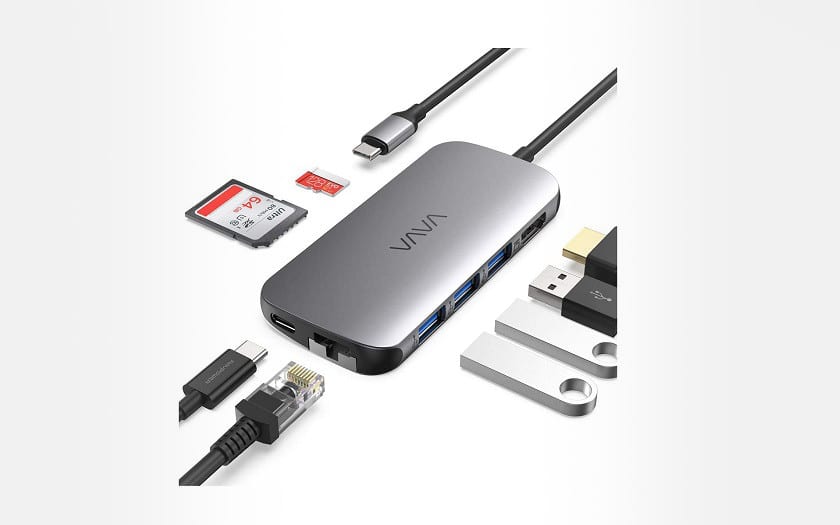 Versatile and ultra-complete, the Vava VA-UC006 has a USB-C port (ideal for charging your PC in parallel), an Ethernet socket, an SD card reader, a MicroSD card reader and three ports USB-A. It should be enough to unclog your desk with all the unnecessary cables.
In addition, it will delight users of an external screen thanks to its 4K UHD and Full HD compatible HDMI port. It only disappoints with its maximum throughput of 60W. It will therefore be reserved for the least energy-intensive PCs. It is available at a price of around 30 euros.
| The + | The – |
| --- | --- |
| Versatile | Single USB-C port |
| A nice aluminum design with a nice premium effect | A flow of only 60W |
| An Ethernet port, which is rare enough to be underlined | |
Hyperdrive 8-in-2 Dual USB-C Hub
Dual Hub USB-C Hyperdrive 8-in-2 at the best price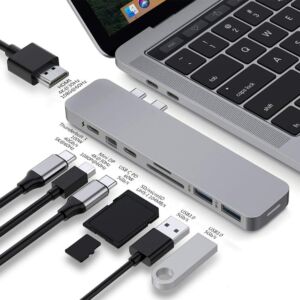 Shopping street

65.58€

Discover the offer

Amazon

65.93€

Discover the offer

Cdiscount

66.26€

Discover the offer

Fnac

129.99€

Discover the offer
We continue on the high end with the 8-in-2 USB-C Hub sold by Hyperdrive. This quality dock consists of two USB-C ports, two USB-A 3.1 ports, an HDMI port, an SD card port and a final microSD card connector. Very complete, it disappoints only by the absence of an Ethernet port and by only 2 USB-A ports. On the other hand, we will appreciate the presence of two USB-C sockets, one of which is obviously dedicated to recharging the computer.
This is a major asset, especially since the port is compatible with 100W charging. It's perfect for the most powerful PCs on the market. Finally, the station stands out from the competition with its beautiful aluminum design which will especially delight Macbook users. The hub is sold for less than 70 euros at the moment.
| The + | The – |
| --- | --- |
| Compatible with 100W charging | Only 2 USB-A ports |
| 2 USB-C ports | No Ethernet port |
Dell D6000 Docking Station
Dell D6000 docking station at the best price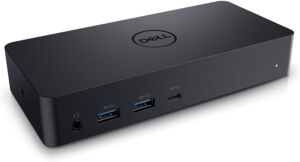 Cdiscount

98€

Discover the offer

Amazon

248€

Discover the offer
High end orientedthis USB-C dock from Dell is made up of four USB-A sockets, a USB-C socket, an HDMI socket and two Display Ports for video, a Gigabit Ethernet socket, and two jack sockets for connecting headphones, speakers or headphones. Self-powered, this quality docking station will not eat into your computer's battery. She offers a 65 watt charging powerwhich should suffice for most PCs/Macs.
The station also allows you to charge your smartphone, tablet or wireless headphones without having to go through an additional charger. It's the ideal dock for the busiest desks, whether with audio or video equipment. Sober but elegant, it sold for less than 100 euros currently on Cdiscount. To be reserved for image and audio professionals.
| The + | The – |
| --- | --- |
| Two display ports | The price |
| Two jack sockets | |
| Self-powered, it does not drain power from your PC | |
UGREEN 100W USB-C hub
UGREEN 100W USB C hub at the best price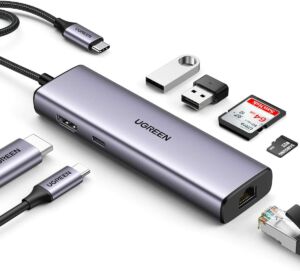 Amazon

39.99€

Discover the offer
The Ugreen brand is a brand recognized for its quality cables but also its USB-C hubs. For less than 40 euros, this hub offers great versatility with an Ethernet port to benefit from an ultra-fast internet connection, a 4K HDMI port compatible with DisplayPort Alt mode or Thunderbolt 3/4 to connect an external screen, a 100W USB-C charging, two USB 3.0 ports with transfer speed up to 5 Gbps and 2 SD and Micro SD card slots.
The only defect of this hub, the USB-C port does not allow data to be transmitted. It is only a charging port.
| The + | The – |
| --- | --- |
| Good value for money | No USB-C port |
| Versatile hub | |
| Good build quality | |
🤔 How many USB ports for my hub?
It all depends on the hardware, accessories and peripherals you are going to plug into your computer. Before falling for a particular model, list the connectors you will need on your desktop : Ethernet, USB, Micro SD, HDMI… As announced, everything really depends on your uses and your peripheral habits. Before opting for a hub, also try to anticipate future changes to your set up (additions, transformations, etc.) so that you don't have to go back to checkout in a few months.
It also depends on the connections already present on your computer. If the one offered on your machine is poor, we advise you to compensate with a versatile station, including in particular several USB-C. If your PC is already well equipped, you can settle for a more modest station.
🤷 ♂️ What flow?
The other point to consider before buying a hub is the speed. To plug in and power a small laptop computer, such as a MacBook Air or Chromebook, a flow of 60W will be sufficient. On the other hand, if you are equipped with a MacBook Pro or a gaming PC, we invite you to count on a speed of 100W.
Similarly, we will reserve the 60W for the less complete stations, with only a few USB ports for example. Hubs with different types of ports, HDMI or VGA, generally need higher throughput.
💰 What budget to buy a good USB-C hub?
For a basic USB-C hub, with essentially USB-A ports or even an additional USB-C port, you don't need to invest huge sums. You will easily find your happiness between 15 and 30 euros. Unsurprisingly, the price climbs quickly depending on the connectors integrated into the hub.
The more complete solutions turn between 40 and 80 € of investment. More high-end and high-performance solutions sometimes exceed this threshold by integrating features such as self-powered charging or rarer connectors (like DisplayPort).
Sometimes the design and materials used also drive up the price. We hope that this buying guide for the best USB-C hubs will help you find what you're looking for. If you have any other suggestions, or if an error has crept into this guide, please let us know in the comments below.
Our other computer buying guides