Tuesday, February 23, 2021
Bitcoin collapses



Nasdaq recovers from heavy losses
The fall follows the record high: the Bitcoin rate is falling sharply. In addition, technology stocks in particular are being sold violently at times and the Nasdaq is falling. After a speech by the US Federal Reserve Chairman in the US Senate, however, a recovery movement has started.
The prospect of a further economic supportive monetary policy by the US Federal Reserve still drove the prices on Wall Street on Tuesday in the final spurt. The U.S. Standard Values ​​Index Dow Jones rose by 0.1 percent to 31,537 points. The broad one S&P 500 increased by 0.2 percent to 3881 points. The technology-heavy one Nasdaq ended the trade, however, 0.5 percent lower at 13,465 points after it had meanwhile dropped by almost four percent. For a long time, the Dow and the S&P 500 had initially trended in the red.
"In a deflationary environment, as we are experiencing with the Corona crisis, investors have so far found a safe haven, especially in technology stocks, as this sector has to struggle with rapidly falling prices", said analyst Jochen Stanzl from the online broker CMC Markets said. "But when inflation expectations and interest rates suddenly rise, they consequently flee from those stocks that have done best."
A few hours before close of trading, however, confirmed Federal Reserve Chairman Jerome Powellthat his house will hold on to their current security purchases for the foreseeable future in order to stimulate the economy. The economic recovery continues to be "inconsistent and far from over," he said at his semi-annual hearing before the US Congress. It will be some time before the Federal Reserve will consider changing its monetary policy to help the country get back to full employment.
Bitcoin drop in price pulls Tesla into the red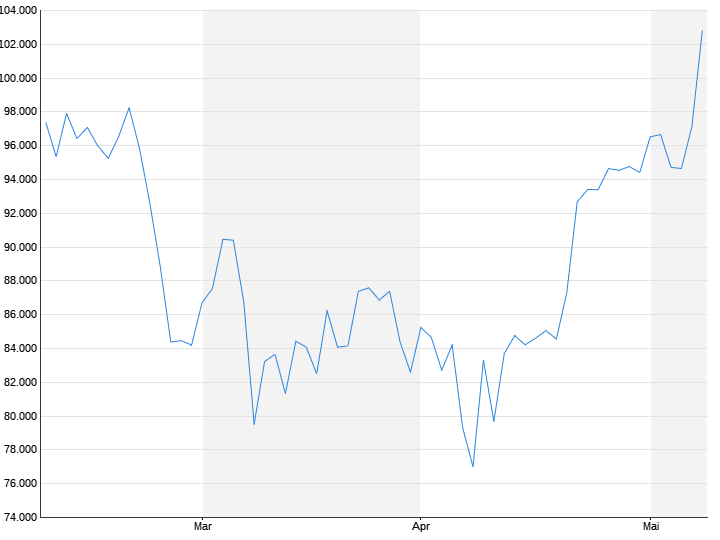 Bitcoin went steeply downhill. The cyber currency temporarily fell to just under $ 45,000, around a quarter below its record high on Monday. "The market was ripe for a sharp correction after its previous parabolic surge," said Neil Wilson, chief analyst at online broker Markets.com. Then the title of electric car maker closed Tesla, who made a major contribution to the latest cryptocurrency rally with the announcement of a billion-dollar investment in Bitcoin, two percent weaker. In early trading, however, they were still around 13 percent in the red.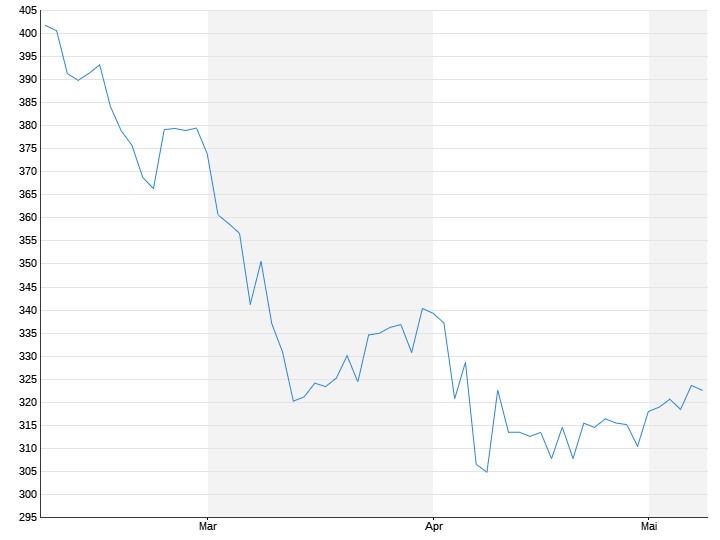 Papers from were also under pressure to sell Home Depot, which were cheaper by three percent. The hardware store chain presented a solid quarterly result, said Jonathan Matuszewski from the investment bank Jefferies. However, the vague and cautious outlook is disappointing. The planned reopening of the cinemas in New York brought AMC on the other hand a price jump of more than 17 percent. The announcement is one of the few glimmers of hope for cinema operators who have been shaken more than most others by the coronavirus pandemic in recent months, said a stockbroker.
.