Investing.com – Bitcoin, & Co has been in a lean period for over a year, with cryptocurrencies not hitting all-time highs.
It was the Fed's monetary policy tightening that drove stocks and cryptos down. Cryptocurrencies were particularly hard hit, however, as as early as May, the collapse of crypto threatened entire ecosystems. At that time, we thought that the situation could not be worse.
But the great savior, Sam Bankman-Fried, who has backed struggling projects with hundreds of millions of dollars, has himself made a few mistakes juggling multi-billion values. Mistakes that imploded his own empire and permanently undermined confidence in the cryptocurrency industry. In his multi-billion dollar ventures were also involved some institutional investors who now have to write off their holdings.
Even bitcoin advocates, like Galaxy Digital CEO Mike Novogratz, are now being forced to lower their expectations for the market's future.
Less than six months ago, Novogratz estimated that bitcoin would hit the magic $500,000 mark within the next five years. Even Terra's collapse failed to deter him from maintaining that price target.
But FTX has changed everything, so today he renounces this prognosis. He continues to trust BTC to reach $500,000, but not in the next five years.
The founder of Mobius Capital Partners, Mark Mobius, believes that difficult times lie ahead for bitcoin. As reports of a possible bottom formation mount, he believes it is likely that BTC will test the $10,000 mark in 2023.
This is because holding cryptocurrencies has become less attractive with the fall of FTX. In times of low central bank interest rates, crypto-yield projects have flourished, promising returns of 5% and more for holding crypto. However, this ecosystem was largely based on FTX and now seems doomed, as Mobius reported:
"There were a number of crypto-deposit offers that promised returns of 5% or more. But many companies offering such interest rates went bankrupt, especially because of FTX.

If this trend continues, users will give up these interests out of fear and not invest in crypto-coins."
Bitcoin price technical benchmarks
Currently trading around $16,953, bitcoin is currently down -0.77%, while the weekly gain stands at 3.01%.
The cryptocurrency was unable to confirm the November 30 rise above the 23.6 percent Fibo retracement as yesterday the day's close price was just below $16,986. The market therefore seems ready for further losses, which means that we can expect a test of the November 21 low at $15,504.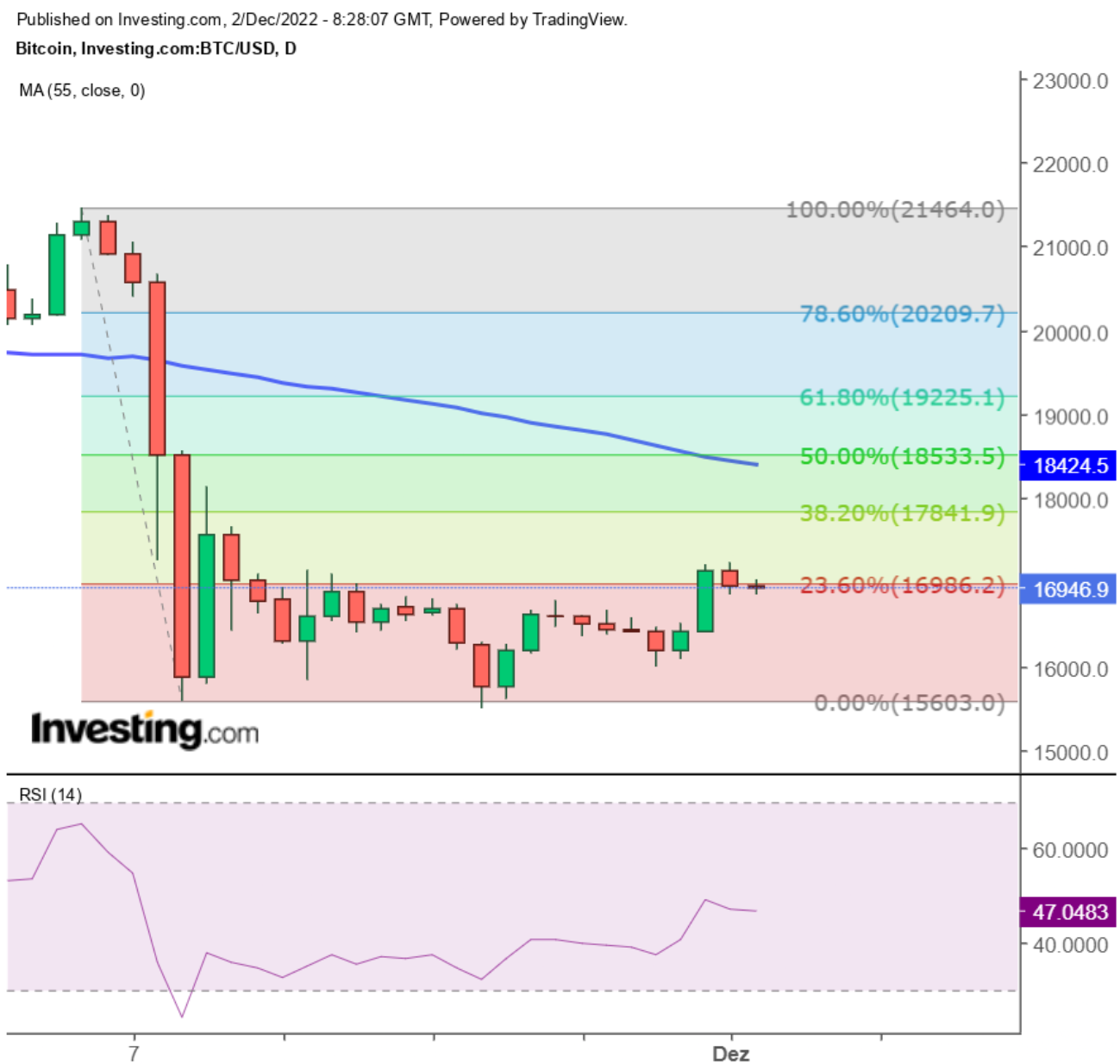 Only on a sustained rise above the 23.6% Fibo retracement will the 38.2% Fibo retracement of $17,841, the 55-day MA of $18,424 and the 50% Fibo retracement of $18,533 may be covered.
By Marco Oehrl