Investing.com – The collapse of FTX has offered Bitcoin, the world's largest cryptocurrency, a new cycle low. The rest of the market reacted similarly, as confidence in BTC & Co suffered significantly. What really happened, however, has not been clarified beyond doubt until today.
Both Binance and Sam Bankman-Fried's incompetence are considered possible causes, but there is also another more than plausible explanation.
Binance Founder and CEO Changpeng Zhao (CZ) recently denied being responsible for the debacle – there is no competition between exchanges. He thus defends himself against the accusation that he was the one who brought down FTX to supposedly take market share from Sam Bankman-Fried (SBF).
CZ argues that the market is simply so huge that it would be foolish at this point to steal each other's customers:
"We don't care about competitors because it's a waste of time and resources. The industry has only reached 6 percent market saturation. Our goal is that multiple exchanges, different blockchains, different wallets , etc. coexist in the same ecosystem".
From his point of view, it is SBF himself who has brought discredit to the entire sector by his actions:
"SBF is one of the biggest con artists in history and a master of manipulation. He knows how to deliberately mislead the media and key opinion makers."
Morgan Creek Capital CEO Mark Yusko fully agrees that SBF is a scammer:
"I am 100% convinced of this and I have proof of this. I myself am a big investor in one of the companies that he directly defrauded".
From his point of view, SBF had not lost the financial overview, as the latter makes known through the media. Yusko assumes that the rise and fall of FTX was planned from the start.
A staging that was intended to lay the first stone of global regulation. Take back control, defend central bank supremacy, and make CBDCs a success story.
The goal of the blockchain movement, however, is independence from governments and banks. A goal that made people smile ten years ago, but which can increasingly become a real threat, as Yusko explains:
"The fact that SBF is doing a press tour and not being in a jail cell is inconceivable.

It's arguably possible that someone intended to set an example so that regulators could step in and punish the industry…this disaster is a fraud which I assume was committed by someone who is above the useful idiot".
Yusko assumes that some American politicians are involved in this affair. SBF declared with great media fanfare before the collapse of FTX that it would donate a billion dollars for the next American election campaigns. If so much money had to be paid out already, what happened unofficially? Why did FTX invest in the almost insignificant Farmington State Bank, whose deposits suddenly increased by 700 percent?
According to Yusko, this is precisely the starting point for targeted money laundering and therefore he assumes that a large part of the $ 8 billion in customer money that disappeared was transferred to their new owners by this bias and other similar channels.
Technical benchmarks of the course of the
Bitcoin is currently losing -1.41% with a price of $16,761, while the weekly loss stands at -0.75%.
The cryptocurrency managed to bail out of the safe zone yesterday, closing the day above the 23.6%t Fibo retracement at $16,986. Today, however, the negative momentum has increased and the price is thus on a downward move towards the November 28th low, which offers support at $16,013.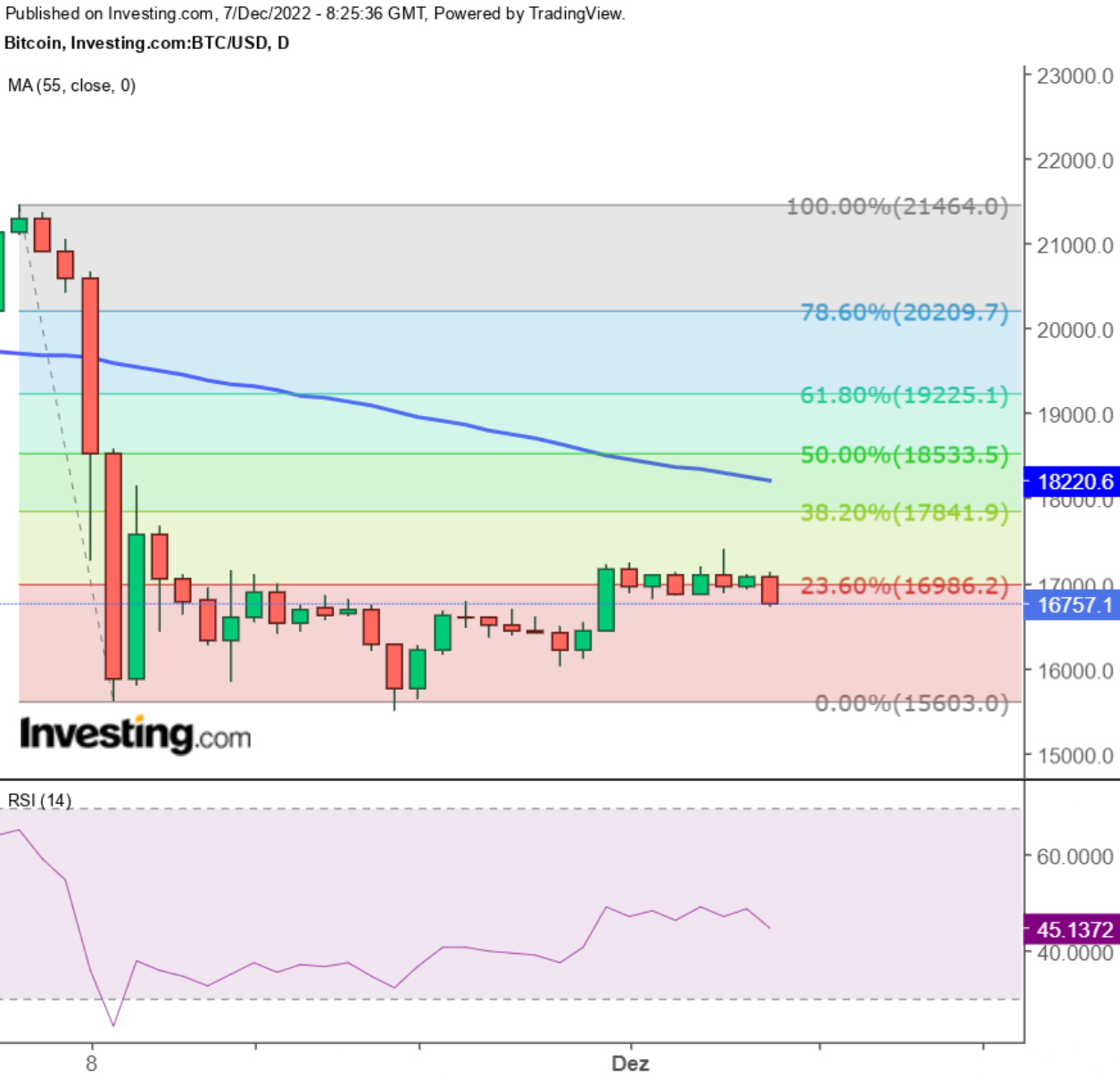 If this threshold is crossed, attention will shift to the cycle low of $15,504, formed on November 21st.
Only a durable and confirmed daily close above the 23.6% Fibo retracement will allow a recovery towards the 38.2% Fibo retracement at $17,841. Beyond that, the next resistances are at the 55-day MA at $18,220, followed by the 50% Fibo retracement at $18,533.
By Marco Oehrl