Bitcoin reverses post-Fed losses despite SEC threat, target $30,000?
Investing.com – After a sharp fall on Wednesday evening following the Fed meeting, to a low of $26,620, the market recouped its losses on Thursday, and settled back above the $28,000 threshold on Friday Morning.
It should be noted that no particular information seemed to motivate this rebound in Bitcoin, and risk appetite remained limited overall, as evidenced by the weakly higher closings of European and American stock indices.
Bitcoin ignores pressure from US regulators
It should also be noted that Bitcoin is showing remarkable resistance to increased pressure from regulators on the cryptocurrency sector.
Coinbase (NASDAQ:) indeed revealed on Thursday that the SEC has alleged that the company may be operating in violation of securities laws in the operation of its exchange and staking services. The regulator has targeted Coinbase with a so-called "Wells" notice that notifies the company that the agency is planning future action that could include an injunction or a ban.
"If necessary, we would welcome legal proceedings to provide the clarity we have requested and to demonstrate that the SEC simply has not been fair or reasonable in its engagement on digital assets," Paul Grewal said. , Chief Legal Officer of Coinbase, in a statement.
The fact that the SEC threatens Coinbase, the largest crypto platform in the United States and one of the only listed on the stock exchange, is part of a broad offensive by regulators against cryptocurrencies.
However, this did not seem to affect Bitcoin.
Current technical context of
From a graphical point of view, uncertainty is setting in in the short term on Bitcoin, in a range of around $28,800 – $26,600, as seen on the daily chart below: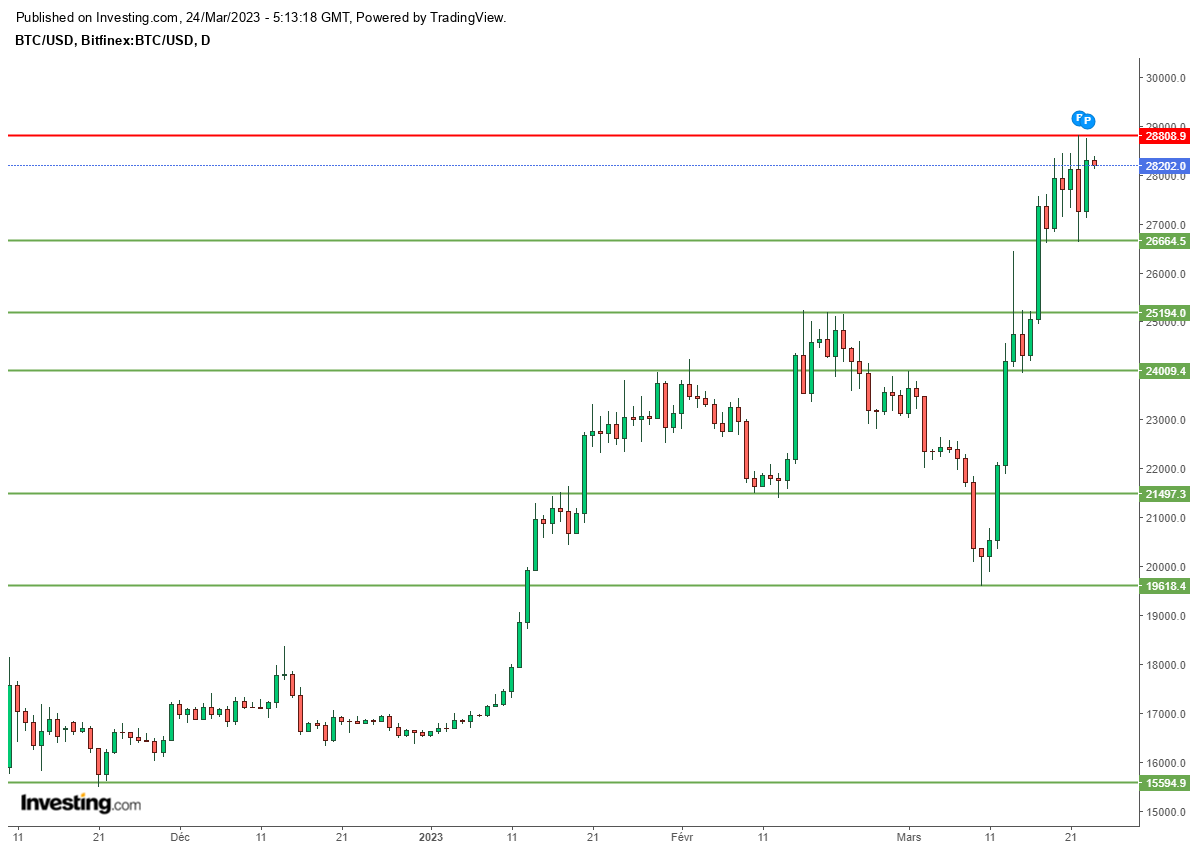 Above $28,800, little resistance stands in the way of the cryptocurrency before the key psychological threshold of $30,000.
In the event of a break below $26,600, the $25,000 – $25,200 area will be the next support to consider. Then, the bullish Bitcoin profile of Bitcoin will start to be seriously challenged.