Investing.com – Uncertainty remains the dominant theme on the , as the cryptocurrency continued to trade in a very narrow range on Monday after a similarly anemic weekend.
Recall that last week was marked by the setbacks of the crypto-bank Silvergate, which postponed the delivery of its annual report to the SEC, causing panic among customers and investors.
Awaiting new information in the Silvergate file
Recall that after its stock collapsed by almost 60% last Thursday, Silvergate announced last Friday that it would close its Silvergate Exchange Network (SEN), an internal settlement tool available during weekends or periods where normal banking services may be closed.
Silvergate has also warned that its ability to be a "going concern" for the next 12 months could be in doubt.
In other words, the crypto industry may soon have to digest another resounding bankruptcy, which keeps some pressure on Bitcoin and other digital assets.
The fate of Bitcoin could depend on the Fed this Tuesday
Provided there is no new twist in the Silvergate case, the attention of crypto traders will be mainly focused on the macroeconomic context on Tuesday, when Fed Chairman Jerome Powell is due to speak to the US Congress.
This intervention will be particularly important, in a context where the market is now taking into account a probability of more than 31% that the Fed will raise its rates by 0.50%, whereas it only raised them by 0.25% at the beginning of February.
However, several analysts believe that Powell's speech today could temper those expectations. Notably, according to a report by MUFG, the Fed Chairman is more likely "to wait to assess further data in the coming months to see if the strength in activity and inflation hold up before commit firmly to further rate hikes".
If Powell's remarks on Tuesday actually cause the market to price in a lower probability of a return to bigger rate hikes, Bitcoin could benefit.
Technical thresholds to monitor on the
From a chart perspective, Bitcoin is supported by a trendline that has been stretching since January 18, as seen on the daily chart below: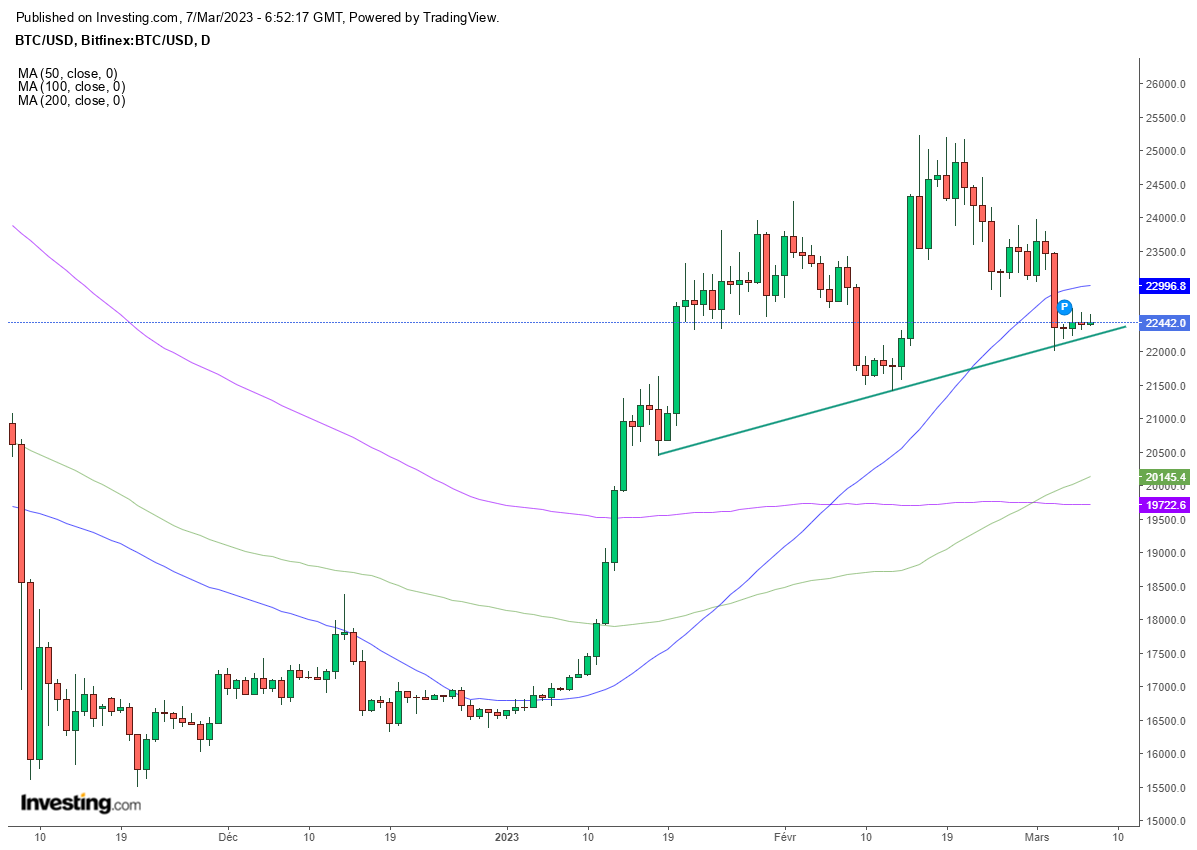 A break below $22,000 would invalidate this trendline, and tip the backdrop to the downside. In this case, 21,500, 21,000, then especially $20,000 will be the first supports to take into account.
On the upside, $23,000 is the first resistance to take into account, before the $24,000 zone, then that of the 2023 highs a little above $25,000