BRIDGERTON

In the third season of "Bridgerton" Colin Bridgerton falls in love with Penelope Featherington. He receives help from his sister, but he has to do without her in the series. That could become a problem.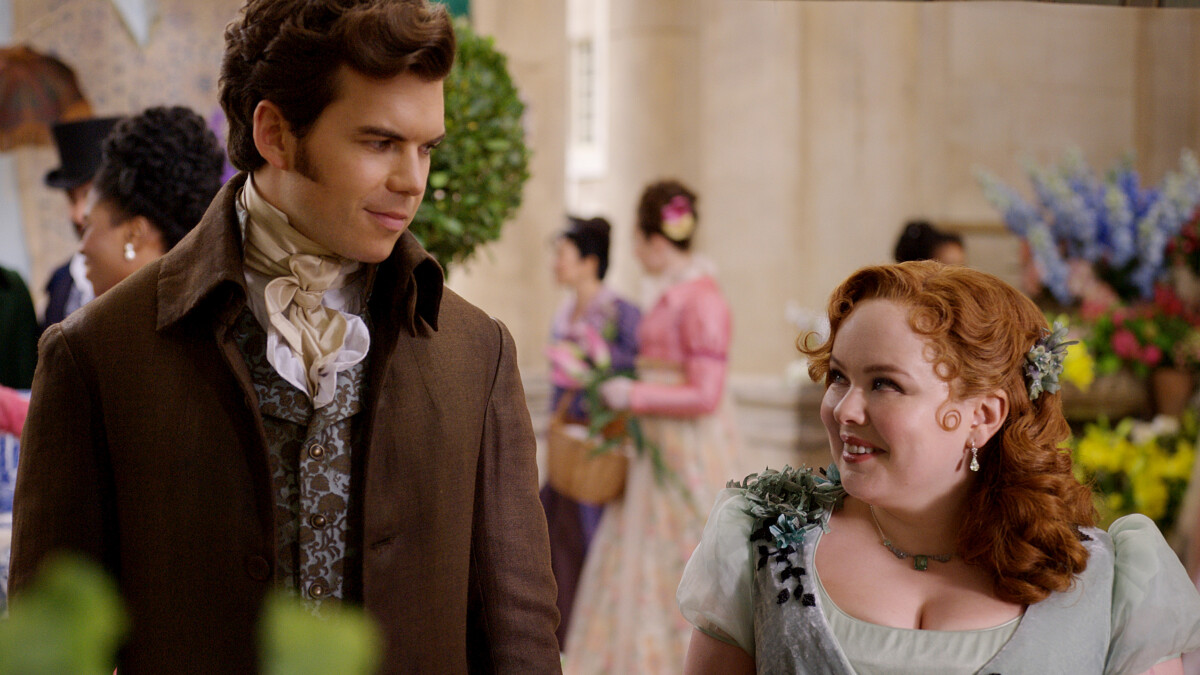 "Bridgerton" Season 3 will tell the love story of Colin Bridgerton and Penelope Featherington.
In the books, Daphne plays an important role, but in the series Colin has to do without her support.
Why is Daphne no longer appearing in the Netflix series and who will take her role instead?
In the first season of "Bridgerton," Daphne Bridgerton was the center of the Netflix series. In season two, the newlywed young woman left that spot to her older brother Anthony. Despite her reduced role and the shift in focus to Anthony, Daphne was still an important part of "Bridgerton."
That should change in season 3. Daphne will not appear in the upcoming episodes, although in the book by Julia Quinn she plays an important role in the love life of her brother Colin, who takes the lead role in the upcoming episodes.
The reason for Daphne's absence is the departure of her actress Phoebe Dynevor ("Fair Play"). The actress' contract with Netflix only covered the first two seasons of "Bridgerton." This was not renewed for season 3, which is why Dynevor will not play alongside her series colleagues.
What does this mean for Colin's love story?

In the third season of "Bridgerton" we follow Colin Bridgerton and his childhood friend Penelope Featherington in their love story. Their romance is based on the 4th novel in the Julia Quinn book series.
In the book, Colin discovers his feelings for Penelope when he least expects it. After years of travel, he returns to London and plans to stay only for a short time. Colin takes part in society events and spends a lot of time with the still unmarried Penelope.
Although Colin has always liked her, he has only ever seen Penelope as a friend, but she seems to have changed. In his presence, the otherwise shy Penelope is subtle, quick-witted and direct. This piques Colin's interest. But he constantly questions his budding love for her, after all she is just Penelope, his childhood friend.
Colin seeks advice from Daphne

Confused by the unknown emotions that overcome Colin when he sees Penelope, he turns to his sister Daphne. He asks her how you know you love someone.
To Colin's disillusionment, Daphne replies with a thoughtful "I don't know." After Colin asks again in more detail, his sister answers in more detail.
Love grows and changes. It doesn't hit you like a bolt from the blue and transform you from one moment to the next.

Daphne Bridgerton
Not yet completely convinced by her words, Colin complains about his confusion and fears that Penelope will become a bad husband. But Daphne assures her brother that the only way he shows his love for Penelope is by seeking advice from her.
Attracted by Daphne's words, Colin accepts his feelings for Penelope and realizes that he has long since loved her sincerely. The conversation with Daphne confirmed his feelings, which is the starting point for Colin and Penelope's intimate love affair.
Without Daphne, Colin will miss this conversation in the series. But there are enough other people who can guide Colin's heart to the right path.
Who could give Colin this advice on the show?

Colin turns to Daphne with his grief because he knows his sister married her husband for love. In addition, the siblings have a close and trusting relationship with each other. But Colin also has similar relationships with other family members.
A legitimate replacement for Daphne would be Anthony. The eldest Bridgerton offspring also married for love, and in the earlier seasons he was always willing to listen to his siblings' concerns. But Mother Violet could also support Colin with her advice. She also married for love and for Violet there is nothing more important than the happiness of her children.
No matter who ultimately takes on this task, someone will surely guide Colin onto the right path so that he can follow his heart.
| | |
| --- | --- |
| Rate Bridgerton | |
| genre | drama |
| First broadcast | December 25, 2020 |
| First broadcast in Germany | December 25, 2020 |
| Homepage | netflix.com |
| Other sources | |
| network | Netflix |
| production | Shonda Land |
| Squadrons | |
Don't miss anything with this NETWORK WORLDNewsletter
Every Friday: The most informative and entertaining summary from the world of technology!
This page was created with data from Amazon, Netflix, MagentaTV, Sky Online, iTunes, The Movie Database, Fanart.tv, Warner Home Entertainment, Sony Home Entertainment or the respective production studios and/or publishers. If you have any errors or problems, please use the contact form.