BARGAIN

You can surf and make calls at CallYa Digital for free for three months if you use a voucher code. Even the use of the 5G network is included, but only for a short time.
Have you just bought a new smartphone and are now looking for a suitable SIM card that gives you flexibility and is not tied to a tariff? Or are you dissatisfied with the mobile network you currently use and would like to test an alternative?
While Telefónica's O2 network has the test card for this case, a representative from the free SIM card area, this is not easily possible with Vodafone.
At least so far, because from now on you can test Vodafone's 5G network free of charge for three months and, in addition to an all-net flat rate, you have 20 GB of high-speed data volume per month for surfing.
Free SIM cards: the big overview
Free SIM cards in comparison
If you are looking for a SIM card without a contract, you have come to the right place. We will introduce you to current prepaid offers and show you how you can get a free SIM card.
Vodafone CallYa Digital is a prepaid tariff from Vodafone, when you order it you can currently use the voucher code BONUS60 receive a credit of 60 euros for three free months. And that's not all, because you also benefit from an increased data volume: 20 gigabytes instead of the regular 15 gigabytes are included in the tariff option.
Attention: The promotion only runs until September 19th!
At

enter the code BONUS60
*
Advertisement
CallYa Digital tariff in detail

With CallYa Digital you can use 20 gigabytes of data per month in the LTE and 5G network. A telephone and SMS flat rate to all German networks, as well as EU roaming, is also included in the price. The connection, SIM card and shipping are free, and you can also secure a 10 euro starting credit if you take your phone number with you.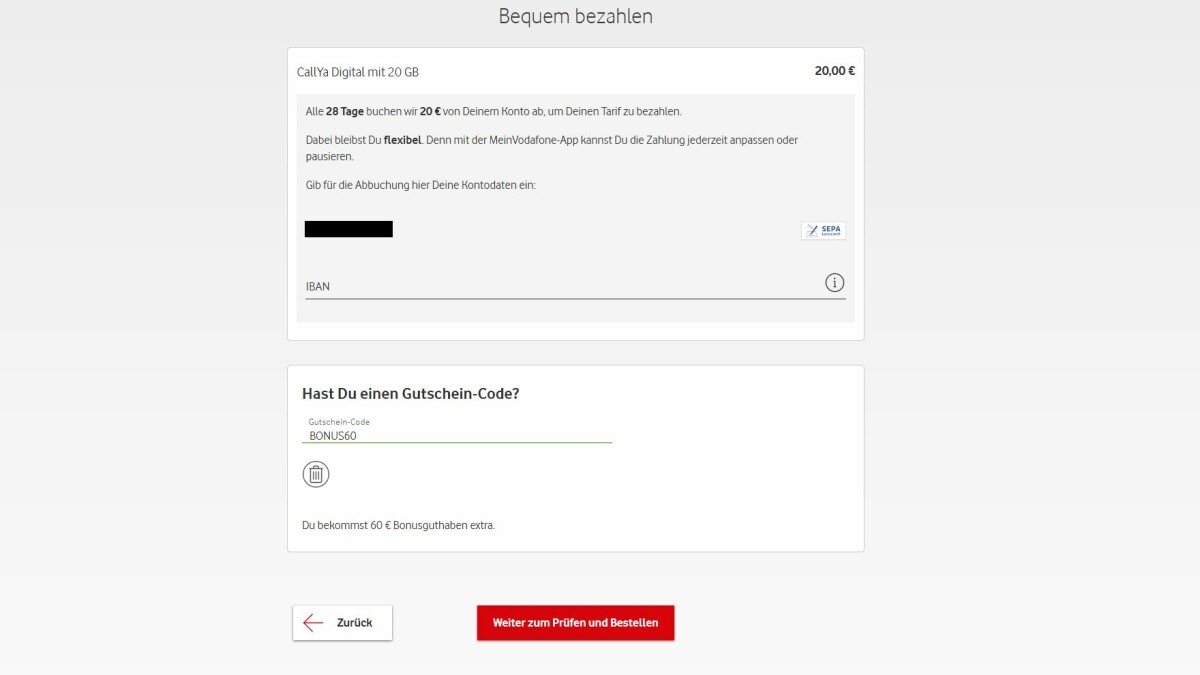 The advantage of the prepaid tariff is that you can pause, reactivate or change the payment method at any time via the MeinVodafone app. There is therefore no contractual obligation and the contract term is four weeks with a notice period of one month.
The maximum data transfer rate for downloading is 500 megabits per second. A maximum value of 100 megabits per second is reached in the upload. You normally pay 20 euros for the monthly 20 gigabytes, but with the current promotion you can book the tariff for three months free of charge.
This is how you order your prepaid tariff

Thanks to the full flexibility and convenient payment (also via standing order), you can take out your new prepaid tariff in just a few steps:
Decide between a SIM card or eSIM
Set up automatic top-up
Submit order
Complete identification
Receive eSim by email or SIM card by post
If you want to use Vodafone CallYa Digital free of charge for three months, you must enter the voucher code "BONUS60" in the payment step of the ordering process. The bonus credit of 60 euros will then be added automatically.
Attention: The promotion only runs until September 19th!
At

Book CallYa Digital for three months free of charge
*
Advertisement
Don't miss an offer

The best SIM-only deals
Do you want the best sim-only deals? We have picked them out for you. This means you can surf, make calls and text cheaply, even without an expensive smartphone. More details "
NETZWELT may receive a commission from the retailer for links on this page. More info.
You can find current deals in our "Bargains" section. In order not to miss a deal, you should also subscribe to our bargain newsletter. Here we regularly provide you with the best offers from the technology sector. List current mobile phone contracts
Don't miss anything with this NETWORK WORLDNewsletter
Every Friday: The most informative and entertaining summary from the world of technology!