Canal+ must compete with more and more rivals in the SVOD market (Netflix, Amazon Prime Video, Disney+, etc.). This competition has the effect of multiplying subscriptions. Are you considering canceling Canal+? The process is not always simple.
In 2022, the SVOD market is fractured due to the advent of streaming platforms (Netflix, Amazon Prime, Apple TV+). They multiply exclusive content to make people want to subscribe. To make matters worse, the TV rights of sports broadcasts are constantly changing from one actor to another depending on the season. Therefore, it has become a real headache, except to subscribe to everything so as not to miss anything.
The proliferation of subscriptions, linked to an increase in monthly bills, may encourage you to terminate your Canal+ contract, which you took out a long time ago for a targeted program. You don't know the procedure? No problem: we explain everything to you.
The termination of Canal+ depends on the contract
Let's start with an essential point: termination depends first on the type of contract you signed when you subscribed. At Canal+, there are two: without commitment or with (one or two years). Naturally, the more loyalty you swear to the service, the less you will pay each month. But, and this is the other side of the coin, the less you can break the bonds.
When to cancel the Canal+ subscription?
Cancellation of a Canal+ subscription requires one month's notice. Concretely: if I no longer want to receive the bouquet on April 1st, Customer Service must be notified by March 1st, at the latest.
There is nevertheless a constraint for those who have subscribed to an offer with commitment. The subscription cannot be terminated before the anniversary date and it will therefore be necessary to pay all the amounts due, whatever happens. Unless a valid reason – and justified by a document – is provided to anticipate the termination.
Three other points to integrate :
Canal is required to inform you of the renewal for one year of your subscription at the earliest three months and at the latest one month before the end of the period (article L.215-1 of the Consumer Code). Understand: you can be fooled if you learn about it at the last moment. Tip: keep your birthday in mind, which you can find in your customer area (and watch your emails);
In the event of a price increase decided by Canal, you have four months to unsubscribe at no cost;
If you have subscribed to a Canal contract via an operator, the termination of your internet line will not lead to that of the said contract (these are two different service providers).
What are the valid reasons for an anticipation? Death of the subscription holder, over-indebtedness, imprisonment, illness or disability which prevents you from benefiting from the services, moving abroad or to an area not covered, deletion of a channel from your formula (to be negotiated). And no, there is not your personal taste for programming.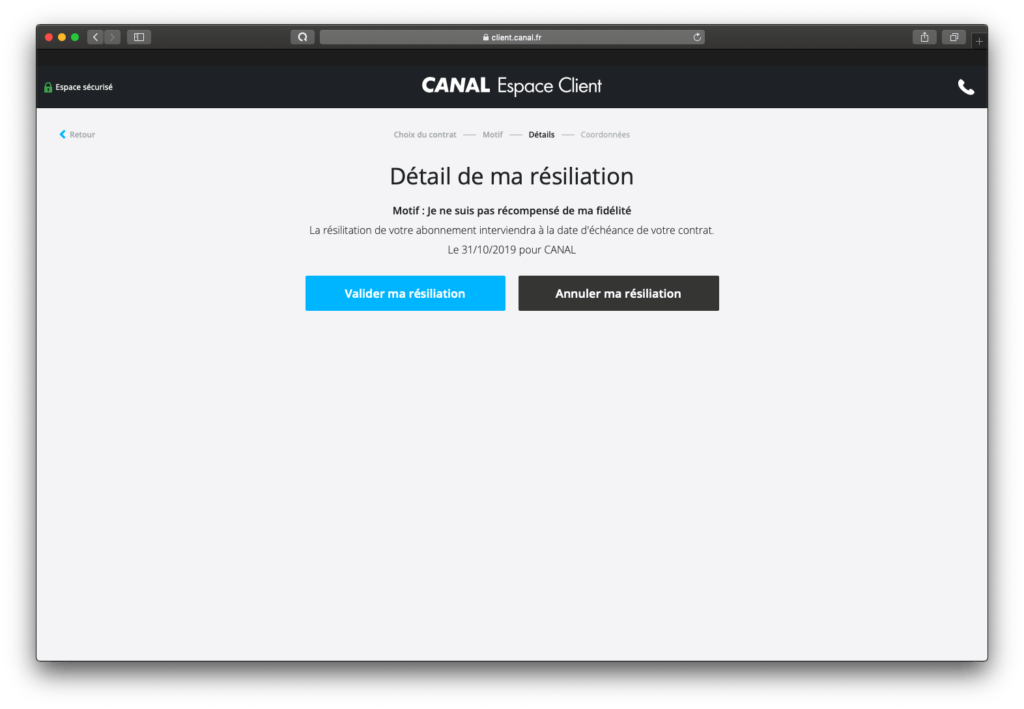 How to cancel Canal+?
In 2022, Canal+ still requests a postal letter to be sent to the service concerned to take into account and validate a request for termination. Of course, it will be necessary to send the letter by registered mail with acknowledgment of receipt to ensure that the company has indeed received the request.
The address is as follows: Canal+/Canalsat – Cancellation service – TSA 86712 – 95905 Cergy-Pontoise Cedex 9.
After receipt, you are supposed to receive an email confirming that the request has been taken into account. As following :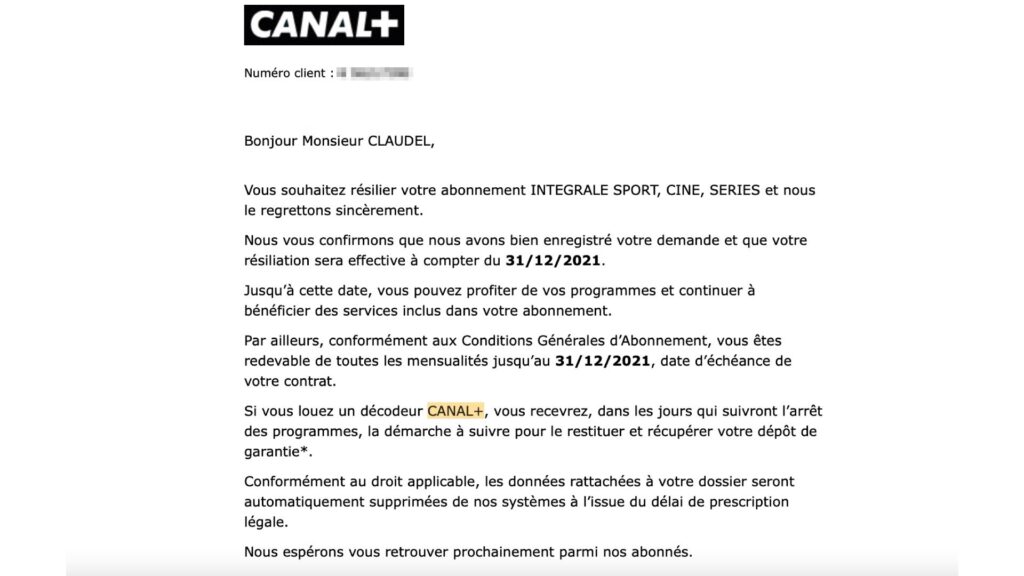 Last advice: be sure to send back all the equipment provided by Canal+, cables included, under penalty of having to pay penalties.
For further