The second season of "Charmed" arrives today on Salto. Join Macy, Mel and Maggie as they try to save the last witches from the demons who are determined to destroy them. War is officially declared.
The first episodes of season 2 of Charmed arrive today on Salto. After defeating the Source last season, the three sisters are back for a very important new mission: to save the last witches on the planet.
If they thought the worst was behind them, Maggie (Sarah Jeffery), Macy (Madeleine Mantock) and Mel (Melonie Diaz) will soon discover that this is only the beginning. Indeed, at the end of the first season, they resume the obligations of the Elders all murdered for the diabolical plan of Alistair Cane.
Three weeks after these events, Maggie organizes a big birthday party in his honor which also allows him to celebrate their victory. But this rest is obviously short-lived. The next morning, the three heroines are attacked by a mysterious demon/assassin who is determined to eliminate them.
War is upon them…
Passing through a strange portal, the trio are sent to Seattle in the Elders command center and are left with no magical powers. The sisters then realize that a great threat is looming and that they will have to protect their loved ones in one way or another. But without power or resources, the mission looks complicated.
Faced with a map of the world, Macy, Mel, and Maggie can find out if a witch is in danger. After several murders, they face a demon who announces to them: "War has been declared. Death to witches!"
Powered by a new leader, and without the Elders to stand in their way, the demons are determined to wipe out the last witches. But who is this new leader of the demons and which demon seeks to assassinate Macy, Maggie and Mel? It could well be someone they know very well… or is this a new subterfuge?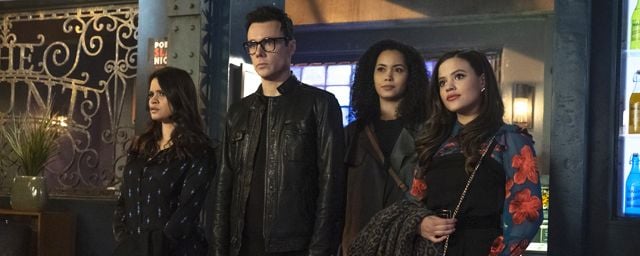 … and love too
Apart from their duty as witches, love seems to hover over the sisters. All single, Macy, Maggie and Mel will meet new suitors and suitors, but will they succumb?
This new season will leave no respite to the witches and their adviser (Rupert Evans) who will have to redouble their efforts to win this war against demons more powerful than ever.
Find two episodes per week of the second season of Charmed on Salto.