Successively, iam8bit and Just for Games announced several vinyls for independent titles that have marked the last few years. Definitely, the French distributor continues since after Hotline Miami and World of Warcraft, these are three great finds from the independent scene which will be entitled to their vinyl in 2023: The Artful Escape, A Musical Story and Chicory: A Colorful Tale. Here is all the information on it.
A little sweetness for the ears
In fact, the announcement of the vinyl of Chicory: A Colorful Tale does not date from yesterday and was confirmed last week. We take advantage of the revelation of the two new concerning The Artful Escape and A Musical Story to tell you about it. All rights are the result of a collaboration between iam8bit, Just for Games and the developers of these three games, released in June 2021, September 2021 and March 2022 respectively. A Musical Story is also a French game that was presented at the AG French Direct.
Chicory: A Colorful Tale
The vinyl of Chicory: A Colorful Tale takes up the soundtrack originally composed by Lena Raine in an unpublished piano cover performed by Trevor Alan Gomes. The disc sports a paint pink color, in homage to the magnificent artistic direction of the game, and includes ten songs. The release is scheduled for mid 2023, without further details for the date. Here is the tracklist:
Side A
Town of Luncheon
Upper Woods
Chicory's Theme
Dinners, the Big City
Teatime Meadows
Appie Foothills
B-side
Rain Forest Banquet
Simmer Springs
Dessert Mountain
Do the Impossible
The Mountain Top
Chicory Piano Collections (Vinyl Soundtrack) 1LP has just opened its pre-orders at several retailers, Fnac and Micromania and soon Amazon.
Pre-order Chicory: A Colorful Tale vinyl on Fnac Pre-order Chicory: A Colorful Tale vinyl on Micromania Pre-order Chicory: A Colorful Tale vinyl on Amazon
A Musical Story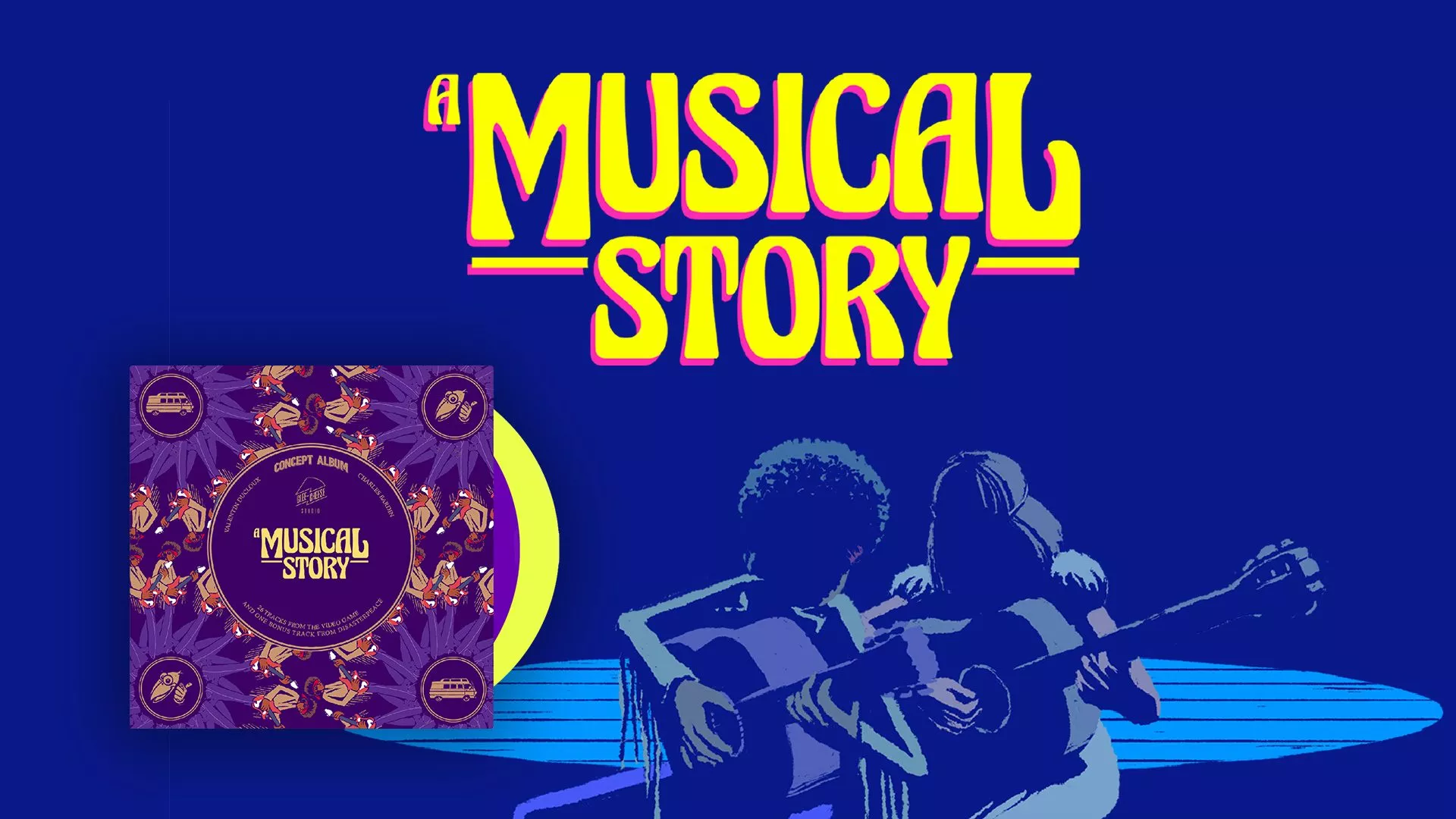 For A Musical Story, we are offered a purple and yellow double vinyl, with a selection of several tracks from the soundtrack. The cover is signed Alexandre Rey and the tracklist contains a little surprise, an unreleased piece by Disasterpeacemade exclusively for this vinyl release. Pre-orders are open at a price of €59.99 for a release in 2023. About twenty pieces are present:
Disc 1 – Side A
Head in the Clouds

Rehearsal

City Life

Assembly Line Work

Solitude

Pinewood, Here We Come

The Van

road trip

A Musical Break

Chased
Disc 1 – Side B
Her

Love at First Sight

sunset road

Alone Together

Burning Moon

Threating Nature

Climax
Disc 2 – Side A
Hallucinations

Fight the Crow

tin-can

Love
Disc 2 – Side B
Back on Tracks

Squirrel

Awakening

Amelia & Gabriel

Live at Pinewood

A Lunar Sliver (by Disasterpeace)
Pre-order A Musical Story vinyl on Amazon Pre-order A Musical Story vinyl on Fnac Pre-order A Musical Story vinyl on Micromania
The Artful Escape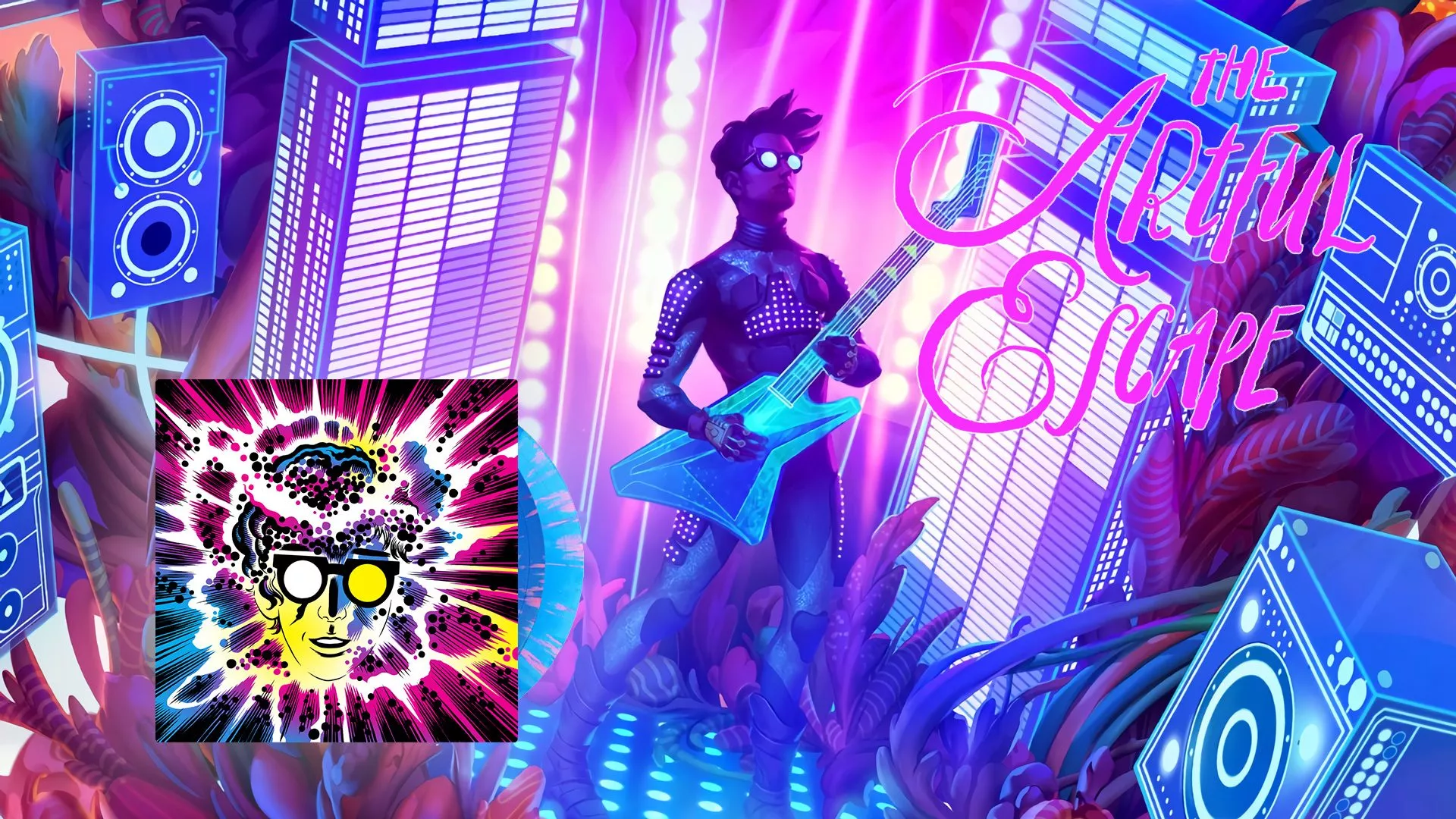 Finally, for The Artful Escape, we are offered a psychedelic blue and pink double vinyl with cover art by Jim Rugg. As for the previous ones, we find the soundtrack with a nice selection of titles – more than thirty. Count €49.99 for a release also set for mid-2023. Here is the tracklist:
Disc 1 – Side A
The Banks of the River are Lined with Gold
Father
All that Glitters is Not Gold
If It Don_t Work Out
Folk Sci-fi Bedroom
A Thin Film of Atmosphere
Ode To Lightman
Lightmans Part A
Lightmans Part B
Disc 1 – Side B
The Cosmic Extraordinary Theme
Final Iceberg
ALIEN DISCO
Lightman Presents…
HelioTromms Theme
Forest Theme
Shopping District
Disc 2 – Side A
The Ruby-Cola
Monster Flight
A Chance Not Taken
The City of Glimmer
A Theme for Mountain Ridges
Glimmer Dimm Choir
The Violent Light
GlimmerDimm Synth
Disc 2 – Side B
Hyperion Wailzone Opening Scene
Hyperion Welcoming
F Maj Hyperion Wailzone Theme
Lily Pad Drunk Funk
Village Turntables
HoverCar Theme
The Darkest Hour Theme
Pre-order The Artful Escape vinyl on Amazon Pre-order The Artful Escape vinyl on La Fnac Pre-order The Artful Escape vinyl on Micromania