The invasion of the titans does not stop any more and while we are in the second part of the final season of the anime Attack on Titan (or SNK for the intimates), they come to ransack a new land. Indeed, from the friday january 28 at 4 a.m., the Colossal Titan and the characters of the license arrive in the title of Aidis, Last Cloudia.
If you don't know this mobile game yet, you follow the adventure of a group of heroes made up of Kyle, Rei, Lilibette, Theria and Zekus in an rpg with a summoning system. The latter is available on mobiles (iOS and Android) but also on the Steam platform. It is not at its first attempt since it has already had the right to other collaborations with renowned licenses such as NieR Automata, Dr. Stone, Full Metal Alchemist, Re Zero or even Trials of Mana.
Now let's get back to our subject by talking about its duration. The collaboration will be available for a duration of two weeks and during this period you will be able to obtain three new heroes.
Eren Jaeger

Mikasa Ackerman

Levi (or Levi)
Each of them will have the right to their original Japanese dub interpreted by Hiroshi Kamiya (Levi), Yui Ishikawa (Mikasa) and Yuki Kaji (Eren).
Let's discover Eren and Mikasa in detail. As for Levi, we will have to wait to have all the information about him.
Eren Jaeger
Let's start with Eren the main hero of the series. He will have two traits that will allow him to boost his damage depending on the size of the enemy by applying the Rage state and the second works only on the waves of bosses and which fills the ultimate skill gauge while increasing the physical damage cap inflicted on bosses.
Now let's talk about those skills. Eren is a Light damage character with three skills that have a damage cap increase. His ultimate move allows him to hit hard and heal himself at the same time.
The talents he can learn also serve to boost his physical damage. The role of this hero will therefore be to be your physical Light DPS. To see if it will manage to rise to the levels of the best DPS available or if it will be a substitute for those who already have them.
Mikasa Ackerman
We saw that Eren is a Light physical DPS, Mikasa would seem like a really strong DPS on paper. Her attribute will be Thunder and she will have a whole arsenal of passives to increase her damage. She will be able to have buffs like Bravery, Critical, Speed ​​at the start of the fight without having to cast them. She can survive physical damage for 7 seconds if she is near death. However, we can note that she does not have access to self-regeneration or even Pose of VIctory to heal her each time she kills an enemy. You can also get talents to boost your damage or attack even more with Attack Up Max, for example.
After seeing the heroes, let's discover the Arks. First of all, you have to know what an Ark is. It is a kind of relic to attach to a character to boost their statistics. In addition to that, it allows you to unlock talents. Each Ark has a passive and 5 or 6 talents which are unlocked according to its level. The level cap is 10 and it takes blue or red souls to upgrade them. One last thing about these relics, there is a reward once the percentage is increased to 100%.
The new Arks LR
With this collaboration we have two new Arks LR.
The Resisters of Titans

Eren vs. The Female Titan
To obtain these Arks, it will be necessary to invoke on the two banners linked to the collaboration with the Attack on Titan.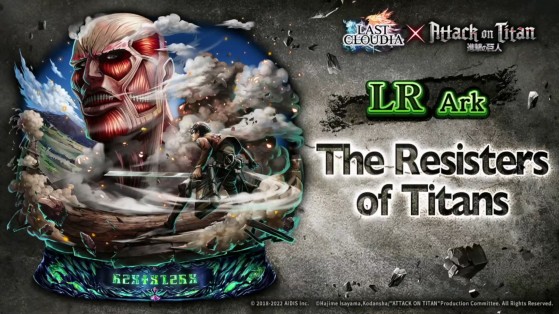 Ark: The Resisters of Titans (LR)
Available in the first banner, The Resisters of Titans is an Ark for physical attackers (Eren or Mikasa for example). In addition to boosting your damage, it brings three new talents.
Scout Regiment: increases the physical damage inflicted on bosses based on the number of allies with this talent. 6% per ally for a maximum of 24%.

Fighting Spirit: Increases strength and HP by 3%.

Beautiful Cruel World: Increases your strength by 30% when an ally becomes unable to fight.
The accessory rewarding his 100% is also suitable for physical DPS by offering them 88 strength, 36 defense and 23 magic defense. It increases the speed and damage dealt to bosses by 10%.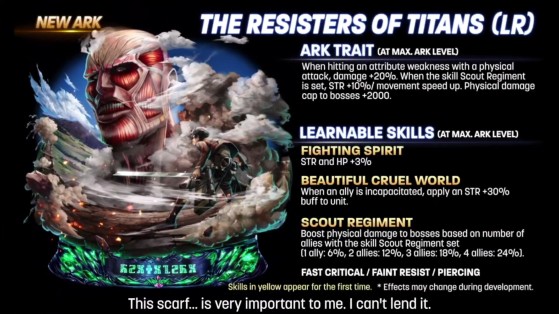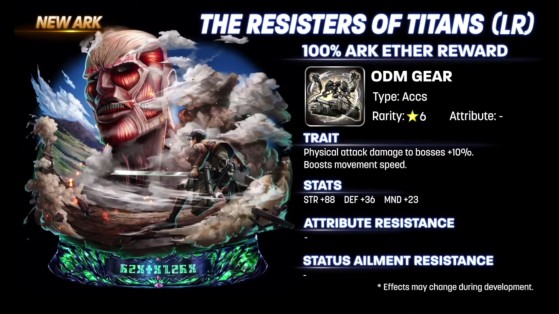 Banners
There will be two banners during the collaboration. Mikasa and Levi will be guaranteed in the third round of summoning.
From January 28 at 4 a.m. to February 10 at 7:59 a.m.: Mikasa and The Resisters of Titans

From February 4 at 4 a.m. to February 10 at 7:59 a.m.: Levi and Eren vs. The Female Titan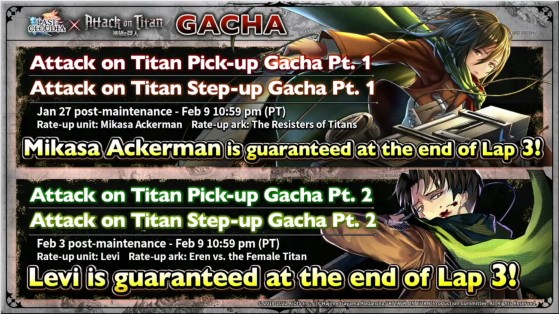 The events
Now let's talk about quests. First of all, as you may have seen, Eren Jaeger is not available in summons. And yes, the latter will be offered to players who participate in the event. It can even reach level 100. Note that you will still have to farm to have enough to raise it to level 110.
Granzelia Titan Attack will let you battle the Colossal Titan for rewards like three exclusive new gear.
Collab Challenge is the mode that will allow you to complete 9 fairly simple missions in order to unlock a limited weapon. To complete them, you simply need to play through the collaboration quests.
Connection bonuses will also be available to reward you every day during this period. A campaign on social networks is also present to offer you summoning tickets or even crystals.
Finally, here are the emotes as well as the YouTube video from the official channel.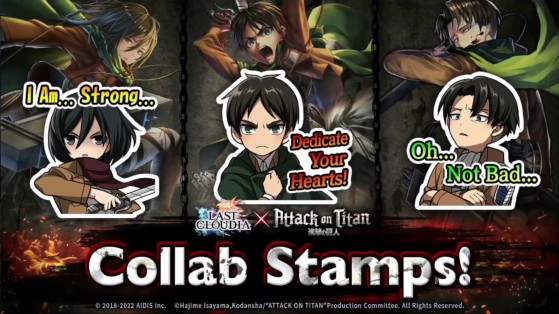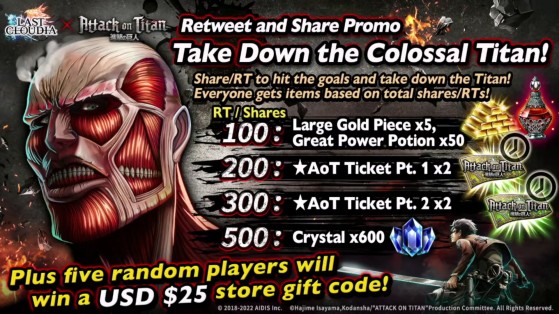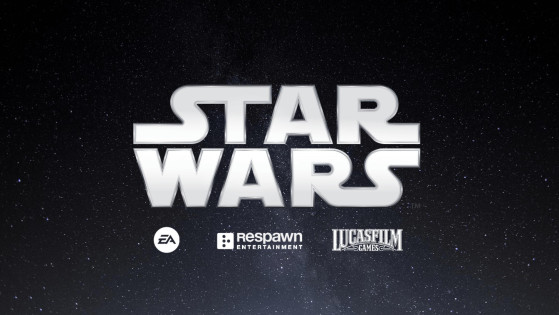 Electronic Arts has obviously not fallen asleep on the Lucasfilm license, and several games are in development in different genres, such as strategy, FPS / shooter and above all, to extend certain sagas like Jedi: Fallen Order 2 which is confirmed.