As the Lost Ark May 2022 monthly update rolls out, Amazon Games is offering a brand new exclusive Twitch Drop for viewers on Twitch. By going to the channel of one of the eligible content creators and watching several hours (not necessarily consecutive) of broadcast, you have the possibility of accessing several exclusive objects, all for free:
4x Chest of Battle Items
1,000x Amethyst Fragment
Battle Item Chests
Battle Item Chests contain a total of 15 chests of three different types (5 of each):
5x Medical Battle Items Chest
5x Offensive Battle Item Chest
5x Utility Battle Item Chest
Here is the content of each of these types of chests (only one choice possible per chest):
Medical Battle Items Chest
15x HP Potion
10x Major HP Potion
5x Panacea
3x Elemental HP Potion
Offensive Battle Item Chest
5x acid bomb
5x Destroyer bomb
5x holy bomb
5x

tranquilizer bomb

5x pomegranate clay
5x Grenade of Darkness
5x Freezing Grenade
5x Incendiary Grenade
5x Tornado Grenade
5x Electric Grenade
5x Stun Grenade
5x lightning potion
Utility Battle Item Chest
4x Stealth Robe
3x Horn of Luteran
3x Time Suspended Potion
6x Sacred Talisman
5x Pheromone bombs
5x Panacea
4x mocking scarecrow
4x Campfire
4x Camouflage Dress
1x Portal Scroll (Repair Shop)
5x flare
Amethyst Fragments
Amethyst Fragments can be exchanged in-game for certain items not otherwise obtainable. Here is the complete list of rewards associated with this currency, as well as their price:
Crystalline Aura (14 days)

x6,600

Chest of Pheons

x2,200

Navigation Glyph:

Golden Lion Vigor

x6,600

Mount: Wolf

golden combat

x22,000

Emoticon pack

Nineveh and Yom

x13,000

Chest of Battle Items (3)

x2,200

Affinity Supply Chest

x2,200

Appearance Selection Chest

Ship's Notos Orka

x6,600

Mask Selection Chest

in Archésia paper

x6,600

Chest Selection

familiar sebastian

x13,000

Familiar number:

Play dead

x6,600

Familiar number:

Groan

x6,600

Familiar number:

Round

x6,600

Emote: Star Dance

x6,600
When to get Fate Only Destruction Twitch Drops?
Obtaining these exclusive Twitch loot is only possible from Thursday, May 19, 2022 at 3:00 p.m. (Paris time) and until Wednesday, June 15, 2022 at 9:00 a.m. (Paris time).
During this period, simply log into your Twitch account and watch at least 2 hours of broadcasts from any content creator playing Lost Ark and having Drops enabled. You must also have linked your Steam account to your Amazon.
Which streamers are eligible for Lost Ark Twitch Drops?
For obtaining the Drops of the month of May 2022, no precise list exists concerning the streamers eligible to obtain them. In fact, any content creator can choose to activate in their stream options the Twitch Drops option allowing their viewers (however many or not) to access these rewards.
Among the most famous of which we know that they play rather regularly and have activated this option, we count in particular (on the French-speaking scene):
Link your Twitch and Steam accounts
As a reminder, to access these exclusive loot, you must link your Prime Gaming account to your Steam account, then to your Twitch account. To do this :
Meeting on

the page dedicated to the association of accounts

Click on "Login" on the first line to log in to your Amazon account
Click on "Account association" on the second line to link your Steam account to your Amazon account
Click on "Link Steam Account" then confirm your Steam account by logging into it
Click on "Finished"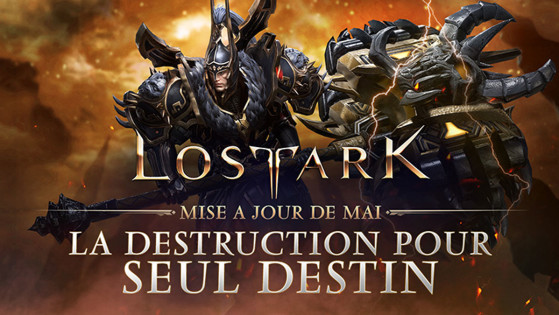 mmo
This Thursday, May 19, 2022, Amazon Games is carrying out a maintenance deploying the Destruction for Fate Only update including the Destroyer, the Legion Raid on Valtan and many improvements. The servers are scheduled to be inactive from 09:00 (7am UTC).