Dungeons, monsters, treasures, dice… a role-playing game? No, a "roll & write"! This is Dungeons, Dice & Dangerour board game of the week.
Any adventurer worth their salt knows that the greatest treasures are hidden deep in the dungeons. The problem is that they are protected by equally large monsters. Fortunately, in Dungeons, Dice & Danger, you have the best weapons to fight them: dice and a pencil. If so, trust us!
At each game, players choose which dungeon they want to explore from among four possible ones, each with its own level of difficulty and some specificities. Each participant then receives his printed sheet corresponding to the chosen dungeon.
The latter is divided into squares: starting squares to enter the dungeon, normal squares, squares with treasures, with monsters, chests, etc. Each box is numbered, with a value ranging from 2 to 12. The whole forms rooms and corridors, like in a dungeon.
On his turn, the active player rolls five dice: four white and one black. Everyone must then compose two pairs of dice. The active player has a choice of five dice, the others can only use the white dice.
Then you check two boxes on your sheet, the value of which corresponds to the sum of the pairs of dice. In the first round, you must necessarily check an entry box in the dungeon. Subsequently, either an entry box is checked, or a box adjacent to another box already checked previously.
Most of them have an effect when checked. Treasures are worth victory points at the end of the game. The chests allow you to benefit from one of three bonuses, all very interesting depending on the situation. Finally, each dungeon comes with its own set of special spaces.
And of course there are the monsters. They take up more space than normal squares, especially the end boss, and have more or less hit points. They block the passage and must be fought. But they are only sensitive to certain dice values. Some of these values ​​are immediately accessible, others must be unlocked by first checking the corresponding boxes adjacent to the monster.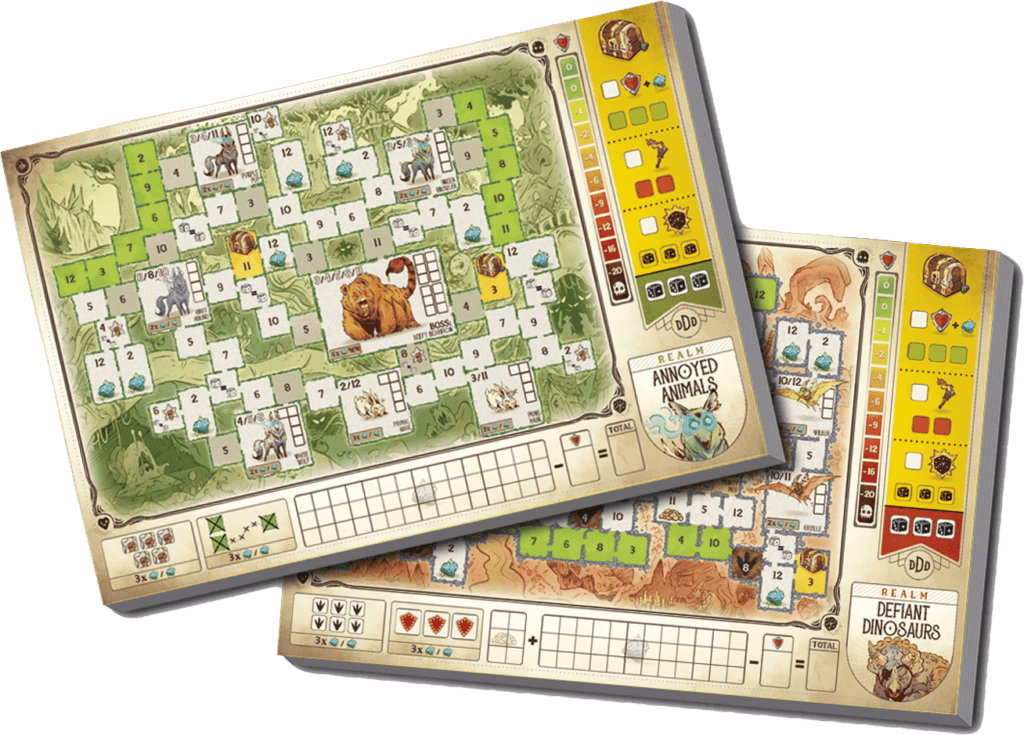 The first player to kill a monster scores victory points. The others can also fight it on their own sheet, but score less points if they succeed.
As you tick boxes, there are fewer and fewer available, and only the values ​​that have less probability of coming out on the dice remain. So be careful to choose well, because at each turn, at each box that you cannot tick, you lose a life point. In addition to the fact that we will score fewer victory points at the end of the game, the tenth life point lost is above all synonymous with immediate elimination.
The game ends when a player manages to kill the last undefeated monster so far. Players still alive then count their victory points, and the highest score wins.
Why play Dungeons, Dice & Danger ?
"Roll & write" type games, which could be translated as "roll and scribble" (we throw dice, tick boxes) have been on the rise for a few years, thanks to their simple rules and immediate pleasure. that they provide. But it is clear that they follow each other, end up looking alike, and few manage to stand out.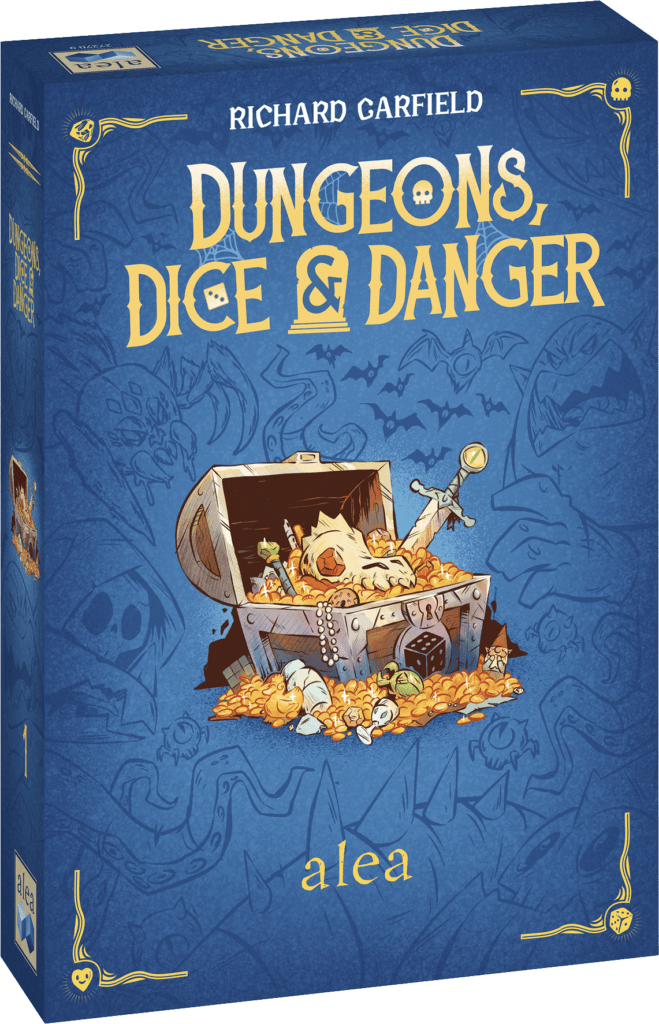 Dungeons, Dice & Danger pulls out of the game thanks to its pretty illustrations and its theme that sticks well, while most other games of this type are purely abstract.
A few originalities allow it to stand out from the crowd: the two entry areas into the dungeons, the monsters to be defeated to open the way, the treasures that give us a little help, or even the race to kill the monsters in first and score more points.
In terms of replayability, we appreciate the presence of the four dungeons, with increasing difficulty, which each bring their little specificities. But without weighing down the rules, very simple moreover, which makes the game immediately accessible.
On the other hand, we regret the duration of the parties, which sometimes tend to lengthen. If you like this type of game, it's not a problem, the race to kill the monsters is breathtaking. If you are playing to please the rest of the group, however, the time may seem a bit long.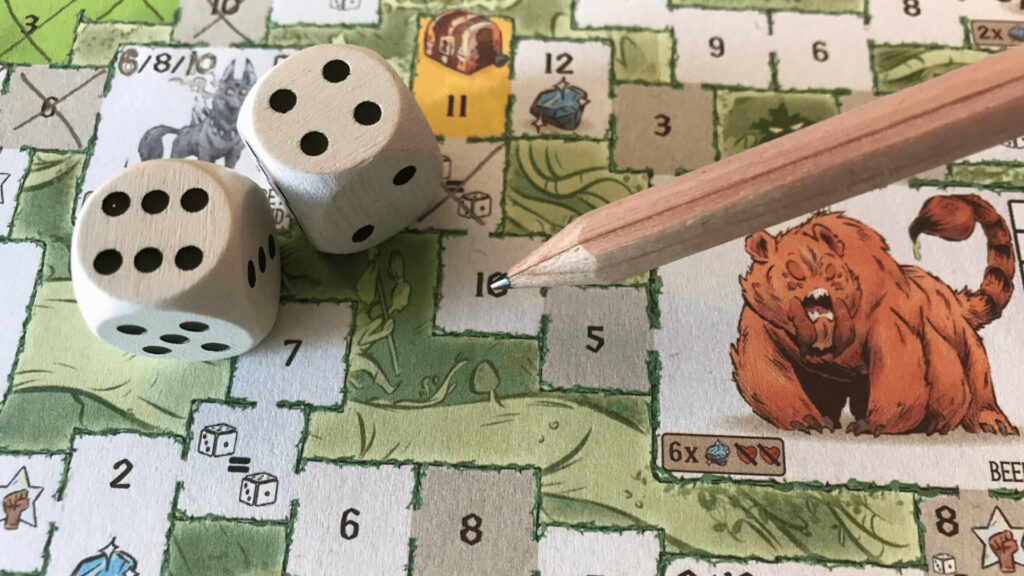 Note that the game also offers a single-player version… but hang in there, the difficulty seems insurmountable, whatever dungeon you choose. So much so that it's discouraging. Pass your turn if you were thinking of only practicing it in this configuration, and limit yourself to playing it with several people.
Dungeons, Dice & Dangeris therefore a "roll & write" game that does not revolutionize the genre, but manages to stand out thanks to some welcome mechanical originalities, a well-transcribed theme, obviously inspired by Dungeons & Dragons , and lovely illustrations. If you like this type of games, you can go there with your eyes closed. Otherwise, it won't make you change your mind.
Dungeons, Dice & Dangeris a game by Richard Garfield
Illustrated by Cam Kendell
Edited by Alea
For 1 to 4 players from 12 years old
For games of about 30 to 45 minutes
Priced at €23.90 at Philibert
The verdict
We liked
Four different dungeons
Simple rules
Nicely illustrated
We liked less
Some parts are a bit long
A daunting single-player mode of difficulty
Some links in this article are affiliate. We'll explaine everything here.