ECOVACS slashes the price of its ultra-premium robot vacuum on Amazon
Cleaning your home without lifting a finger or almost is what ECOVACS offers with its DEEBOT X1e OMNI, one of the most premium robot vacuum cleaners on the market. On the occasion of Amazon's Spring Deals, its price drops by 450 euros from March 27 at midnight.
Spring is here, and with it comes the spring cleaning associated with it. And, if, to soften this chore, you equip yourself with a robot vacuum cleaner that does everything or almost for you? The DEEBOT X1e OMNI is one of the best representatives.
This ultra high-end model will benefit tonight from a discount of 450 euros, bringing its price to 849 euros. A promotion valid until April 2, during Amazon's Spring Deals.
Autonomy and maximum cleanliness
To ensure its great autonomy, the DEEBOT X1 OMNI relies on a very complete emptying station. It has two water tanks (clean and dirty) of 4 liters each, ensuring the cleaning and automatic filling of the vacuum cleaner.
The 3-liter dust bag can empty DEEBOT X1e OMNI's built-in bin more than seven times. So you don't even have to throw the dust yourself after each pass.
Another advantage of this support station is that it cleans and dries DEEBOT X1e OMNI's mops when they get dirty. All the vacuum cleaner needs to do is return to the station and perch on the platform for automatic emptying and drying.
Deep cleaning
Equipped with OZMO Turbo 2.0 technology, the two round mops fitted to the ECOVACS DEEBOT X1e OMNI allow it to clean the floor at an average speed of 180 revolutions per minute. Its 5200 mAh battery allows it to clean your home for 140 minutes. A generous autonomy, sufficient to ensure a passage in all your accommodation (unless you live in a castle).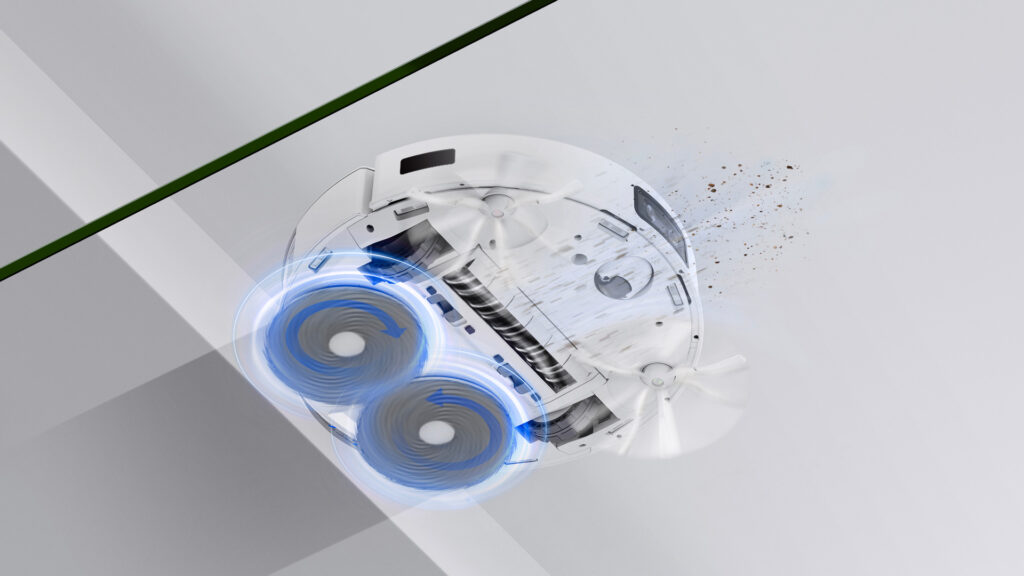 On the suction side, the DEEBOT X1e OMNI offers a power of 5000 Pa, one of the highest performances on the market. Animal hair, dust or various and varied crumbs should therefore not survive the passage of your vacuum cleaner.
Smooth movements and efficient mapping
To ensure its cleaning functions in the best conditions and optimize its throughput time, ECOVACS has equipped its DEEBOT X1e OMNI with in-house TrueMapping 2.0 mapping technology. It works to draw up a precise plan of your accommodation and any obstacles to avoid. The map can be viewed and corrected from the ECOVACS HOME app (available for Android and iOS).
Even better, the DEEBOT X1 OMNI can even avoid objects that obstruct its path thanks to its camera equipped with AIVI 3D technology. Technology that prevents your vacuum cleaner from getting caught in cables. A camera that also allows you to check that your four-legged friends are fine, and to communicate with them via the microphone of the robot vacuum cleaner.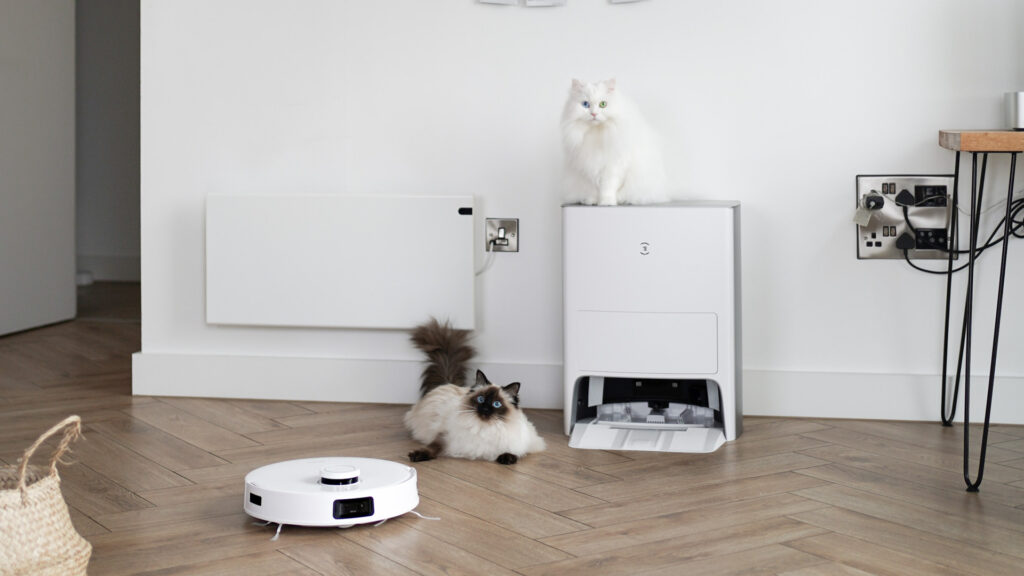 To complete the technological panoply of its robot mop, ECOVACS has also equipped it with voice control via its own assistant, which can be activated from the mobile application: YIKO. Depending on the mapping and the names given to your different rooms, you can order your robot to clean or vacuum certain rooms of your house, and not others. What to adapt the cleaning according to your needs.
This ultra-complete robot mop is, on the occasion of the Spring Deals from March 27 to April 2, available at 450 euros less than its usual price. The ECOVACS DEEBOT X1e OMNI thus sees its price drop to just 849 euros. The opportunity to treat yourself to an excellent product at a more reasonable price than usual.
---
Subscribe to Numerama on Google News to not miss any news!
Some links in this article are affiliate. We'll explaine everything here.

This is content created by freelance writers within the Humanoid xp entity. Numerama's editorial team did not participate in its creation. We are committed to our readers to ensure that this content is interesting, qualitative and corresponds to their interests.