Éric Bellion, skipper of CommeUnSeulHomme powered by Altavia, will start the Vendée Arctic Les Sables, the first qualifying race for the Vendée Globe, on Sunday 12 June. The opportunity for him to get to know himself better and to test himself. Portrait.
Nothing predestined Éric Bellion, born in Versailles, to conquer the seas of the globe. For the holidays, no Optimist courses or tacking along the Brittany coast. The family prefers motorhome rides. It was therefore far from the sea spray that he discovered the world of sailing, his nose plunged into the books unearthed at his bookstore in the rue de Montreuil. "He no longer knew what to give me, he laughs. So much so that he managed to make me read "Le Capitaine Fracasse" or "Le Silence de la mer", which had no connection with the maritime world.
As a teenager, one of his high school friends offered him to come and try out on his father's boat in Granville, Normandy. A twist of fate that allows this neophyte to transform his imaginary wanderings into real adventures. With the baccalaureate in hand, Éric enrolled in a business school: "To please my parents," he explains. During his studies, he met Brice and Hervé. The three comrades, lulled by the same books, begin to dream of sailing around the world. They refuse this ready-made future and prefer to embark on the unknown. It is up to them to conquer all the oceans of the world. "We left for three years on a rotten boat, in bum mode, but a luxury bum with the credit card in the pocket and the repatriation insurance. The little Versailles that I was took a slap in the face. I met some fabulous people."
What's next after this ad
"Driving performance from difference"
Embarked without a specific goal on this world tour, the young men create a project with the help of an association to welcome cerebral palsy on board. "An extraordinary adventure with people of my age and completely different life trajectories", Éric analyzes. When he returns, life no longer has the same taste, the desire for adventure and sharing takes over. He then decided to push others to open up to difference by setting himself a major challenge: to create the first mixed, disabled and able-bodied crew and hold a sailing record. The departure took place in Port-Louis, in Morbihan, towards Port-Louis in Mauritius. Bet won not without some difficulties. "I recruited 3 disabled athletes and 3 able-bodied athletes. But by focusing on the differences I had forgotten the main thing, that it was first necessary to agree on the project and on the way to do it.
What's next after this ad
Eric is not discouraged, however. With about twenty people, this time he embarks on board a VOR65, a monohull on which the biggest crewed race around the world takes place. A young unemployed man from 93, a banker based in Marseille, a woman musher in Alaska… on paper nothing predestined these people to meet and yet… Between 2011 and 2013, they took turns running permanently in races on the Atlantic coast European. "We went for more than honorable results," he marveled. "Getting performance out of difference" is its credo. Tired of testifying in companies on the occasion of disability week… Éric seeks to be heard. He embarked on the adventure of the Vendée Globe in 2016, hoping to capture the public differently. At 40, he completed his first solo circumnavigation of the globe in 99 days. Full beard and black oilskin, Éric is the first rookie to cross the Nouch Sud buoy. Six years later, when he had sworn he wouldn't be caught again, the skipper of CommeUnSeulHomme powered by Altavia is back on the Imoca circuit with his sights set on the Vendée Globe 2024.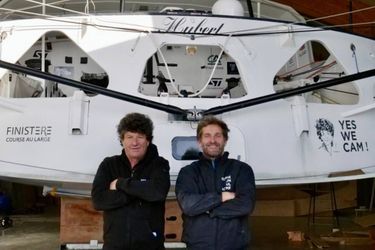 His adventure is more collective this time. Associated with Jean Le Cam, he wishes to bring together sailors in order to line up several one-design boats at the start of the next edition. "The idea is to be the first team to attempt this race, like a Formula 1 team, he enthuses. And to add, I want to show that innovating on this human aspect is as important as technical innovation." For now, Eric is sailing aboard Hubert, the boat with which "Le Roi Jean" ran his last races. His should be delivered to Port-la-Forêt next spring. "We have developed with Jean boats without foil, very light and half the price of those of our competitors, he explains. Really made for the sailor, which we can use 100% during the next Vendée Globe." Father for a few months of a little Lena, Éric is excited at the idea of ​​reliving these rides in the southern seas, far from any tumult. "I expect great happiness and difficult things too," he says. I go there for that too. This Vendée Globe will be completely different, because the first time it was a fight with fear and the unknown." While waiting for his reunion with the "Everest of the seas", Éric Bellion will be at the start of the 12th edition of the Route du Rhum, on November 6th.