Reserved for subscribers
REPORTAGE. Since Tuesday, nearly 7,000 hectares have burned in the Landes forest, which has once again become a gigantic inferno against which men and women are fighting.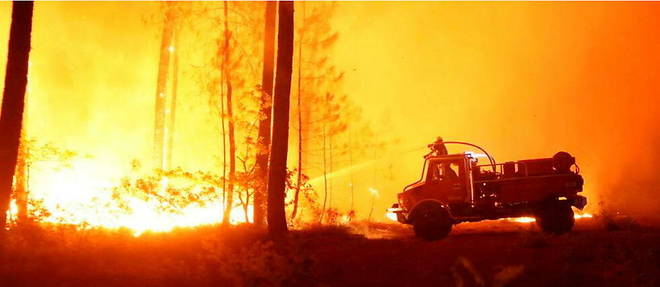 By Maylis Détrie, in Landiras (Gironde)


Published on


Link copied
Copy link

"Ihere is fear, worry, devastated landscapes and birds that no longer sing. The words of Nathalie, evacuated during the fires of July, come back to strike the harsh air of the morning. Here, in the Landes de Gascogne, purring engines have replaced the songs of birds. The pines are glowing and the peat never stops going up in smoke.
More than 6,800 hectares of forest have been ravaged by flames since Tuesday. 14,000 hectares had already burned in July and firefighters resumed their fight against the gigantic Landiras fire.
Without even being at the front, the flames are easy to find. Here, a firefighter stops to circumscribe a small blaze with sand. "The nu…
You are currently reading: Fires in Gironde: "hell" is back