For almost two years, Louvia Bachelier has played Manon in "Tomorrow belongs to us" on TF1. But from tonight, France 2 viewers will find her in the skin of the touching Zoé in season 2 of "La Faute à Rousseau". Meet.
Since November 2020, Louvia Bachelier has lent her features to Manon Daunier, the daughter of the characters of Julie Debazac and Kamel Belghazi, in Tomorrow belongs to us. Even if the young actress had previously distinguished herself in Le Châlet on France 2 or in the second season of Infidèle with Claire Keim, it was really her role as a high school student in the TF1 soap opera that revealed her to the general public.
Very natural and very accurate in her way of acting, Louvia Bachelier quickly established herself as one of the assets of the young generation of characters in Tomorrow belongs to us. So much so that the writers and production seem to have finally noticed her potential and are currently giving her a brand new on-screen storyline that sees Manon interning with the police and potentially following in her mother's footsteps. With its share of comedy at the key.
But tonight, it is on France 2 that the public will find her, with a very different score in which she continues to sparkle.
In season 2 of La Faute à Rousseau, which begins this Wednesday, May 18 at 9:10 p.m., she plays Zoé, a popular and cultured teenager who loves to party. And which, for some time, seems to have sunk into a destructive spiral. No longer finding her limits, between alcohol all day long, repeated blackouts, and classes she doesn't even bother to go to anymore. Will Rousseau (Charlie Dupont) be able to help her before she ruins his future?
On the occasion of the broadcast of the episode which is centered on her character – the first of the season – Louvia Bachelier returns for us to this new adventure, in which she evolves alongside a group of young actors, all excellent such as as Maïra Schmitt, Dembo Camilo, or Andréa Furet. And tells us more about Manon's future in Tomorrow belongs to us and her recent passage through the Elite box on Netflix. Just that.
AlloCiné: What interested you in the role of Zoé when you passed the tests for this second season of La Faute à Rousseau? Is it the fact that she is very different from Manon, whom you play in Tomorrow belongs to us?
Louvia Bachelor : Yes, that played a big part in my decision. That's what's great about this job: you can play very different people while being the same in the end. It was nice to be on a different project and have a different approach for a different character.
I had seen season 1 of La Faute à Rousseau and I really liked it. I really liked the concept of this series so I was delighted to pass the casting for season 2. I liked everything in fact. The concept, the character of Zoé. His will, his immaturity, I found that very interesting, there were plenty of things to explore with this character.
The episode centered on your character is interested in the notion of responsibility. How would you present what Zoé is going through, who is starting to screw up her life and her studies?
We actually know very little about her. We just know that she lives with her parents, that her aunt died. And she's a party girl, she likes to drink alcohol a lot, and she doesn't know her limits. My episode, the first of season 2, is called "Zoe and Responsibility". Zoé likes to have fun and go out to parties, but it presents risks. And she will realize it little by little.
She is accused of several things, including theft, and she herself does not know if she is really responsible. It will generate a certain questioning and an awareness and maturity during the episode.
Each episode addresses a strong societal theme, such as transidentity, teenage pregnancy and childbirth under X, harassment, positive discrimination. Do you think that a series like La Faute à Rousseau can help young people and families who are going through the same thing, and raise awareness too?
Yes, totally. Already, there is an intergenerational approach because each episode features the opinion of the student concerned, as well as that of his teacher, who has some experience, and parents and friends around too. The conversation that arises from all this mixes ages and points of view. And I think the series can really break down some prejudices and open up the debate.
The series also shows how certain teachers can mark the life of a student and make a difference. Did you have a teacher like Rousseau in your schooling, or in any case a teacher who inspired you, who had a real impact on you and your studies?
I had outstanding teachers, but not for the same reasons (laughs). I studied in a non-mixed, catholic and private secondary school. And so I had very strict teachers, rather old women often. But over time we got to know them and we managed to forge a bond despite their strict side. The relationship was very strong in the end, because there are expressions that mark and very funny moments that made us laugh. But they had nothing to do with Rousseau.
What is your relationship to philosophy?
I didn't love the philosophy, but it didn't bother me either. Some topics were very interesting. But with the Covid, I didn't have a full year of philosophy classes because the classes stopped very early. But on the other hand, my philosophy teacher was great. And I think a subject like this really depends on the teacher. This is what the series shows very well.
One of the strengths of the series lies in its lineup of young actors, of which you are a part. Was there a real gang effect between you on and off set?
Of course, we all got along very well. We formed a good little group, we had a good laugh. We saw each other again afterwards, we all keep in touch, it was a great shoot.
You also find Dembo Camilo from Tomorrow belongs to us, it's a rather amusing coincidence…
I was super happy to find Dembo. We did the casting at the same time, we were both in Sète. It was funny to see that we were going to go back together after Tomorrow belongs to us.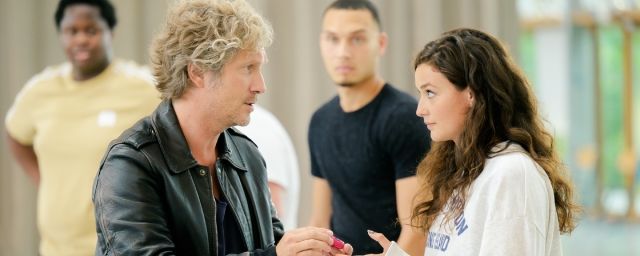 The past year has been quite busy for you, between Tomorrow belongs to us, Rousseau's fault, or the film The Test. Does the production of the TF1 soap opera easily arrange the actors' schedules to allow them to participate in other projects?
It all depends of course on the period and what is planned for Manon in Tomorrow belongs to us, but the production is always very accommodating and does its best to ensure that everything goes well for me and for the other project. They were great for La Faute à Rousseau. They calmed things down a bit on Tomorrow belongs to us to let me shoot elsewhere. That's why we haven't seen Manon so much in recent months.
Exactly, we see you more in Tomorrow belongs to us right now, after a short absence. And Manon decided to join the police, much to her mother's despair. Were you surprised when you discovered what the authors had in store for you?
No, because we talked about it before. The authors had offered me their idea and I thought it was great. I was happy with the way it was brought into the series. It is a plot that is not badly oriented towards comedy.
Aurore is determined to ruin Manon's internship. What can you say about what awaits us?
The situation creates tension between Aurore and Manon, because Aurore doesn't really agree. But in the end it will work out and everything will be fine. Afterwards, I don't know yet if Manon will become a police officer or not. We'll see how it develops over time.
Will Manon soon be entitled to a love story?
Manon had gone out with Issam. Even if this story didn't really have an end (laughs). All I can say is that Manon will evolve. Things are definitely going to happen on a personal level too. But it's still a bit unclear at the moment.
Emma Smet, who plays your sister in the series, recently resumed filming. Were you happy to find her after several months?
Sure. We get along really well with Emma. We are quite accomplices, even in real life. So it's cool to find her and have footage with her. Otherwise, I am left alone with my parents (laughs). Even if it is also very good of course! But I'm happy to find Emma again and to have scenes between Manon and Sofia to play again.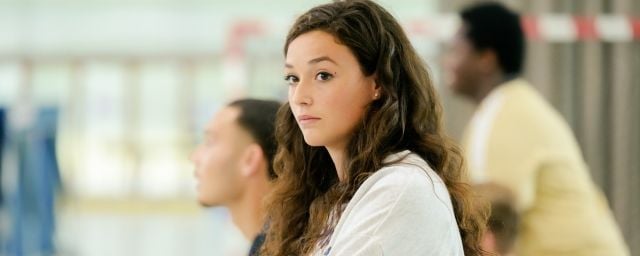 We saw you recently in Elite on Netflix. How did you get into this Spanish series which is a hit around the world?
Quite simply: thanks to my agent, who sent me the cast. I filmed a self-tape for the audition and I was taken, I was so happy. For the record, it had started badly because I had to redo the video. Unfortunately, there were too many parasitic noises on the one I had sent, we could hear the birds and construction noises. So I filmed another one and this time it was the right one.
It was great to participate in this series, it was a great experience even if it's a small role. And it's true that I've been lucky lately, I've been able to shoot in very different projects.
Will we see you in season 6?
I think they've already started filming season 6. And I don't see too much reason why my character could come back, so I don't think so.
Do you have any other upcoming projects you can talk about?
For the moment I am concentrating on Tomorrow belongs to us. I'm waiting for answers from castings I've done, but I don't have any particular project outside of Tomorrow belongs to us at the moment.