German President Frank-Walter Steinmeier met in Berlin with Ukrainian Holocaust survivors who had taken refuge in Germany.
Surviving, they found refuge in Germany. On Monday, German President Frank-Walter Steinmeier visited a retirement home in Berlin, where he met with Ukrainian Holocaust survivors who fled the Russian invasion of their country. The six elderly people, four women and two men, were able to reach Germany thanks to the intervention of Jewish organizations, said the German presidency, according to which 70 Holocaust survivors found refuge in 11 German cities after crossing by Poland.
"When I was nine years old, the Second World War started. And at 90, I have to live through another war," lamented Susana Neyman, a native of Dnipro, quoted by Deutsche Welle. The nonagenarian told her story, to which Frank-Walter Steinmeier was sensitive: "It breaks my heart to meet people who have had to flee war twice in their lives and who do not know if they will ever be able to find their country of origin". The German president denounced the "genuinely malicious cynicism" of Vladimir Putin, who advanced a goal of "denazification" to justify his invasion of Ukraine. The German president said he was ready to go to kyiv with other heads of state, a proposal refused by the Ukrainian authorities: "I was ready to do so, but apparently, and I must take note of this, was not wanted in kyiv," he explained, while some criticize him for his lack of firmness with regard to Russia, especially when he was Angela Merkel's foreign minister. Chancellor Olaf Scholz is also under pressure, accused of not committing enough to sanctions against Russia.
What's next after this ad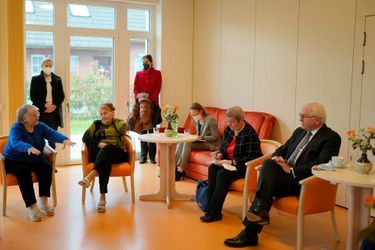 At least two Holocaust survivors have died in Ukraine since the war began. In March, Boris Romantschenko, 96, was killed in a Russian strike that fell on the roof of his building in Kharkiv, in the east of the country. The nonagenarian had been deported in 1942, at the age of 16, to Dortmund and then to the Buchenwald concentration camp in 1943, after escaping from his first forced labor camp. The young man had then worked in the camp of Peenemünde in the manufacture of German missiles, then had been sent to the concentration camps of Mittelbau then Bergen-Belsen. He had been liberated by the British and the Americans on April 14, 1945, when he and other deportees were to be killed by poisoning. "The horrific death of Boris Romantschenko shows how dangerous the war in Ukraine is for the survivors of the concentration camps," lamented the Buchenwald and Mittelbau-Dora Memorial Foundation.
What's next after this ad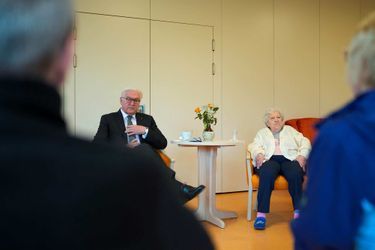 Interview: "In Ukraine, the places where the suffering is the greatest are not accessible"
Earlier this month, Vanda Obiedkova, 91, died in the cellar of Mariupol where she had taken refuge with her family, to shelter from the bombardments which fell on this city in the east of the country where she was born. in December 1930. "There was no water, no electricity, no heating and it was unbearably cold. We couldn't do anything for her. We lived on animals," Vanda Obiedkova's daughter, Larissa, told Chabad.org. She was recently able to flee Mariupol after burying her mother there in a public park despite the constant risk of an airstrike. "Every time a bomb fell, the whole building shook. My mother told me that she did not remember such things during the Great Patriotic War [le nom donné à la Seconde guerre mondiale dans l'URSS]." "Vanda has lived through unimaginable horrors. She was a kind, joyful woman, a special person who will remain forever in our hearts," added the Rabbi of Mariupol, Mendel Cohen.