Thursday, January 07, 2021
Global partnership



Bayer and Curevac form vaccine alliance
The pharmaceutical company Bayer will support the corona vaccine developer Curevac in the development and marketing of its vaccine. According to Curevac, the Leverkusen-based group should help "make the vaccine available to as many people as possible more quickly".
After Biontech and Pfizer, Bayer and Curevac are joining forces to form a corona vaccine alliance. The Leverkusen-based pharmaceutical giant and the vaccine developer from Tübingen signed a cooperation and service agreement with the aim of marketing several hundred million vaccine doses worldwide, as Bayer announced. "The need for vaccines against Covid -19 is enormous," said Bayer Board Member Stefan Oelrich. Curevac boss Franz-Werner Haas added: "With its expertise and infrastructure, Bayer can help us to make our vaccine candidate CVnCoV available to as many people as possible even faster."
The contract provides for Bayer to support Curevac in the further development and provision of the Covid-19 vaccine as well as in local activities in selected countries. The vaccine developer remains the holder of the marketing authorization for the product in the EU. Bayer is meanwhile given options to become the holder of the marketing authorization in other markets outside of Europe. The plan is to produce several hundred million doses of the vaccine as soon as the drug authorities have granted approval.
The Tübingen vaccine developer started clinical trials of its vaccine in June and started the approval-relevant study with more than 35,000 participants before Christmas. First results are expected in the first quarter of 2021. Like the vaccines from Biontech and Pfizer as well as Moderna, it is based on a new technology known as messenger RNA (mRNA), which is supposed to convey information to human cells about the production of proteins and thus about the fight against pathogens. In the phase I study, in which more than 250 subjects participated, the vaccine was tested in various doses. It showed a good tolerance and a balanced immune response. The federal government is supporting the project with up to 252 million euros; in the summer he invested 300 million euros at CureVac.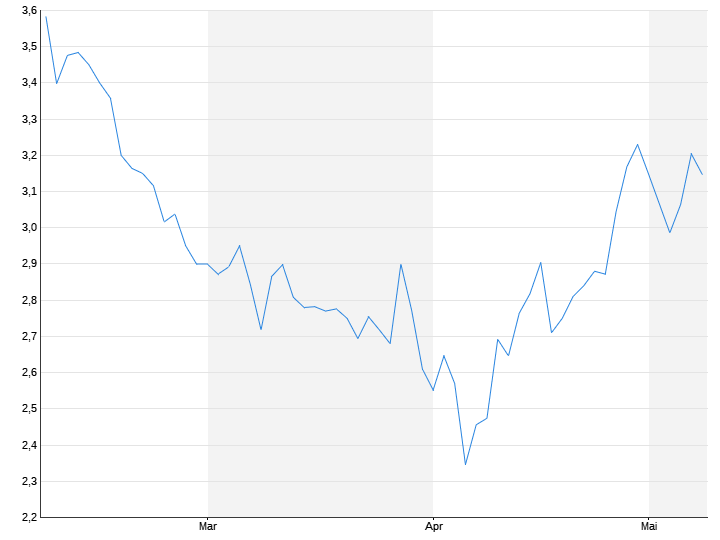 Vaccines are key in the global fight against the spread of the corona virus. The vaccine was the first to receive approval from Biontech and the US pharmaceutical company Pfizer in the UK at the beginning of December, as well as more than 40 other countries – including the USA, Canada, Mexico, Switzerland, Saudi Arabia, Singapore and Chile including the EU member states – followed. Moderna was the second vaccine manufacturer to receive emergency approval in the US on December 18, followed by Canada and Israel. The EU followed on January 6th.
Investors took hold of the news: Bayer shares rose by over two percent, while Curevac shares rose by almost nine percent.
. (tagsToTranslate) Economy (t) Curevac (t) Bayer (t) Corona vaccine (t) Corona crisis