Released on November 9, the PlayStation exclusive from Santa Monica studios seems to be seducing gamers with its exceptional setting and exciting storyline around Norse mythology…and the numbers prove it! On the Twitch side, the production exploded the scores of the platform with no less than 478,014 simultaneous spectators who watched Kratos and Atreus in their new adventures. These monumental figures make the title the second biggest launch of a PlayStation title on Twitch, just behind The Last of Us: Part II which gathered no less than 508,051 simultaneous viewers. Enough to prove it once and for all: God of War Ragnarök well deserves its place as the Game Awards 2022 Game of the Year nominee.
But while Ragnarök has only just been released, production director Eric Williams seems to have big ambitions, including that of taking over a mythical license of the industry!
Do you remember Castlevania?
Here is a name that may sound familiar to you. It was in 1986 that the very first opus of Konami's mythical license was released. The action-adventure productions with horror tones have charmed a large number of players… including Eric Williams who evokes Castlevania with nostalgia. But while the license has faded somewhat over time, it's in a podcast by the name of PS I Love You XOXO that the director of God of War Ragnarök asked his community to "make it happen". His ambition? Take ownership of Castlevania games to offer new opuses to players eager to take up arms again (swords).
"You can make it happen, because you have the audience from all over the world here… I don't know what I'm going to do next, but if someone gives me the Castlevania license, we'd love to do it."
Eric Williams, Santa Monica Studios Game Director

(Source)
"Do you want to be known as the guy from God of War for the rest of your life?"
Although Santa Monica Studios have revealed that they are working on "all" projects at once, Eric Williams would like him to work on God of War productions until his retirement. While management changes are a tradition for the various studio licenses, Williams seems very attached to Kratos and intends to work on the rest of his adventures.
"I remember talking to someone from another game company, where they were trying to get me out. He was like, 'Do you want to be known as the God of War guy? for the rest of your life?" Was that your big talk to talk me out of it? Because yeah, kind of I do."
Eric Williams, God of War Ragnarok Director

But then, will he be able to make room for Castlevania? In any case, the Santa Monica Studios teams seem to have their heads full of ideas and are ready to realize their wildest ambitions. It remains to be seen whether or not Konami will respond to the community's call to sell or at least share one of its flagship licenses with Williams. Last October, the teams of VGC reported that Konami would plan to revive Castlevania in the next few years, along with Silent Hill. Of coursewe will have to wait for an official announcement from the company before we know for sure!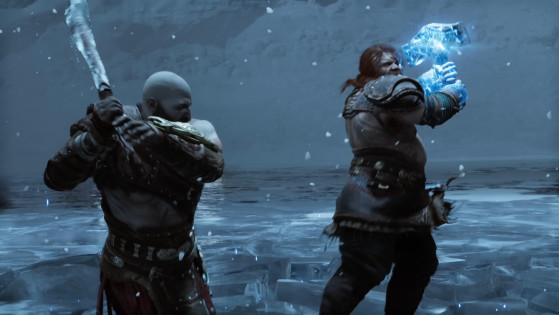 While God of War Ragnarok is a hit and could even walk away with the title of game of the year, a shadow seems to taint the picture of a somewhat shameful drama.