Everyone loves pink
This is the trend color of the Grammy Awards 2021
Finally it was that time again: every year the music elite gathers at the Grammy Awards and speculates who will receive what is probably the biggest music prize of our time. We were not only enthusiastic about the stars musically – their precious robes were also a real feast for the eyes. One trend color in particular came out on top this year.
From Melanie Wenzke
Glamor despite the pandemic: The most famous artists in the music world gathered in a tight circle and celebrated the Grammy Awards 2021 with distance and mask. Trevor Noah led through this special evening full of emotions and beautiful looks. Because even if there were many discussions and accusations in advance, no one can deny this fact: the red carpet at the Grammys is always spectacular. As if the artists had agreed: The color pink is the Grammy trend 2021!
Butterfly dream

Wow! Dua Lipa delights on the red carpet in this see-through dream made of mesh and crystals.
Wrapped in a crystal-covered breath of nothing, Dua Lipa attracts everyone's attention. The perfectly fitting creation by Versace is underlaid with pink fabric. And even the endless rhinestones on the upper body of the "We're Good" interpreter shimmer in the trend color par excellence! The fine straps that adorn the singer's cleavage also form the feelers of the butterfly. A high slit emphasizes her endlessly long legs. The look is rounded off with strappy sandals, which of course are also set with crystals. An unforgettable style!
Garden of eden

Taylor Swift's style develops along with her music: While she used a lot of glitter and flashy colors on her last album "Lover", her looks become "quieter" parallel to her music – and of course we also discover our trend color pink here!
The flower applications underline the rather natural look of the singer, who was able to secure a Grammy. Together with the pink pumps with bows, the short dress looks just beautiful.
Perfect duo

Billie Eilish also received an award after winning five categories last year. She accepted the award together with her brother and producer Finneas. And match these outfits! According to the girl group motto "Different, but harmonious", the sibling duo is presented in pink.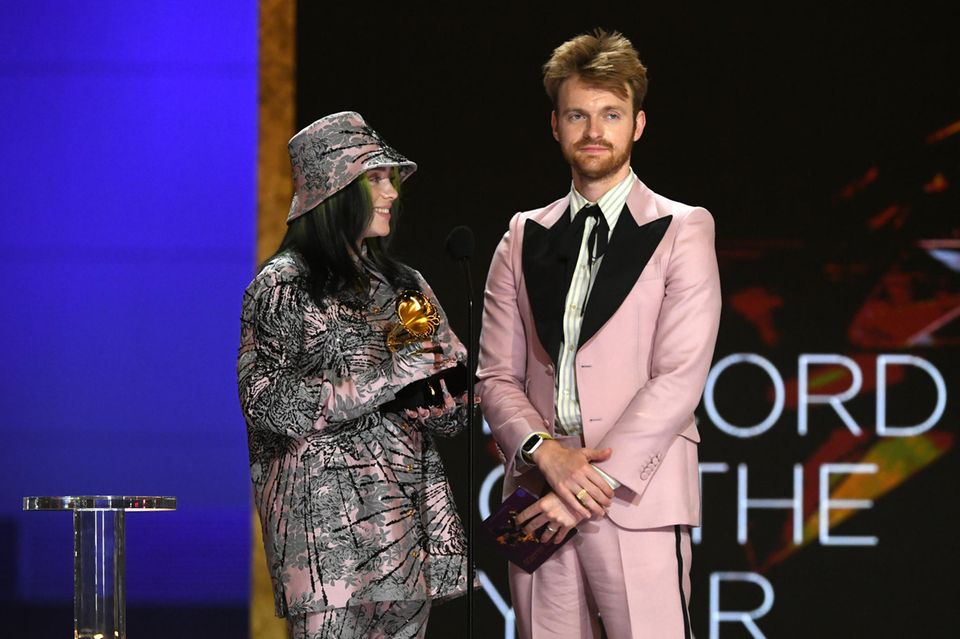 Billie's extravagant Gucci outfit also includes a hat and mask in the same pattern. The retro suit from Finneas underlines the pink accents and completes the partner look.