Artificial intelligence has already established itself as an indispensable tool for many tasks. But ChatGPT is very regularly down, or overloaded with requests, which sometimes makes it difficult to operate. To overcome this problem, there are alternatives.
ChatGPT hasn't been around for long, but the artificial intelligence developed by OpenAI has already revolutionized our lives. Whether it's to write texts, do your homework for you (we're kidding: Do not do that), or to sort information, ChatGPT is a valuable tool.
Unfortunately for its users, the latter regularly encounters technical problems related to its success. It is not uncommon to see an error message indicating that the servers are too busy, and that it is no longer possible to make requests. In case this is the case for you, here are the best alternatives available to replace, for a few hours, ChatGPT.
It's not just ChatGPT
To find the answer to our question, we simply asked ChatGPT (we were lucky: the AI ​​was working perfectly at the time). At our request, the chatbot made us a small list of all these direct competitors, usable for free.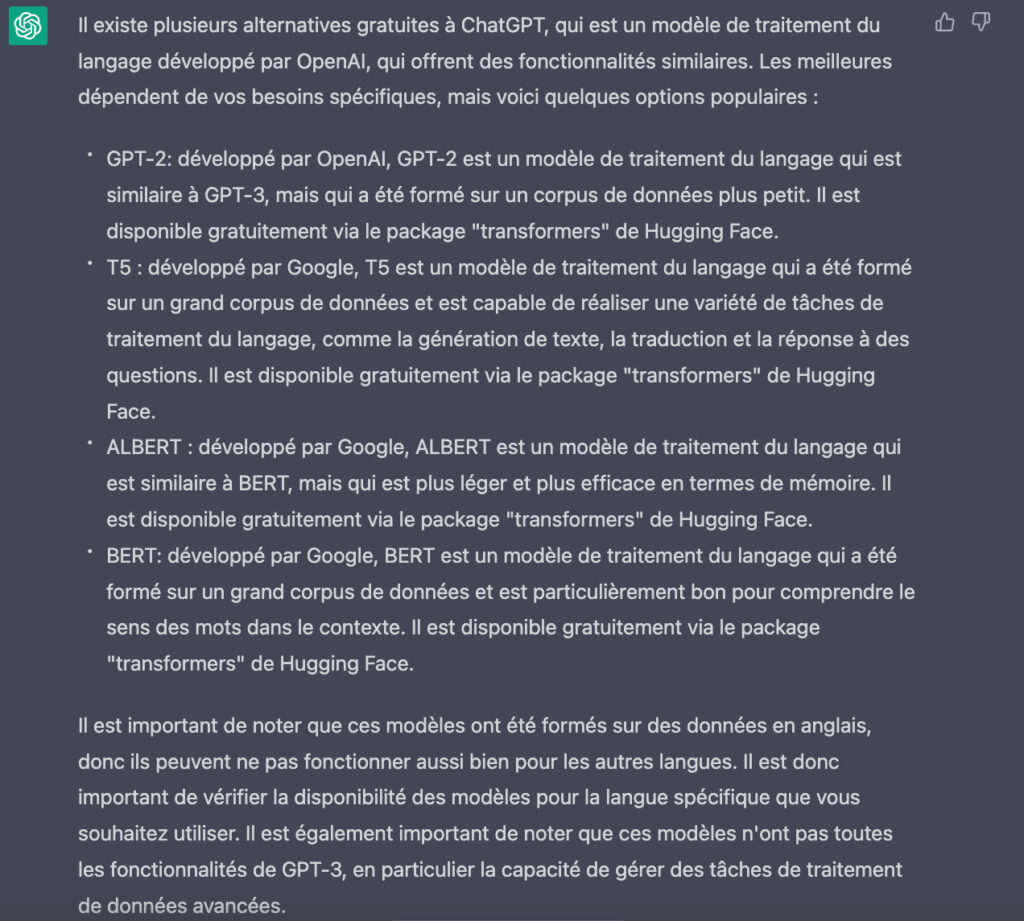 On the advice of ChatGPT, we can therefore list:
GPT-2, its predecessor. Apart from being less powerful than ChatGPT, it's not really a chatbot, but a text filler: you have to write the beginning of a sentence, and it will complete it.
T5, Albert, and BERT, all available for free on Hugging Face's "Transformers" page. However, you are not specifically advised to use them. These are word processing models, which are certainly very powerful, but which cannot be used as is. They need to be deployed to specific sites before they can work, and that's not necessarily the kind of interface you're looking for if you want a simple ChatGPT alternative.
If necessary, if ChatGPT is down, you can always use the OpenAI "Playground" (or sandbox): it's the same program, capable of responding to the same requests, but without the chatbot format.
It should also be kept in mind that there is not necessarily a single good alternative. ChatGPT is, for now, the most complete chatbot available to the general public, and it will therefore be difficult to replace it. On the other hand, we can find solutions depending on the uses: if you want to write passages of code, you will not have the same needs as if you want to have a text translated by ChatGPT.
We therefore allow ourselves to add to this already very complete list some more specialized solutions.
For texts: Writer, DeepL…
To write text, we recommend Writer. It is an artificial intelligence that helps you write faster and better. He (sic) is able to understand your writing style, find synonyms to make your text more captivating and correct grammatical or spelling errors. Writer can also advise you on the structure and content of the text you are writing ". The proof: we asked the AI ​​to write the previous sentences, and it works pretty well. You just need to start your text by writing the first sentences, and the AI ​​will complete it. It's free and it works in French.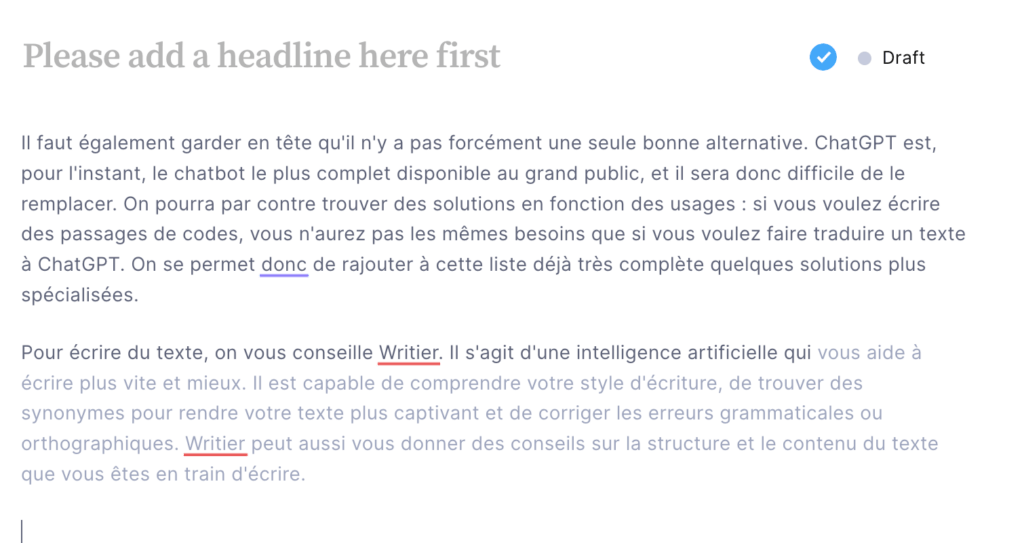 If you are looking for a chatbot instead, the best alternative is Chatsonic — because it is based on the ChatGPT model. " ChatSonic is more advanced than ChatGPT because it uses more advanced natural language processing technologies, and offers higher accuracy and relevance when answering questions. ChatSonic is also capable of providing unique and non-plagiarized content. While ChatGPT can be a quick and easy solution, ChatSonic offers users a more advanced artificial intelligence solution. ", explains the latter. We are not very convinced, but know that you can use 25 free requests per day before having to pay.
To translate texts, the reference is DeepL. It's not really about artificial intelligence, but DeepL is hands down the best free translation tool currently available. If you need a quick translation of a text into English, or even into Italian, Polish, Japanese or even Chinese, look no further.
Finally, if it's code you want to do, OpenAI has developed another artificial intelligence that could help you: Copilot. The tool, which was trained with GitHub, is capable of generating snippets of code and would be useful for performing repetitive tasks, according to its presentation. Be careful though: many developers do not fully trust Copilot.
---
If you liked this article, you will like the following ones: do not miss them by subscribing to Numerama on Google News.