Elden Ring walkthrough: Wiki, walkthrough… All our guides
Hidetaka Miyazaki talks about the difficulty of Elden Ring and It Takes Two
Posted
Through
Robin "Raiden Robin" Bouquet

The Playstation Blog was treated to an extended interview with the game director. He details his inspirations, as well as From Software's philosophy in terms of game design, with new information at the key. He also mentions his co-op gaming sessions on the Hazelight Studios game.
Hidetaka Miyazaki has given many interviews to talk about Elden Ring, and while there are usually no big surprises now, we always learn some interesting details and anecdotes about the game and how it was designed. This interview is currently not available in French, you can find it in English on the Playstation-Blog. However, here is a translation of the most notable new elements:
He does not advise any particular class or style of play, but on the contrary, to take advantage of the freedom offered. He simply advises against taking the class character who starts the adventure naked (Wretch) for a first part, because it is much more difficult.

The objective in From Software's games is not to punish the player, and they have also sought to reduce stress in Elden Ring by adding closer respawn points for example. Their goal is to encourage players to overcome adversity one way or another. They have many options to overcome a difficult situation, they must use their brains to overcome enemies and bosses. You have to study the game, memorize the elements, and learn from your mistakes. They can come back later if needed. But above all it is a chance to overcome a difficult obstacle and to progress. Game design is based on this cycle of overcoming these obstacles and having fun.
From Software didn't intentionally lower the difficulty, but Miyazaki believes more players will finish the game, thanks to the freedom it offers and the more accessible multiplayer.

The world is more colorful than in previous games since there are still traces of the Golden Age, and because offering a vast, entirely dark open world would be too depressing. There are therefore more or less colorful areas and with picturesque landscapes on occasion. However, there is also a very wide disparity between the brightest places and the darkest places. There are places that are even more oppressive and dark than in the studio's other games.
New Game Plus and multiple endings will be present in Elden Ring.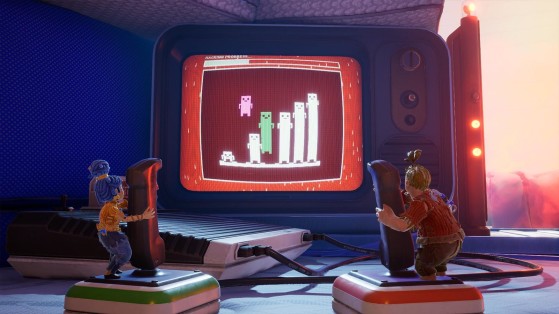 Miyazaki hasn't had much time to play video games lately, but he still made It Takes Two with a friend, in three sessions and he really enjoyed it. He enjoyed maintaining the art style as the playstyle and obstacles constantly evolve, all while pushing players to cooperate. It never gives time to get bored either, and it's fun from start to finish.

After the collaboration with George RR Martin, he would like to work with other personalities on a new game, but not with someone from the video game world, he prefers the variety and the different point of view offered by someone who writes books or music for example. He doesn't have a person or studio in mind right now, though.