HOGWART'S LEGACY

There are quite a few spells in Hogwarts Legacy, but also black magic ones like Avada Kedavra, Imperio and Crucio. This is how you learn the three Unforgivable Curses.
Befriend the Slytherin Sebastian Sallow for the Unforgivable Curses.
You unlock the curses with the "In the Shadows" quest line.
You should have reached level 20 by the time the series starts.
In Hogwarts Legacy, the professors only teach you harmless spells like Expelliarmus. But you can also learn Avada Kedavra, Imperio and Crucio.
You really go to work evil if you know and use the three unforgivable curses. Crucio, the Curse of Torture, causes your foes to writhe in pain while you can still fire more spells at them.
With the Imperius, the victims of the curse are under your spell and fight for you. They take less damage during this time, allowing them to serve longer as a puppet. If you want to end life, then you do it with the Avada Kedrava. The only person who has ever survived the Killing Curse is Harry Potter.
If you bought the Deluxe or Collector's Edition, you can test the three curses even if you haven't unlocked them yet. All you have to do is visit the Dark Arts Arena. There you will then face several waves of opponents with the forbidden spells.
This is how you unlock the curses

External content
from Youtube
At this point you will find one Videos from Youtube, which complements the article. You can display this with one click.
I consent to external content being displayed to me. This allows personal data to be transmitted to third-party platforms. More about this in our privacy policy.
If you want to learn the magic, you have to accept a somewhat longer path. Befriend the Slytherin Sebastian Sallow to start the "In the Shadows" side quest line at level 20. In another article, we'll tell you how to level up quickly in Hogwarts Legacy.
You learn Crucio with the quest "In the Shadow of the Study". In the Shadow of Time you can learn the Imperius Curse, while in the Shadow of the Relic you unlock the Avada Kedavra.
Independent of the Hogwarts house

This quest line also includes four quests that are part of the main quests. You can learn the three curses independently of your house. So even a Gryffindor can become a black magician if he or she wants to.
How well do you know Harry Potter?
In which well-known film does Snape actor Alan Rickman also play a shady character?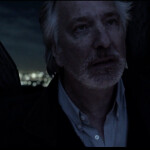 If you have purchased the Standard Edition, the Dark Arts Arena is not available to you. In order to see the curses in action, you have to invest a few hours in this case. During this time you can also accumulate a lot of Galleons in Hogwarts Legacy with our tips.
Don't miss anything with the NETWORK-Newsletter
Every Friday: The most informative and entertaining summary from the world of technology!