Eat your soup ! Well yes, we eat our soup and with pleasure. Especially if it's homemade. Does this sound complicated to you? Not at all, nay! Preparing soup is easy as pie, often very healthy, hydrating and super economical. How to make a successful homemade soup? Follow our tips and tricks …
Soup, soup, velouté, what are the differences?
> To put it simply, in fact, we can call soup or soup just about anything that is fluid and that is served in a bowl or deep plate. With or without pieces, with pasta, rice, potatoes, just vegetables, sometimes meat … Everything is possible.
> A velvety, as the name suggests, will have a softer, mixed texture. The great classics: velouté with asparagus, pumpkin or mushrooms.
Previously, on a menu, soup was just a starter. Today, it is often used as a light dish for the evening, especially in winter when vitamins are rare but necessary, even as a complete dish, like a minestrone or a chorba!
In summer, ice cream soups, cold soups and gazpachos are very refreshing, and they can be served in small verrines as an appetizer.
For dessert? Yes, dessert soup does exist … We will explain it to you below.
How to make a good homemade soup, according to its taste?
>> To make a good thick soup, the ideal is to use potatoes or pulses: lentils, chickpeas, beans, broad beans … If you prefer to play it on a diet, prepare your soup by not adding too much water. At worst, we start by preparing a puree in which we will incorporate the broth little by little.
>> To make a velvety soup, the mixer is essential … and the crème fraîche or the handled butter (half soft butter + half flour) incorporated at the end give an impeccable velvety.
Note: zucchini and broccoli also offer a nice texture, as do potatoes rich in starch such as Bintje and Mona Lisa.
>> The ingredients for a light soup will be reduced to vegetables and water, with salt. That's all.
You can also bet on a fragrant broth and some seafood, such as Tom Yam, this delicious clear Thai soup.
If not, replace the potatoes with zucchini, more light. A little cornstarch or coconut milk can also thicken, to avoid the impression "I'm drinking water with vegetables", a little too diet … And here is a very light homemade soup!
>> To make a soup with pieces, cut the vegetables into large pieces at the start. And if you are mixing your soup, then stop before you get a smooth smooth.
Or, on the one hand, prepare a soup, and add pan-fried vegetables: an inimitable taste!
>> Want a good green soup? The most classic green soup, that with leeks! And of course you can add all the green vegetables you like.
Avoid putting too many carrots, pumpkin, peppers …
Homemade soup ideas men love
Even if today, we see that these gentlemen have more and more sophisticated taste buds, some still show resistance to the mere mention of the words "vegetable" or "soup"!
We will have to take the most difficult ones with feelings: provide cheese, croutons, cream, small pieces of ham, olive oil, or integrate them directly into the soup. However, leave the pasta in the shape of letters to the children, it should not grow anyway!
How to make an express soup?
The trick to making homemade soup quickly? Always have pre-cut frozen vegetables in your freezer to quickly concoct soup. You add a little water and you season, and presto, all in the pressure cooker.
Close, wait a maximum of thirty minutes and when it whistles, the cooking is stopped. Mix and hop, to the table!
How to make good cold soups?
You need a blender to mix raw food: cucumber, tomatoes (for the famous gazpacho), beetroot … You can also use a hand blender if you add a liquid element (Bulgarian yogurt, vegetable milk, flavored water … ).
For the others, steam and mix while seasoning, or cook in water and season at the end.
>> A tip for the gazpacho: place it in the fridge with ice cubes in it instead of water, by melting they refresh and lighten everything.
Meal soup
I opt for a chorba, a harira, a hotpot soup (like this Auvergne bacon soup), a broccoli soup with Roquefort and raw ham, a cream of beans with chorizo ​​… or a bouillabaisse or a garbure.
Long live the good big local soup!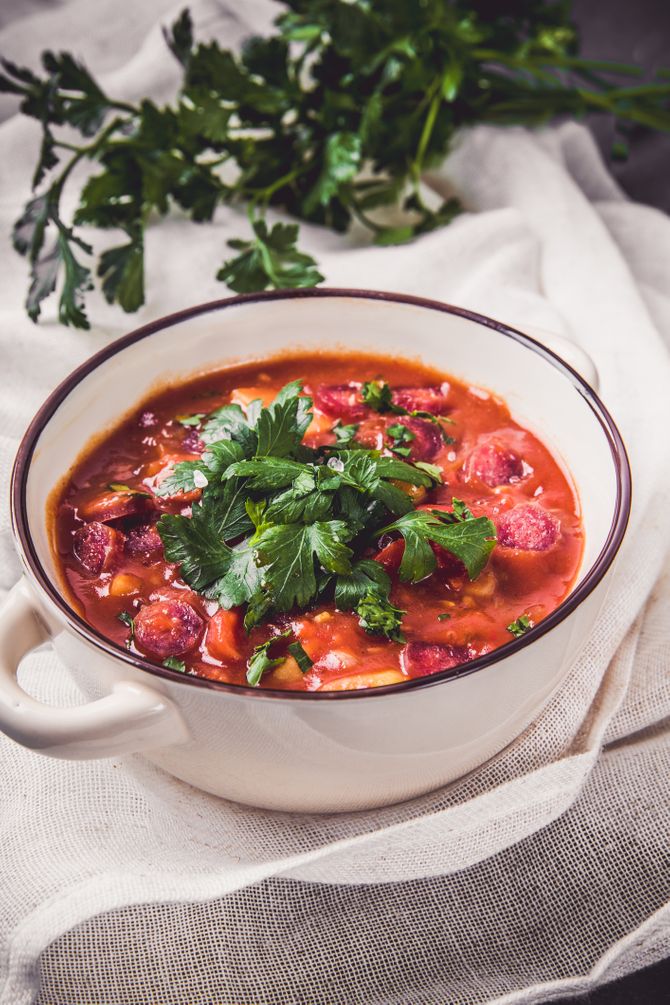 © iStock
Travel in your soup! How to make soup from elsewhere?
Asians love soup that is often full and well-flavored.
Broth and vegetables, noodles, ravioli, possibly pieces of raw meat or fish (they cook in the heat of the broth. You have to force the spices, herbs and seasoning, and avoid overcooking noodles.
You can add an egg just before serving, stir until it is set, it gives pretty filaments and it's ready.
Variation: add peanut paste to give more consistency and bring a "satay" side to your Asian soup.
Discover other soup recipes, soups, soups!
The cabbage soup diet, the good idea?
On the material side, to make my soup I have:
A pressure cooker
Great, just put the peeled and cut vegetables in, cover widely with water or broth, salt and pepper, herbs and spices according to taste, close the casserole dish and wait 30 minutes after turning the valve on.
A Dutch oven
Same principle as the pressure cooker, or for a magnificent taste reminiscent of grandma's soup: I first brown my vegetables in a little oil, or with bacon. Once browned, I cover with the broth and let simmer 1 to 2 hours. The more it is simmered, the better …
An oven
Yes, against all odds, it is quite possible to cook soup in the oven. Moreover, it is to make profitable the energy provided by it to cook several dishes at the same time! How to do ? Oil an ovenproof casserole dish (with lid), put your vegetables in it, sprinkle with a little water or broth and close. Leave to cook for 1 hour at 180 ° C (th 6). At the end, you can cook the casserole dish open to evaporate the liquid if there is too much.
To find the cooking pot you need, click here.
Liquid dessert: how to make a sweet soup?
Of course you can eat soup for dessert! It's surprising but delicious, and that changes. The most greedy will accompany it with cookies!
Coconut milk soup
Coconut milk is very popular in Asian desserts. It is a good base for sweet soups (be careful, it's quite fatty …), and you can add pieces of fruit, sticky rice dough balls, soya beans, red beans. … To serve warm, it's better!
The recipe for creamy Thai coconut velouté here
Custard
This is THE French sweet soup par excellence! Yes, casually, it's not a cream that holds, but really a liquid that you could almost sip. A bowl of custard and some poached egg whites … the floating island is a kind of soup, isn't it?
How to make fruit soup and smoothies?
The smoothie is a cold soup served in a glass, so focément it looks more like a drink … Still, we often consume it for dessert!
So take some fruit, sugar or honey, possibly milk, yogurt or ice cream, mix and shoo, the soup is ready! With a lot of vitamins!
Our best smoothie recipes here.
Chocolate soup
It looks like breakfast milk chocolate, but with more chocolate! Very tasty, even better served lukewarm with quenelles of ice cream or whipped cream added at the last moment.
Fruit gazpacho
The idea is to play on already known presentations, such as gazpacho, but with sweet ingredients. We can thus serve a cold soup of red fruits (fruits mixed with sugar and other flavors if desired), and accompany with diced gingerbread, small cubes of pineapple and mango, melon balls, chocolate shavings. .. to add according to taste!