Instant messaging applications allow you to send your location by message very easily. This is the case of WhatsApp, but also of Google Messages and iMessage.
With geolocation, smartphones are able to indicate with great accuracy your position on a map. Convenient to know where you are and to get to your destination. What is less known is that the information can be passed on to relatives, to let them know where you are. This is very useful for finding a person in a crowd, for example.
Mobile applications already include such functionality. For example, this is the case of WhatsApp, with a setting to share its location in real time. There is also Snapchat which has a similar feature. Even if you do not use these messengers, but rather a "simple" SMS application, the trick can also be offered.
Send location by message
This option is offered on Messages, the Google application dedicated to SMS. This is the way to go.
Launch the application on your smartphone;
Go to the conversation in which you want to send your location;
Click on the "+" button at the bottom left of the screen;
Choose "Location";
Set location access rules (only this time, every time the app is used, etc.);
Send your position or a nearby address (if you have an appointment at a particular place);
The message will then leave with a link pointing to Google Maps. The person who will receive the text message will only have to click on it to display the location sent. If you change locations, you'll need to resend another link to everyone involved, so they can know where you are. Messages are sent by simple SMS.
Share your location on iMessage
For people with a device with iOS, that is to say an iPhone (or iPadOS for the iPad), it is also possible to share its location, this time via iMessage, the instant messaging service from Apple. The process is identical to determine the position of your loved ones and your family, and to give yours. Sharing is temporary and can be terminated at any time.
" You can also share your location in the Find People app on watchOS 6 or later with Apple Watch models that have GPS and cellular connectivity and are paired with your iPhone ", specifies the Cupertino company. The iPod touch is also eligible for this service. Note that the iPhone 14 also benefits from a satellite connection.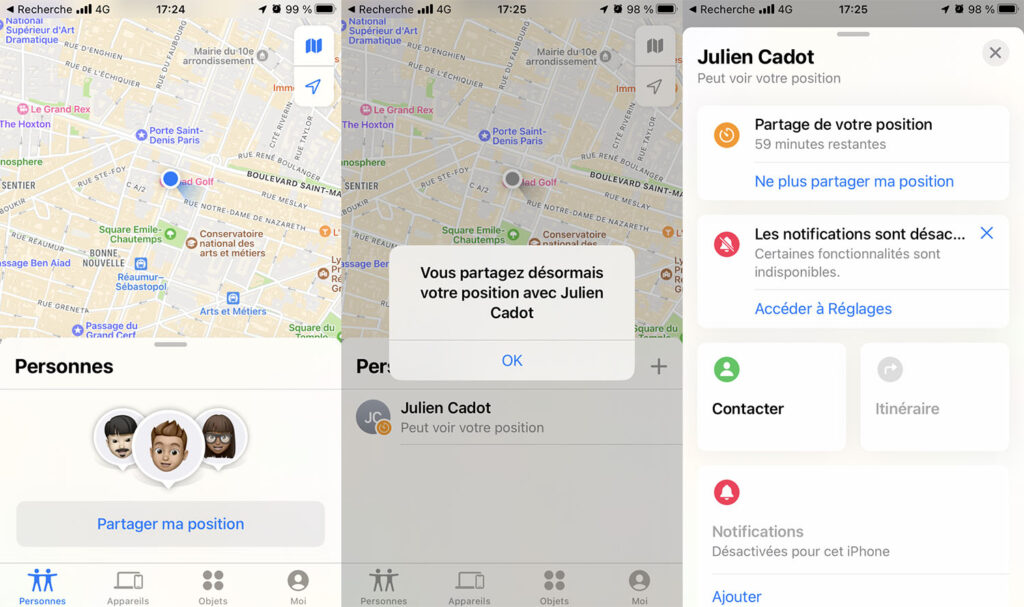 It should be noted that text messages are less secure than messages sent through specialized messaging systems, such as WhatsApp, Telegram or Signal (at least when end-to-end encryption is active). Of course, Google Messages also provides end-to-end encryption, but each person must use the same application for it to work.
For further