HUAWEI MATEP PAPER

The e-ink tablet Huawei MatePad Paper should give you the feeling of paper. In the test we will tell you whether the purchase is worthwhile.
Huawei MatePad Paper review

editorial rating
7.6
reader rating
1 review
NETZWELT may receive a commission from the retailer for links on this site. More info.
Notice Maximus

The MatePad Paper is primarily aimed at those who like to take a lot of notes and are tired of paper chaos – the range of functions here is really impressive. Bookworms will also have fun with the device, as long as the missing Google Play Store doesn't bother them. It is best, however, if buyers fully enjoy both advantages, because at a price of 500 euros, a mere e-reader or a digital notepad would simply be too expensive.
We liked that
comfortable weight
Extensive note functions
Good writing feeling
fingerprint sensor
Pen and case in one package
Customizable lighting
We didn't like that
No Google Play Store
Screen doesn't quite feel like paper
You certainly do not want to find stacks of books and notes on your desk or on the shelf. They take up a lot of space, sometimes it gets messy and you may not find important notes again.
E-ink readers can help here, with which you can read e-books and, thanks to pen support, also take notes – all digitally, of course. The tablet is easily stowed away and also super portable.
However, the selection of e-ink readers with the most natural possible representation of writing with pen support is rather manageable in this combination. You get the popular Remarkable 2 for 400 euros. Huawei now wants to offer you another option with the MatePad Paper for 500 euros.
Dimensions and first impressions

You get a 10.3 inch black and white tablet that is almost 23 cm high, 18 cm wide and about 6.6 mm deep. The weight is 360 grams.
The scope of delivery includes the tablet, a charger with USB-C cable, an M-Pencil as well as two spare tips and a cover for the MatePad.
The device with rounded edges looks well made, the left frame is slightly wider and is suitable for holding without covering the screen with your fingers. The back and partly the left edge are covered with imitation leather – for more grip.
Huawei MatePad Paper review
Here you can see pictures of what to expect from Huawei's MatePad Paper.
A fingerprint scanner for user identification is located on the top right. The volume buttons are located on the right side. Loudspeakers are installed at the top and bottom if you want to play audio files – including specially made audio notes. Four microphones are also installed.
We consider Huawei's MatePad Paper to be light and handy for a tablet. It can also be held on the wrist for a long time without any problems and is pleasant to read.
Enjoy e-books anywhere

You can place e-book files on your MatePad Paper, for example by downloading them from the cloud, if you have them. You can then simply place these in your bookshelf, which you can easily access from the start screen.
The Huawei Books service should give you access to more than two million works in 20 languages ​​if you pay for them. But there is also a free section with a selection of free reading samples.
Back up thousands of e-books for free
enough reading material
Do you want to equip your e-book reader with free e-books? We'll show you where to get thousands of free books, quite legally.
Text is always easy to read, the pages turn well, and overall the Huawei MatePad Paper is suitable as a decent e-book reader. A strong swipe gesture from the side inwards and you will return to the main menu. On the home screen, you have a calendar, email, a Huawei Books app, and the device's next big plus: Notes.
Nice range of note-taking features

Thanks to the M-Pencil, you can easily create notes and even encrypt them. You choose a blank template or one with a pre-designed layout, such as lines, checkered, or columns. Handwritten notes are recognized very well and saving works as expected.
The choice between different writing tools is also nice. So you choose either a digital fountain pen, a ballpoint pen, pencil or highlighter. Of course there is also an eraser.
You even have the option to convert your handwriting to block letters, and it works amazingly well, even with less-than-nice handwriting.
When reading an e-book, you can also write in it with the pen if you want to comment on passages in the book. These notes then remain in the e-book. Unfortunately, the eraser does not work as well as desired here either. Alternatively, you can select the "Comment" function in the text. Here you can make a screenshot of a text page with a comment. Then your digital book will not be full later. And audio notes are also possible thanks to the microphones.
Some of you may also like the split screen mode. Here you continue reading the current text on the left side and you finish your notes on the right side.
You can also use a blank note for drawings for fun. Simple sketches can be made and drawing is fun for a change, but more ambitious hobby artists should perhaps buy a tablet with a pen that is more tailored to their needs. But it's nice that you can let off steam creatively.
Not quite like on paper

Huawei promotes a writing experience on the MatePad that is almost like writing on paper. We think that this has been successful in the beginning. So we miss a little more resistance that we would feel when writing or drawing on a piece of paper. We tend to get the impression that we are swiping the pen over a plastic surface and see potential for improvement in future models in this regard.
A delay that is typical for e-ink displays is also present on this device, but it is not particularly noticeable. When you read and write, you quickly get used to it.
Tablets with pen at a glance
For notes, drawing and more
If you want to buy a tablet with a pen, there are not only Apple's iPad and Samsung's Galaxy Tab to choose from. In comparison, we present alternatives that are also convincing.
The pencil can always be attached to the side. He is automatically liable. When using it, you can quickly double-tap a virtual button on the top and switch between digital pen types, such as a ballpoint pen and an eraser, very quickly.
Unfortunately without Google Play Store

If we now take a look at the software and the range of apps, a little disillusionment sets in, because the main screen with the menu bar on the left cannot be adjusted as desired. After all, everything remains manageable.
Remarkable 2 in review
Perfect for handwritten notes
The ReMarkable 2 will blow anyone who likes to work with pen and paper. No other tablet impressed us so much in terms of the typing experience in the test. If it wasn't for this subscription model.
Much more serious, however, is that Huawei can no longer offer Google services and therefore there is no Google Play Store. So you don't have easy access to popular apps that you would need on a regular Android tablet, for example.
at Huawei Buy MatePad Paper for 500 euros*
advertisement
After all, you can use the search function under "Apps" to find Amazon's Kindle app and install the APK. So if you have an impressive e-book collection on Amazon, you don't have to go without it with the MatePad Paper.
The selection of apps via Huawei's AppGallery or the search function is still extremely sparse and somewhat inexperienced users might even have problems finding the Kindle app. Here at the latest it becomes clear: the MatePad Paper is not a regular tablet alternative.
What else we noticed

According to the manufacturer, charge the battery in 1.5 hours and use it for 6 days
When transferring texts, PDF and ePUB formats work
No water resistance given
Device available in black, blue and white
WLAN connection
Bluetooth 5.2
64 gigabytes of memory for storing texts
The resolution of the display is 1,872 by 1,404 pixels
Adjustable reading light available
M-Pencil with 4,096 pressure sensitivity levels
Content transferrable directly from Huawei smartphones or MateBooks
Huawei MatePad Paper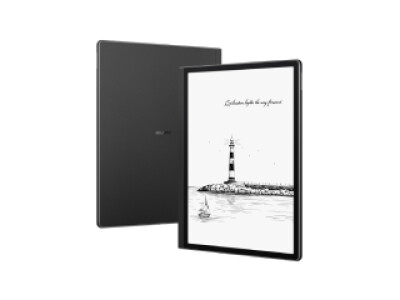 editorial rating
7.6
reader rating
1 review
NETZWELT may receive a commission from the retailer for links on this site. More info.
Huawei MatePad Paper: The best alternatives
Don't you agree? Are you looking for suitable alternatives? Below are the best Huawei MatePad Paper alternatives. You can find an even more comprehensive list in our tablet overview.
Huawei MatePad Paper: data sheet
Here you can find the technical data for the Huawei MatePad Paper. You can easily compare size, weight and other properties with other products.
screen size
10.3 inches
display type
A K
processor
HiSilicon Kirin 820E
random access memory
4GB
Dimensions
225.2 x 182.7 x 6.65 millimeters
Internal memory
64GB
weight
360 grams
Internal storage expandable?

✘

no
number of speakers
2
battery pack
3,625mAh
camera

✘

no
front camera

✘

no
LTE variant

✘

no
5G variant

✘

no
SIM card type

✘

no
connections
USB-C
Stylus included

✔

Yes
Can be used with a pen

✔

Yes
Keyboard included

✘

no
Keyboard connectable

✘

no
Don't miss anything with the NETWORK-Newsletter
Every Friday: The most informative and entertaining summary from the world of technology!