His sulphurous opus centered on the affair of a teenager with his stepmother was eagerly awaited on the Croisette this year. Meeting with the film and the heroes of the always transgressive Catherine Breillat.
A few hours before the long-awaited Cannes Awards, we wanted to talk to you about a film presented in Competition this year, also highly anticipated because of its sulphurous subject carried by an author and director whose taste for transgression is known , frontal and free.
After staging the story of a 14-year-old girl seduced by a forty-year-old in 36 Fillette, reducing the difference between cinema and pornography in Romance, or denouncing uncomfortable manipulation in Abuse of Weakness, Catherine Breillat returns to the cinema with a little of all this in Last Summer, a remake of Queen of Hearts, a Danish film by May el-Toukhy little known to us, which was offered to her by Saïd Ben Saïd, producer in particular of the other sulphurous Elle by Paul Verhoeven. A film that suits her like a glove, to her and her obsessions.
Here again, female sexuality is explored, scrutinized, filmed according to the famous "female gaze" which deconstructs filmic prejudices and questions them by proposing another way of seeing, focused on the female gaze and no longer exclusively and traditionally on the point of view masculine: in the first love scene in particular, Breillat's camera is glued to the face of his heroine, offering us what she sees and what she feels, as the subject of the act of love and no longer an object of desire.
The object of desire here is him, this 17-year-old teenager (moving Samuel Kircher) necessarily young but also attractive and so disturbing.
"I was touched by this character who has had no one's attention so far"he explained to the journalists present during the press conference of the film. "Suddenly there is a hand given to him, for the first time he is considered an adult. He matters to someone. And it is upsetting for him. real violence for him."
The irrepressible temptation to fall
A lawyer specializing in sexual violence against minors (note the irony and the provocation here), the character portrayed by the sensual Léa Drucker is a responsible forty-something, suddenly overwhelmed by the attraction and desire that the young boy awakens in her; to the point of pushing her to endanger (unconsciously sabotage?) a perfectly tidy family life and career. The famous "irrepressible temptation to fall…" which she will later refuse, firmly, putting herself in "survival mode" at all costs, as he was told.
Attraction, direct acting out, idyll that continues until it is no longer possible, difficult consequences of this necessary but brutal break: with Catherine Breillat love is not romantic, always filmed with a kind of hardness, implacability.
Dry, the sex scenes are no less embarrassing. Like the desire and feminine determination staged here, sensual then suddenly cruel when it comes to denying everything and relieving oneself of responsibility, in a scene of lies that the forty-year-old plays for her husband, an anthology scene. From then on, the thunderbolt becomes a storm in the midst of a seemingly very calm summer.
"The teenager is my passion"explains Catherine Breillat to the audience of journalists. "My heroine here is an enigmatic woman, less predatory than in the original film, with a wider cast." A heroine who, according to her, is "neither manipulative nor predatory, not anticipating what will happen" and whose mysterious face and eyes she scrutinizes, until they close, in full orgasm .
I myself transgressed something about me to go to this woman…
This mysterious, complex, unpredictable and very sexual woman, Léa Drucker approached her with a necessary apprehension: "I used a lot of things that I could feel like apprehension about doing a character like that, going towards an image that rationally I didn't necessarily understand. It was a dive, I tried to stay as an actress like a leaf that floats on the water and receive information.
You had to agree to discover things during the filming. I looked for the key to identify myself with her, without judging her. I knew that by working with Catherine, I was going to be inspired by her view of the world, which is unique. I myself transgressed something about me to go to this woman".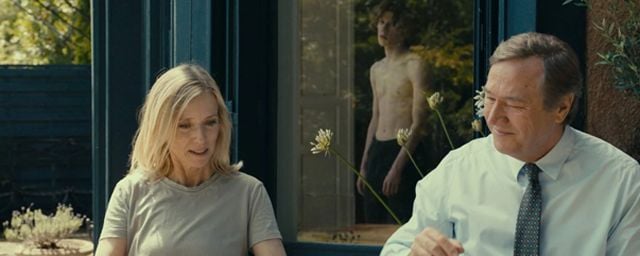 A transgression that the director has captured, as close as possible to her actors whom she films up close in their tender youth or their eloquent wrinkles, letting herself be fascinated and inspired at the time. "The loving side was almost improvised during filming. Such a loving relationship was discovered in the frame. I need the frame to discover my actors. The film is thus created at the moment it is created."
A film that divided the Croisette, and which you will find in theaters on September 20, 2023.