Range renewal for JBL soundbars. The manufacturer has just announced no less than 4 references, ranging from 399 to 1,149 euros: the JBL Bar 300, Bar 500, Bar 800 and the top of the range Bar 1000.
Unsurprisingly, JBL is part of the multichannel sound movement, and especially Dolby Atmos, through different more or less ambitious configurations.
JBL Bar 300 and Bar 500: MultiBeam™ sound
Although marketed with Dolby Atmos (because they are compatible), the Bar 300 and Bar 500 soundbars do not display sound verticality, in the absence of up-firing speakers (pointed upwards). It will be necessary to be satisfied with the MultiBeam™ system, a sort of improvement of the sound stage via beam formation.
The Bar 300 is a fairly large entry-level 5.0 model measuring 820 x 56 x 103.5 mm and weighing 2.5 kg. It is made up of 4 90 x 46 mm ovoid bass/midrange speakers, and 2 20 mm tweeters, all for a power of 260 W. The device includes an HDMI input, an HDMI eARC socket, an optical, and is HDR 10 and Dolby Vision compatible. It will be available in September, for 399 euros.
A little more ambitious, the JBL Bar 500 uses the same sound architecture and the same connectors, but in a larger format (1017 x 56 x 103.5 mm and 2.8 kg). Also, the device comes with a subwoofer with 260mm speaker. This 5.1 model develops no less than 590 W of total power. For the price, we go to 649 euros all the same.
JBL Bar 800 and Bar 1000: Atmos and detachable
Much more ambitious, the following two bars are truly Atmos compatible, as they incorporate vertical speakers. Above all, both include removable surround channels, which can be used clipped to the speaker (for Atmos/surround rendering) or independently (rear/Atmos channels).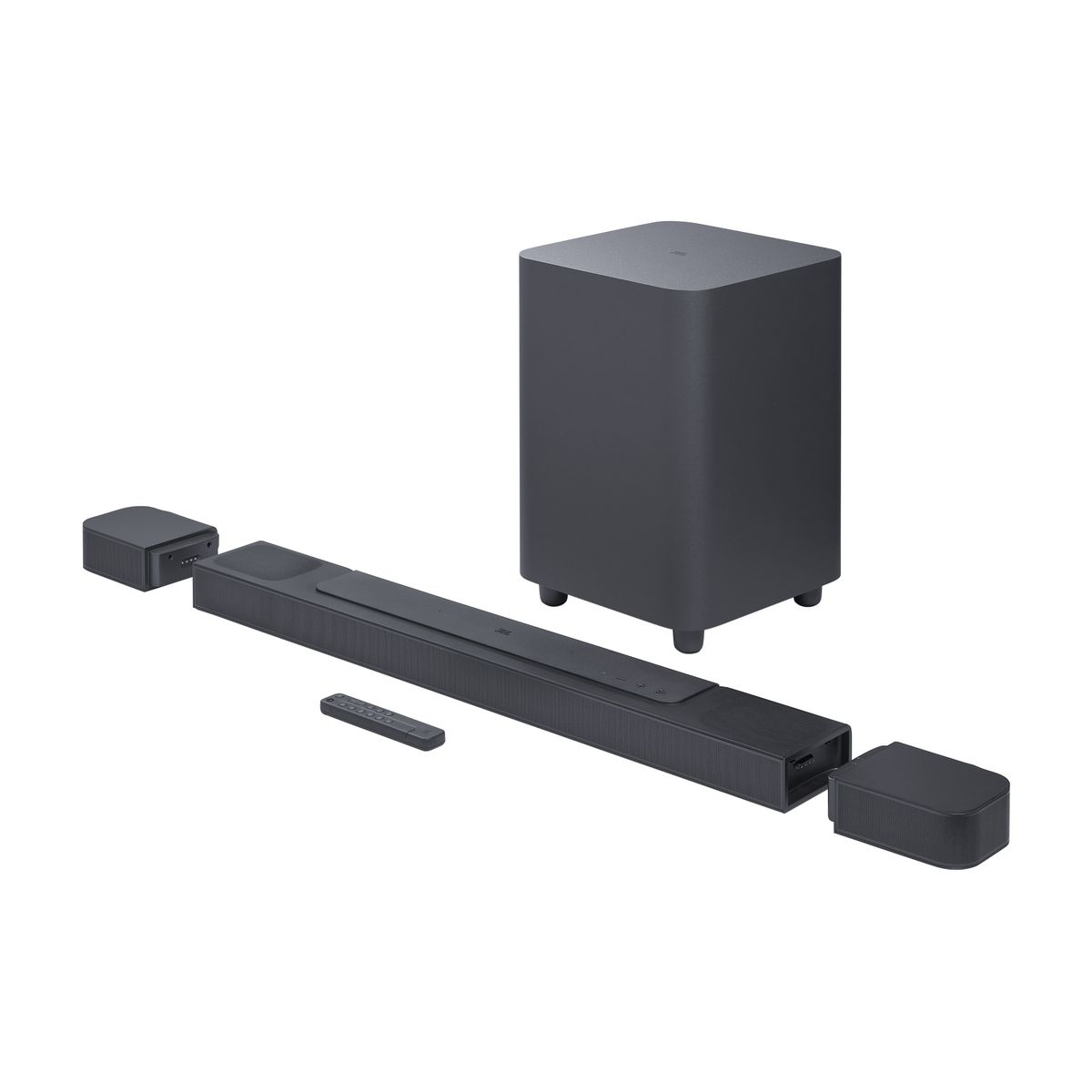 The Bar 800 is a 884 x 56 x 120 mm model weighing 3.4 kg, consisting of 3 bass/midrange transducers of 46 x 90 mm, 3 tweeters of 20 mm as well as 2 full-range loudspeakers of 70 mm placed at each end. The two surround modules, meanwhile, each incorporate a single 46 x 90 mm transducer. The subwoofer present on the Bar 500 is still present, and the connectors are identical to those of the other models. The Bar 800 will be available in October for 899 euros.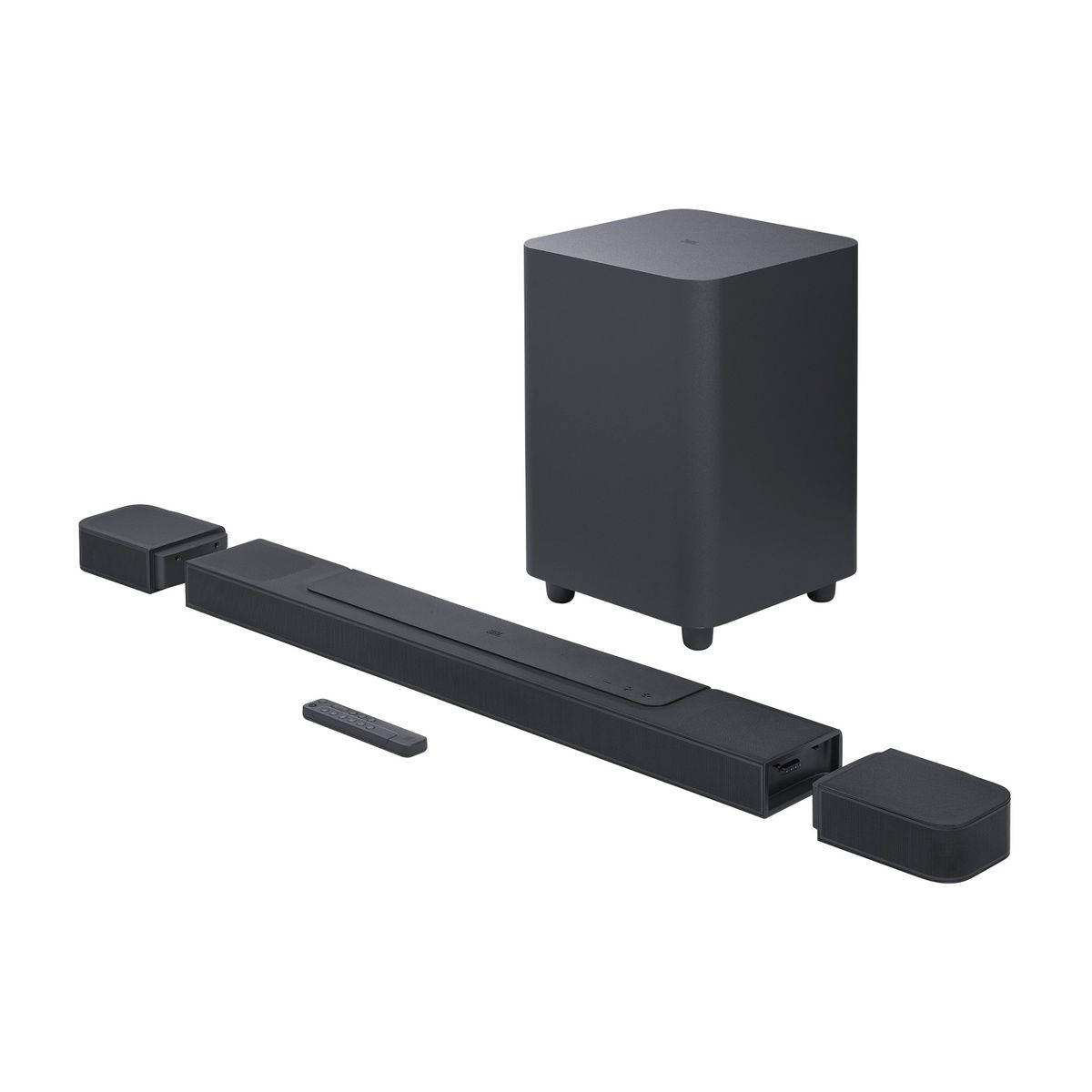 Finally, the Bar 1000 is the top of the range. Its dimensions of only 884 x 56 x 125 mm for 3.7 kg (same connectors and same box as the Bar 800) do not prevent it from integrating 5 bass/midrange speakers of 46 x 90 mm, 3 tweeters of 20 mm and 2 vertical speakers of 70 mm. Detachable modules are a bit different here, as they are used extensively for Atmos sound. They thus integrate a 70 mm up-firing loudspeaker and a 20 mm tweeter. The total power reaches no less than 880 W. Very ambitious, the JBL Bar 1000 is announced for October, at a price of 1,149 euros.
Last detail, all the soundbars presented are compatible with Chromecast, Airplay and Alexa MRM, and work with the JBL One App application.
Source: JBL press release
sound bar

audio equipment

Picture & Sound