One of the characters in the "Kaamelott" series has a name that was chosen by Alexandre Astier in reference to a film that is dear to him.
Alexandre Astier is a very big fan of popular cinema, in particular the Star Wars films of George Lucas or, closer to us, the comedies of Louis de Funès! The Kaamelott series is also dedicated in its entirety to the famous French comic actor.
In addition to the many borrowings of Astier from the illustrious interpreter of the Gendarme (mimicry, grimaces, rhythm, comic timing), the director of Kaamelott – First part has wedged an additional (and discreet) tribute to one of the films of De Funès, who is one of his favorite actors.
Indeed, during season 6, Patrick Chesnais lends his features to Lucius Sillius Sallustrius, one of the most prominent senators in Rome. It is thanks to him that the one who is not yet King Arthur will climb the ranks until finally becoming the sovereign of Brittany.
This name of Sallustrius, as Alexandre Astier himself admits in his open letter on the LaCinetek site, is a reference to the character of Don Sallust from Delusions of Grandeur.
This adventure comedy takes place in the 17th century and features Louis de Funès in the role of Sallust de Bazan, minister to the King of Spain, collector (and embezzler) of taxes. Facing him, Yves Montand plays the valet Blaze, who has feelings for the queen and whom Sallust will try to manipulate.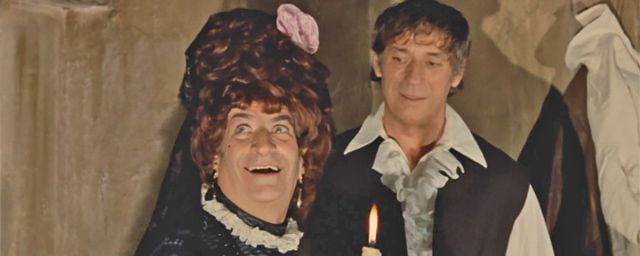 Gérard Oury gives a scale to this risky period comedy which contains everything you need to create unparalleled entertainment, carried by the very "western" composition of Michel Polnareff.
One more reference if needed, to prove that without De Funès, perhaps there would not have been Kaamelott!