An emanation of Loewe, the We brand offers with the We HEAR 1 a stereo Bluetooth speaker, with 180° sound diffusion, thanks to two broadband speakers installed back to back. The HEAR 1 is also distinguished by its atypical look, with an articulated button-hiding tongue.
Loewe, a well-known German manufacturer of premium designer televisions, now markets portable Bluetooth speakers under the We by Loewe brand. The We HEAR 1 and We HEAR 2 rely on a sleek design to seduce and have also received a Red Dot award in 2021. Rather compact and light, the We HEAR 1 is easy to take with you and is intended to produce a background sound of medium intensity, conducive to close listening, while the much larger We HEAR 2 is able to play very loudly and to set the mood for a small party in the park or at the beach. Both speakers work in stereo, with a pair of small full-range drivers for the We HEAR 1, and a two-way setup (drivers + tweeters) for the We HEAR 2 — which we'll test later.
Loewe We Hear 1

Technical sheet
| Model | Loewe We Hear 1 |
| --- | --- |
| Number of speakers | 2 |
| Powerful | 40 watts |
| Battery | 2000mAh |
| Autonomy announced | 14 hours |
| Built-in microphone | Unknown |
| Weight | 740 grams |
| Dimensions | 90mm |
| Protection sign | IPX6 |
| | Product sheet |
This test was carried out with a loudspeaker lent by the manufacturer.
Loewe We Hear 1

Design

The We HEAR 1 relies heavily on design to seduce and is distinguished by its rotating protective cover, which conceals its control buttons and incidentally stabilizes the speaker when it is positioned horizontally. With the exception of this appendix, the HEAR 1 benefits from consensual lines, since it is a purely cylindrical enclosure, covered with a fine mesh acoustic fabric and perforated PVC grilles at the ends.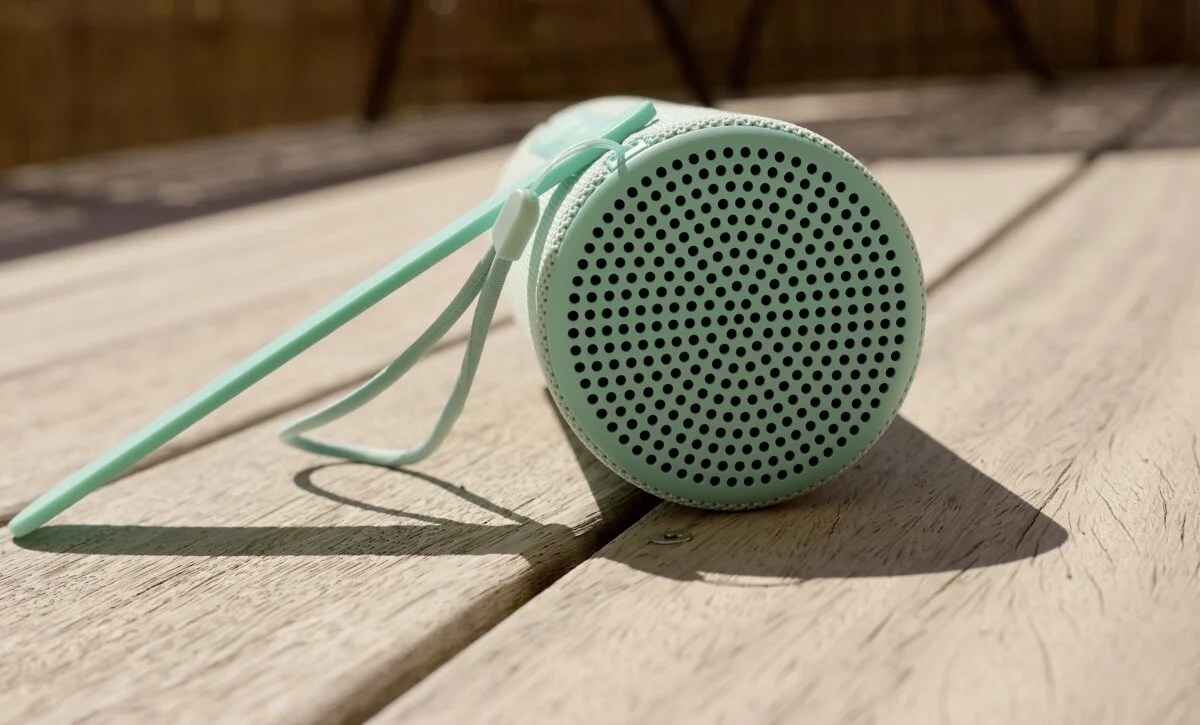 The We HEAR 1 is equipped with two loudspeakers, oriented laterally for a 180° distribution of stereo sound, which means positioning the speaker vertically to distribute the music optimally. It also has a rubber base.
The control buttons are installed on the back, as are the connectors (USB-C port, 3.5 mm mini-jack line input), which is also protected by a silicone cover. The HEAR 1 is IPX6 certified, which makes it resistant to splashing water, but does not allow immersion. We will therefore avoid installing it at the edge of a swimming pool or diving with it in the waves. Also, its dust resistance is not known. Finally, the We HEAR 1 speaker comes with a wrist strap, which facilitates its transport and allows it to be hung without difficulty.
Overall, this speaker is visually pleasing, seriously put together, but the use of very fine fabric and graceless plastics give it a quality of finish below market benchmarks (JBL or Sony for example).
Loewe We Hear 1

Use and application

Thanks to its rather compact format (22 cm long for 9 in diameter) and its moderate weight (approximately 700 g), the We HEAR 1 speaker is quite easy to transport. It is thus readily taken with you for an outing to the park, stored in a backpack, or stowed on the luggage rack of a bicycle.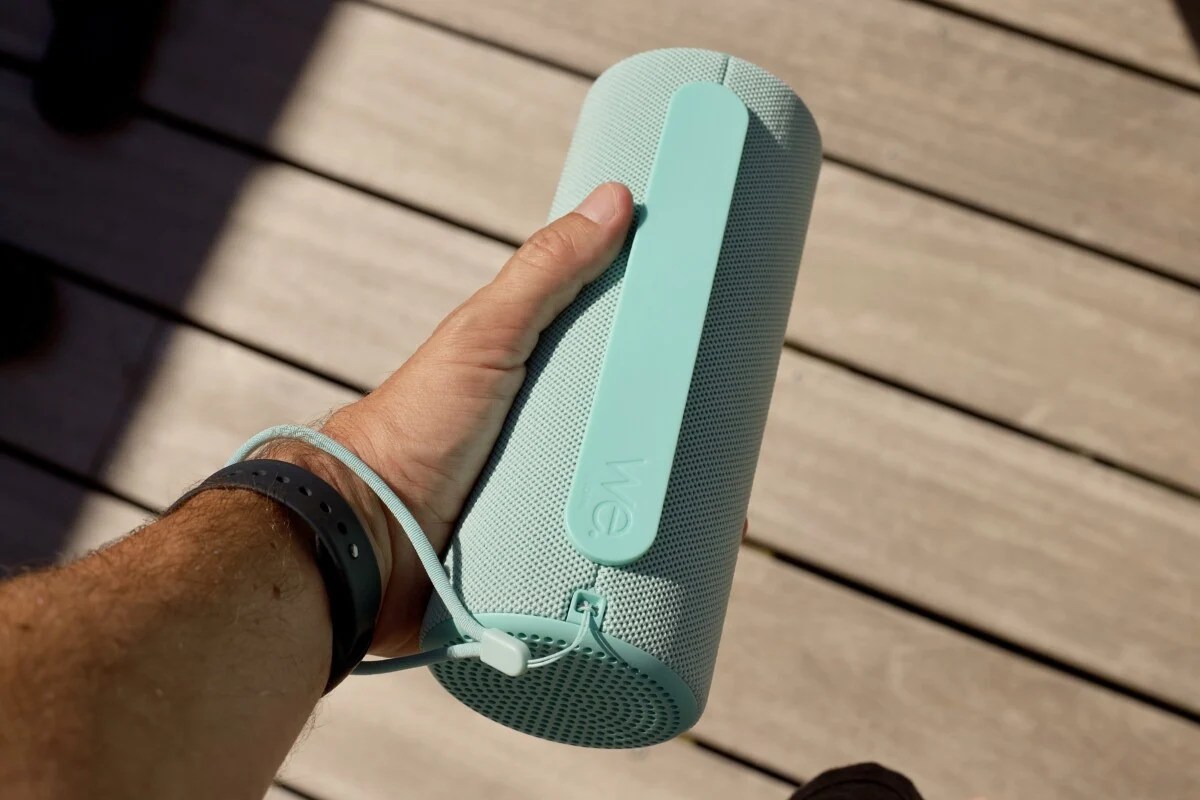 The downside of its offset design is that the control buttons are not directly accessible: the cover must therefore be rotated, at the cost of a much larger size. The same goes for recharging the speaker or connecting it to a wired audio source (walkman, computer, etc.). In use, this can be painful, for example when dozing in the park or at the beach, you fumble to adjust the volume or change tracks directly on the speaker.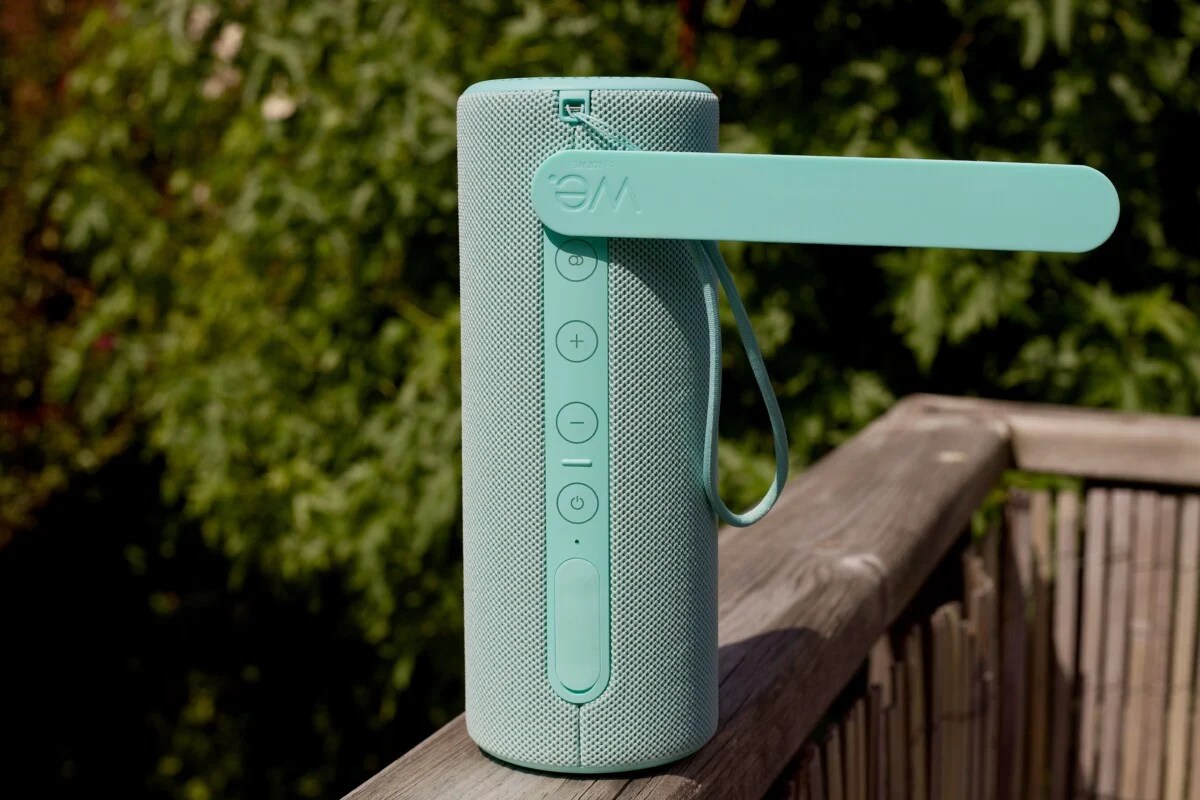 The We HEAR 1 has four control buttons: the power button – which is also used to pause playback – two for volume adjustment and one for Bluetooth pairing.
No control app
Switching the speaker on and off is accompanied by a confirmation sound, which cannot be deactivated due to the lack of a control application. Ditto for the blue backlight of the power button, which is however obscured by the button cover.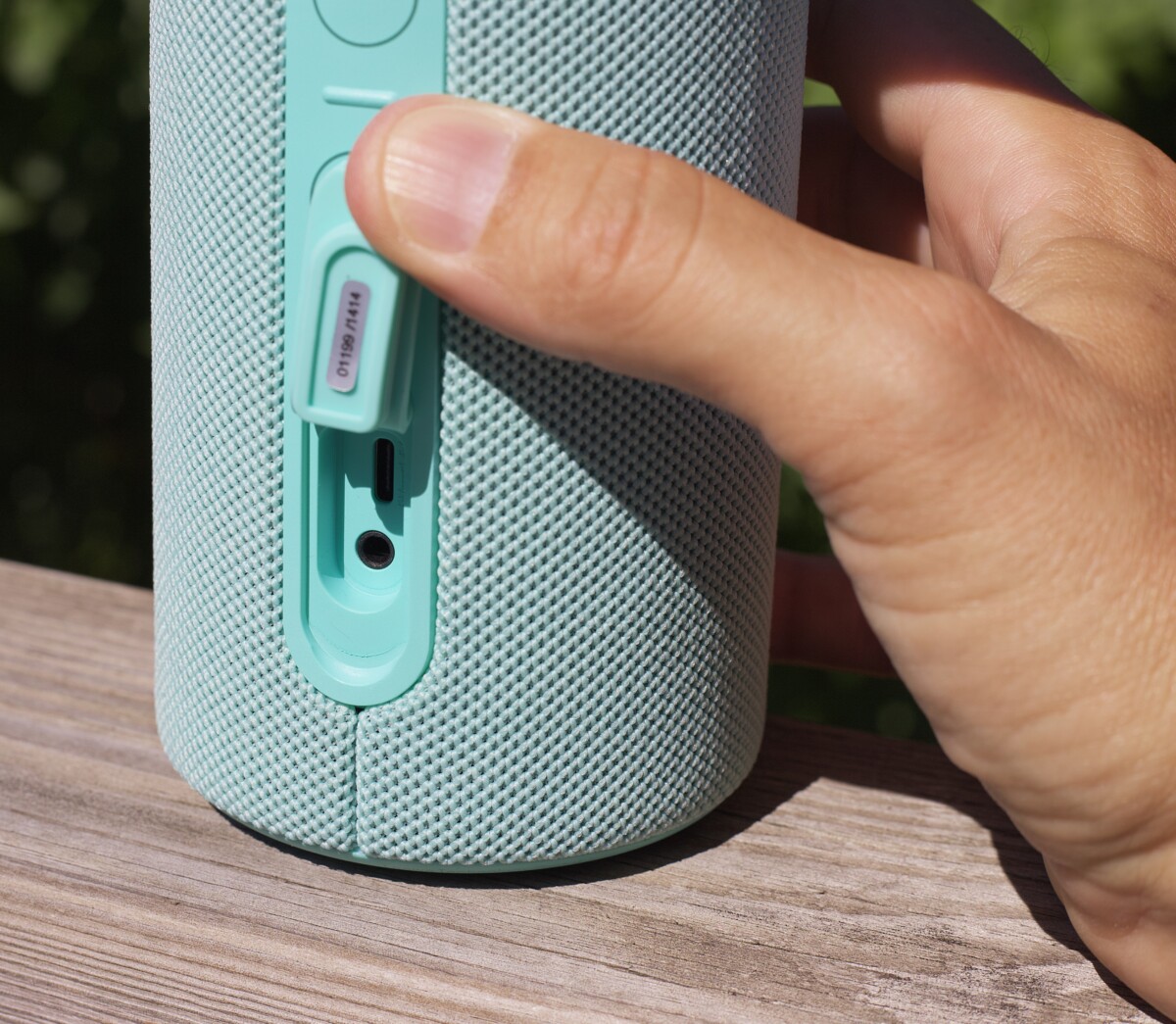 The Bluetooth controller manages universal SBC audio transmission and offers a range of 10 meters. The connection was perfectly stable throughout my tests, even through thin walls or a wooden floor. On the other hand, the We HEAR 1 does not support multipoint connection and only one device can be associated with it.
Loewe We Hear 1

Audio

The acoustic solutions implemented in the We HEAR 1 are conventional: there are thus two broadband transducers of approximately 5 cm, associated with two passive radiators of similar diameter. As a reminder, passive radiators allow you to go lower in frequency, because they resonate and mechanically amplify very low sounds. In addition, they prevent the active speakers from getting carried away when the volume is pushed too high.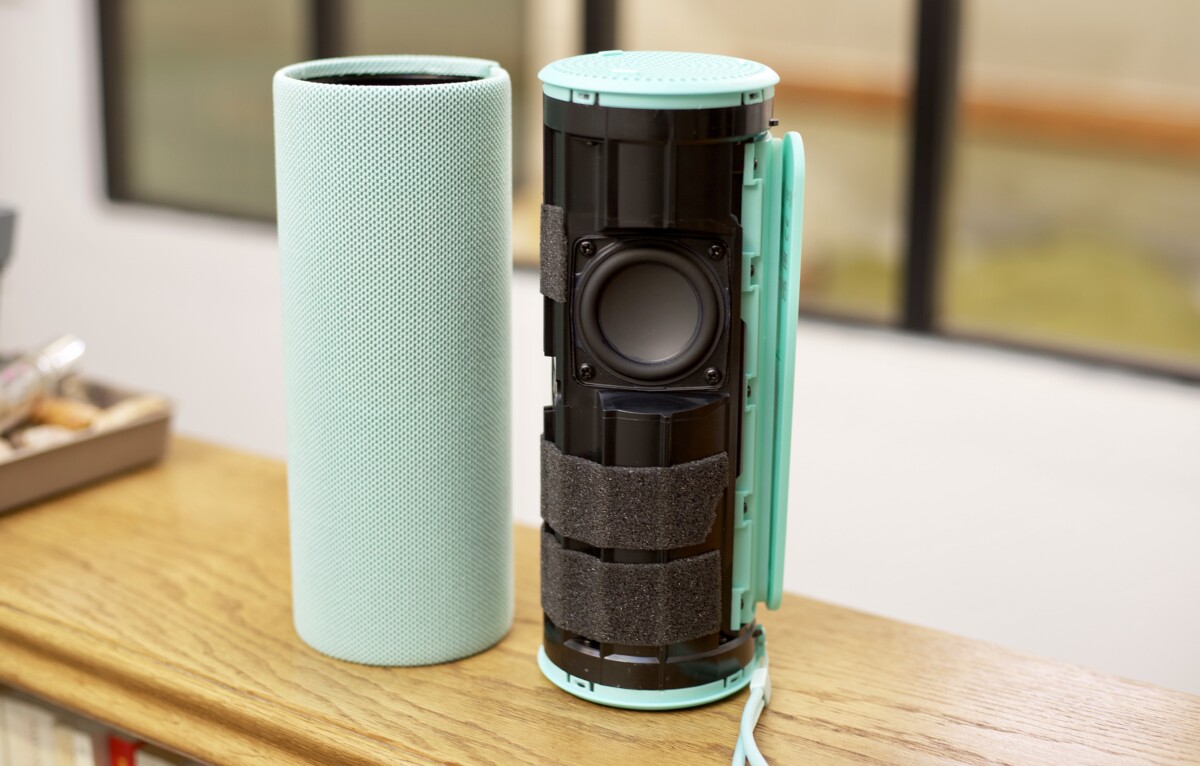 According to the manufacturer, each active transducer is associated with an amplifier, capable of delivering up to 10 W peak, i.e. a total of 20 W. This is in theory more than enough to play the loudspeaker very loudly and without too much noise. distortion.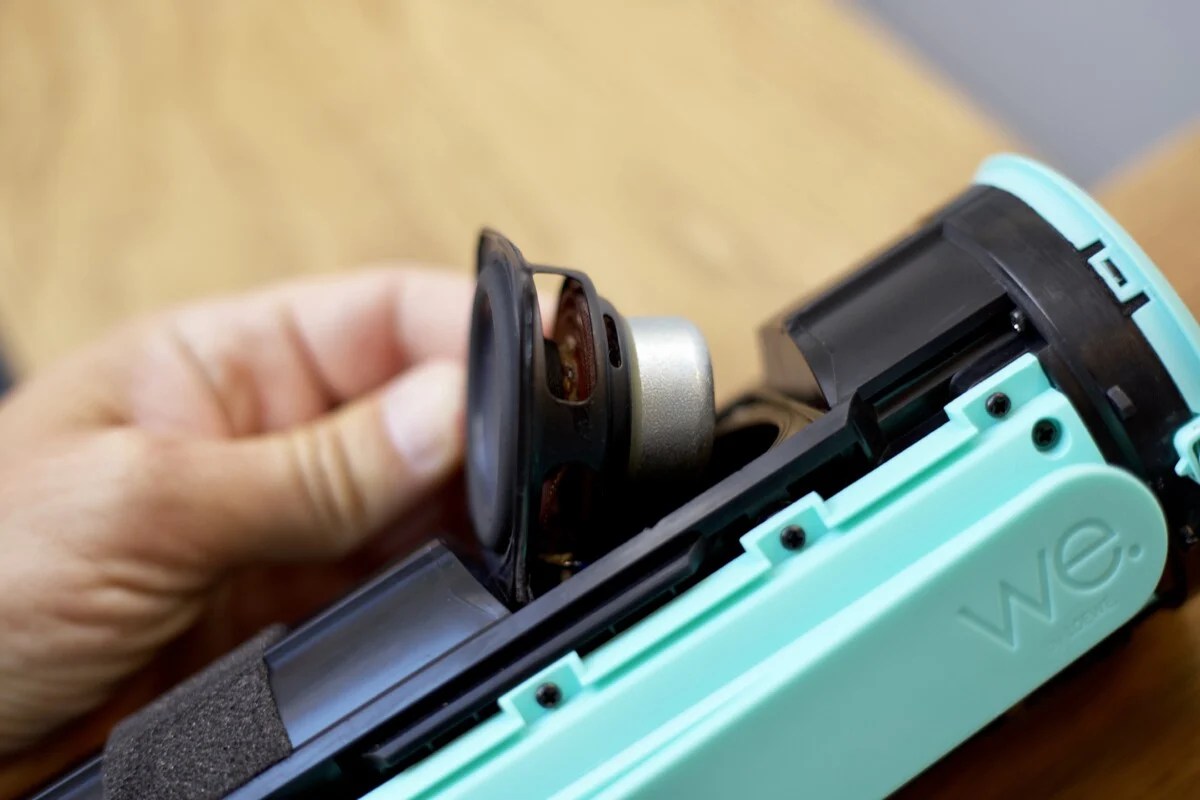 The We HEAR 1 is quite easy to disassemble and we discover two modestly motorized active transducers (lightweight, small ferrite magnet), which it is hard to imagine that they will be able to box properly in the bass, especially as they need drive passive radiators that share the same volume of air.
Test conditions and sound signature
I listened to the We HEAR 1 indoors and at picnics in the park and by the sea, paired with an iPhone 13 Pro Max and a Xiaomi Mi 11 Lite 5G, with different styles of music, from rap to rock and going through Brazilian standards and jazz.
Indoors and outdoors, the We HEAR 1 is sorely lacking in storage and delivers a sound very focused on midrange and treble frequencies, with a very questionable balance. This was unexpected given the volume of the enclosure – JBL and Sony know how to produce much more bass in an equivalent size – and this is most certainly explained by the weak motorization of the transducers. In fact, titles that make significant use of bass sounds, with marked impacts and bass pads (just about all current titles on Apple Music or Spotify) are reproduced with little flavor.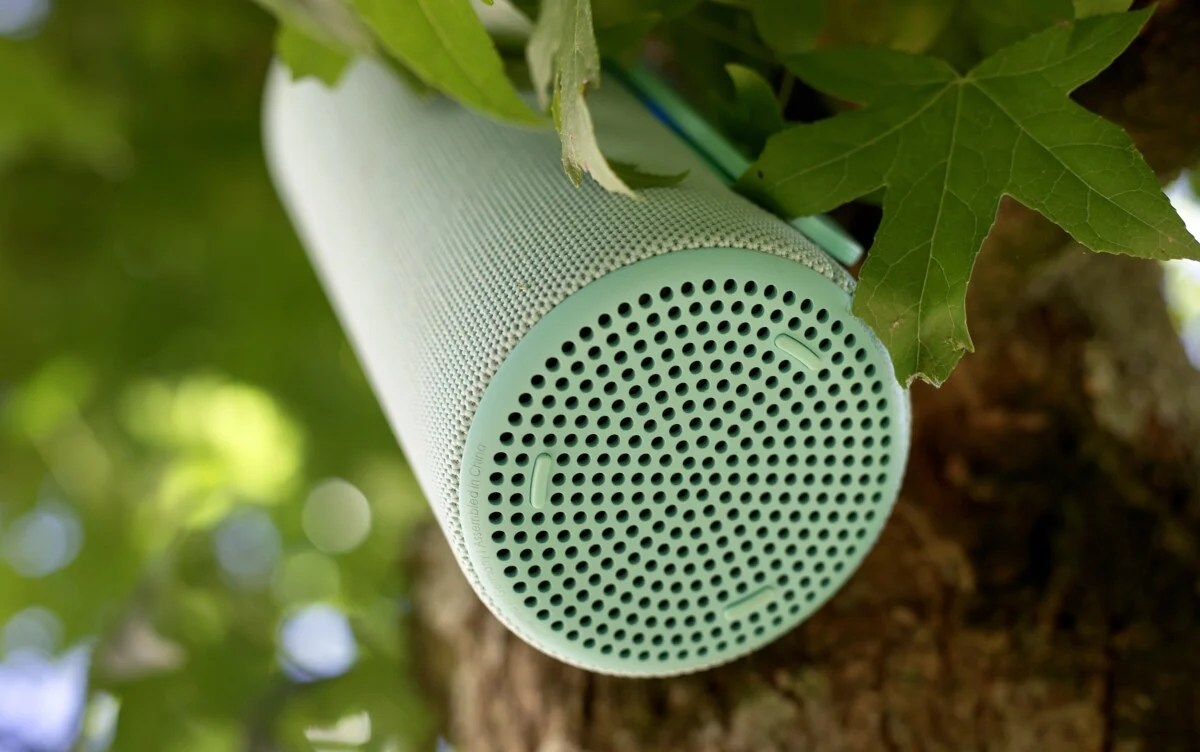 The sound signature of the HEAR 1 is therefore unbalanced, very generous in the treble, probably too much for most ears, especially since the reproduction of high frequencies is marred by membrane colorations, almost sibilant. Another disappointment, lack of internal damping, we perceive some "box resonancesand the HEAR 1 sometimes sounds hollow.
Small consolation, the tonal balance is not modified beyond 50% of the volume and the enclosure distorts sparingly when it is pushed to the maximum.
Bass: on the verge of anemia, very little volume below 80 Hz which takes away any generosity in the restitution (the acoustic grilles no doubt suffocate the passive radiators)
Medium: rather well placed and of a suitable resolution
Treble: very forward, inevitably masks the midrange and suffers from hissing
Dynamic behavior and soundstage
You guessed it, the dynamic behavior of the We HEAR 1 is disappointing. The loudspeaker never really succeeds in engaging the listener or flattering their ear. However, its clear sound signature makes it easily audible in a noisy environment (beach, park). Still, this speaker lacks punch and expressiveness.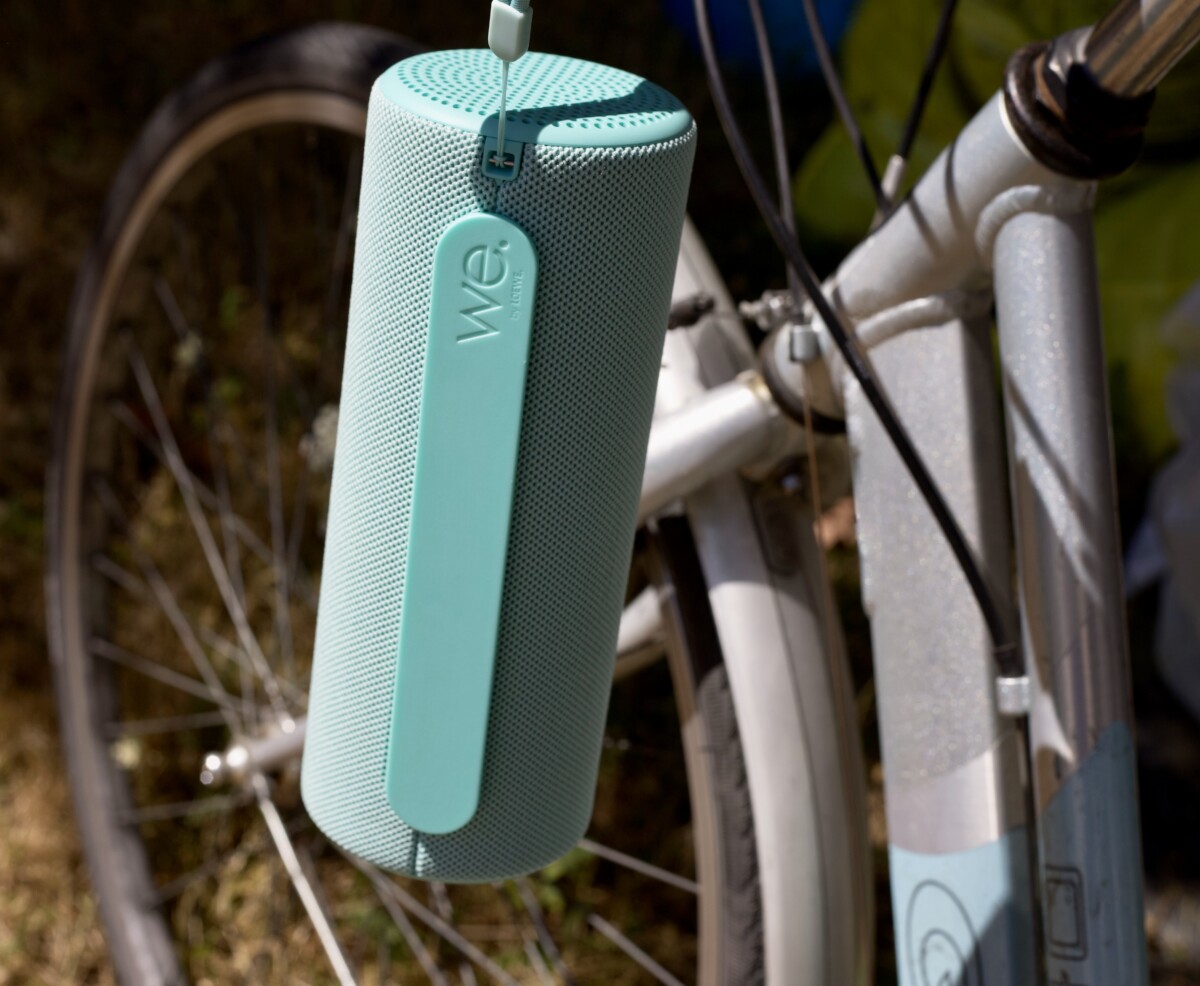 On the sound stage side, despite the back-to-back installation of the loudspeakers and a stereo broadcast, the sound image is narrow and not very precise. We would have liked a mono mode to be offered, so that each speaker broadcasts the same thing, because when you are placed near the left speaker, you cannot hear the sounds broadcast by the right. For those who listen to old recordings where certain instruments are only mixed on one side, it is necessarily annoying.
Loewe We Hear 1

Microphone

The We HEAR 1 does not have microphones and therefore does not allow for hands-free voice calls.
Loewe We Hear 1

Autonomy

We announce 12 to 14 hours of autonomy for the HEAR 1, without however specifying the corresponding volume. Combined with an iPhone and at 50% volume, I measured just over 11 hours of battery life, slightly less than advertised. The advertised autonomy can be reached and certainly exceeded at less than 30% of the volume, at which the speaker already plays loud enough for close listening indoors. Four hours are required to fully charge the speaker.
Loewe We Hear 1

Price and release date

The We HEAR 1 speaker is available in black, grey, coral and blue-green colors, priced at €99. With a small financial effort, we can consider the excellent Huawei Sound Joy or JBL Flip 6.

Where to buy the


Loewe We Hear 1 at the best price?

There are no offers at the moment