The adventures of Logan Paul to the quest for Pokémon cards continue! Not long ago, the YouTuber had bought for 3.5 million dollars a package containing supposedly very first generation Pokémon cards. However, many people on the networks had suspected the cards to be fake. The videographer wanted to get to the bottom of it and therefore went to Chicago to meet the BBCE (Baseball Card Exchange), which had recently authenticated the package as having never been opened and being, according to them, in no way suspicious at least from the outside.
After joining the BBCE agents, Logan Paul wanted to attend the opening of the package, while of course filming it. As soon as the package was opened, the content creator's teams realized that the displays were too inflated to actually contain Pokémon cards. To avoid making the suspense last longer, inside the boxes were… GI Joe cards !
Everyone in the room was upset, Logan Paul in particular. The YouTuber had just lost $3.5 million, GI Joe cards not having, as you may already know, not much value.
One of the BBCE officers present at the scene described the event as "the biggest cheat in the history of Pokémon cards". A consolation prize for Logan Paul, the video of this scam is undoubtedly going around the world. It already has more than 2 million views, in just one day!
He also said in his video:It's just sad for all parties involved. It's sad for the Pokémon community, when you think about how many fraudulent things there are. I'm grateful for the things I have now that are real", to conclude "We got screwed. End of the story".
A great life lesson for Logan Paul who, next time, will be more careful before buying suspicious Pokémon cards.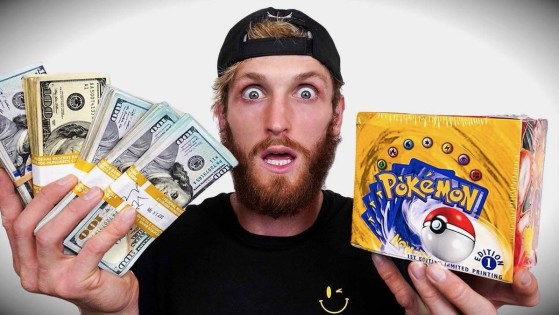 The Youtubeur has just spent a sum of more than 3.5 million euros for a package of first generation Pokémon cards. Only problem, according to his community, the cards purchased would be fake…