[Deal du Jour] Logitech's G915 and G Pro gaming keyboards are on discount, less than €120 and less than €80 respectively. Designed for gaming, they are backlit, and both have excellent typing quality.
What is the promotion on these Logitech gaming keyboards?
Logitech's G915 wireless gaming keyboard can usually be found around €160. It is currently offered by Amazon for $119.99.
The G Pro keyboard is a wired keyboard usually found around 115 €. Amazon is currently offering it for $76.99.
What is this Logitech G915 keyboard?
The G915 is a wireless keyboard designed for gaming. Its switches Low Profilee come in three different types: Linear, Clicky or Tactile. The Tactile version, here on sale, offers very good keystroke quality with excellent activation force. Its keys are quite discreet and the absence of noise is pleasant. If you are not used to mechanical keyboards, you will probably need some time to get used to the G915. But the smooth and comfortable typing, as well as the responsiveness of the keys, are definitely worth getting used to. No worries, theanti ghosting is present, in order to avoid errors due to keystrokes on several simultaneous keys.
The G915 is an understated, well-designed keyboard. The switches are visible under the keys to give an assumed minimalist gaming look. The finishes are good, with a black plastic chassis and aluminum finishes that look great. wireless technology Lightspeed offers a latency-free keyboard with a report rate of 1ms. It is responsive and can work through a USB transceiver or Bluetooth. Logitech promises more than 10 days of autonomy in the case of daily use with the backlight activated. If the latter is deactivated, count several months.
What is this Logitech G Pro keyboard?
The G Pro is also equipped with mechanical switches that offer excellent typing quality and great responsiveness. Unlike the tactile keys of the G915, the keys of the G Pro are unfortunately quite noisy. The keyboard is also tenkeyless, or without a numeric keypad. More classic overall, it still offers multimedia shortcuts and two special keys to activate Game mode and backlighting.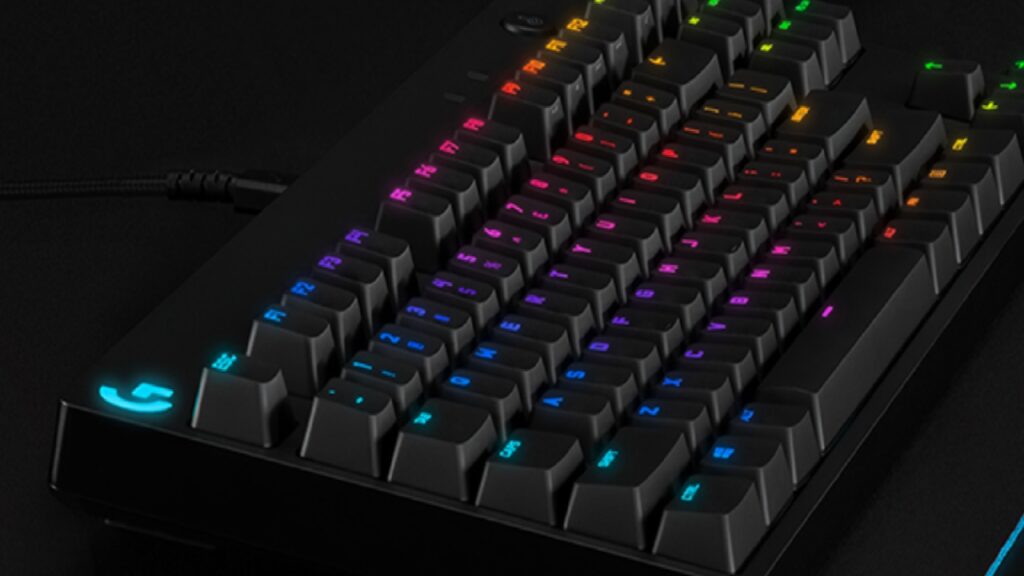 If not elegant, the G Pro is robust. The finishes are good, but the keyboard can give an impression of mid-range, in particular because of its plastic coating. Its weight of almost 1 kg does not make it the lightest keyboard in its category, but the stability is there. The comfort of use too, with a tilt on two levels.
Are these Logitech keyboards a good deal with these promotions?
At these prices, both are great if you're looking for comfortable, high-performance keyboards for long gaming sessions. The G915 is definitely more suitable for long game times, thanks to its more comfortable and less noisy tactile keys. More elegant too, it will fit better on your desk. Nevertheless, for less than 80 € the G Pro is a robust and efficient keyboard that will please, including non-gamers looking for a versatile keyboard with excellent typing.
To go further with keyboards
👉 Consult our article to properly clean your computer keyboard
👉 Read our article to find out what to do if you spill liquid on your keyboard.
Some links in this article are affiliate. We'll explaine everything here.