Simplifying things is a very interesting way to accumulate knowledge. If Senna's early concepts hadn't been rejected, his developer might not have enjoyed the same success. Without Julian del Rey the champion would perhaps not have had the same success, both in terms of her popularity among players, but also on the competitive scene.
Julian brought a lot to League of Legends. As as a conceptual artist senior, his job is to make concept arts the champions of tomorrow. The Senna design, the look of Nunu after his redesign or the skins of Damwon and Invictus Gaming are just some of his creations.
Turning disappointment into art
Julian's first attempt at a job at Riot Games didn't go too well, at least as far as his results go. Having decided to move from Barcelona to London for change your life and learn english it wasn't until he had already found a job with a small developer called SuperSolid that League of Legends officials offered him an interview: "I had already applied to Riot Games before joining Super Solid, but this was going to be my first real interview with someone from Riot ", he explained to us.
The negotiations were unsuccessful. However, Julián had received decisive advice: " It is then that I received one of the most important lessons of my career , an experienced Riot recruiter told me that I had to prepare my 'portfolio' with a goal, because I was putting too much stuff in it. It's a classic beginner's mistake, to touch a little bit of everything, when it's better to specialize in a specific area (champions, decorations, weapons, etc.) ".
Luckily for Julian, Riot Games doesn't necessarily stop at first impressions. The studio encourages applicants to reapply if they feel they have made progress. Julian does not give up on his dream, and decides to work hard to succeed in his next application.
The champion created by Julián del Rey to seduce Riot Games
He decides to specialize in creating champions. He started creating concept art for characters that came to mind. Non-existent heroes in the world of Runeterra that it is possible to find in the author's drawings. The first is " The Hearth in the Stone ", a Zenyatta-esque hero from Ionia. However, this character pales in comparison to the second one he imagined: Morius.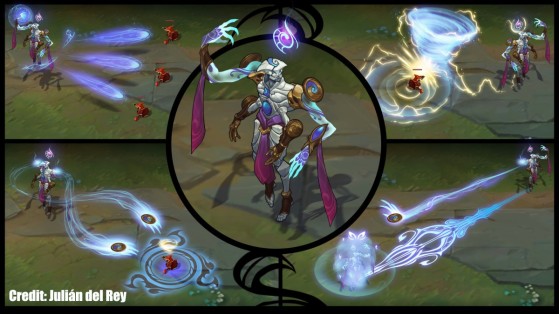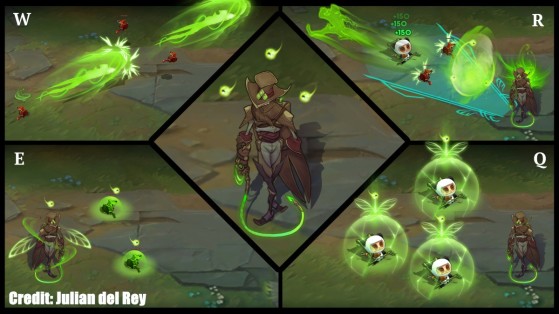 "The first was a kind of wind monk, and had interested a few people at Riot Games. For the second, an acquaintance of mine at Riot advised me to create a story for him, to integrate him into the universe. Morius thus became a Zaunian merchant."
Somehow, the concept artist must become his own boss , but not in the usual sense of the expression. The designer cap is not enough, you also have to imagine the character's past and its gameplay. "I had to put myself in the shoes of Morius. The character is disgusted by his physical appearance and tries to hide it as much as possible. I had to translate that into my drawings."
Everything must be linked in a harmonious way. A League of Legends champion must be born in a specific region of Runeterra, have a biography that explains how they got to where they are now, and an identity that makes them unique from the rest of the millions of people who populate the game universe. The conceptual design is a bit like opening a door to the past of the character, contemplating his history and his future, giving birth to his future gameplay. This work is the basis for character creation. Developers can't create a character just based on a drawing.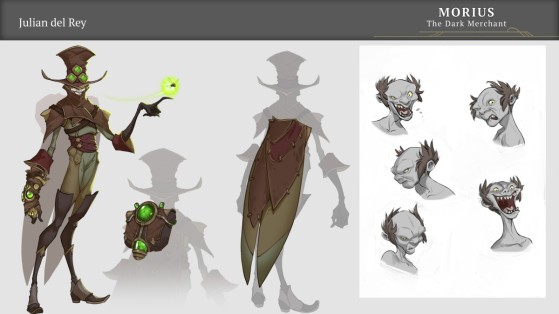 An atypical artist that Riot Games needed
" I had never played League of Legends . I had seen artworks and heard about the studio's creations, which caught my attention. But it was after doing the first interview that I met people from Riot, especially artists. I had a meal with Eric Canete who freaked me out (…) Everyone I met in this company was super talented and I told myself that I had to work there to learn and progress as a 'artist ".
Nevertheless Juliàn has had time to get to know the game better. But he is still unable to name his favorite champion, saying some works have marked him more than others, such as the skin for the 10th anniversary of the game, or that of Aurelion Sol in Ao Shin. This return to the sources on what the champion should be at the base marked him a lot, and it is one of his favorite skins.
He also had a crucial role in Senna's development. According riot august , the champion was long planned by Riot Games. However, it became what it is thanks to the artists who worked on its creation. "With Senna, the artists created an amazing weapon, the Redeemer, and I wanted you to feel like you were shooting a light cannon while you play." In a way, it was indeed a drawing that ended up defining the character's skill set.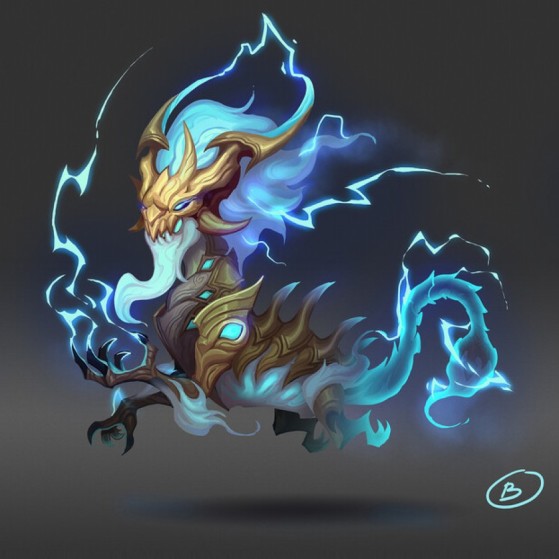 As for his current role, Julián is more than satisfied. He describes Riot Games as being one of the most creative companies he has ever worked for . "Riot Games gives us a lot of freedom. We can explore a lot of universes, because the world of Runeterra is very rich. Of course, some processes are a bit repetitive to keep a certain consistency, but in terms of creation, we are very free."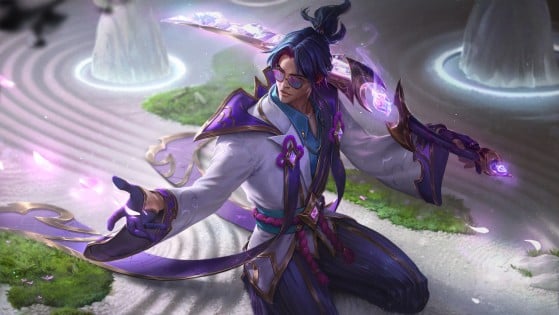 The Spirit Flower event will return for a second edition to League of Legends with patch 12.19, an event that will be accompanied by a temporary game mode. No innovation yet on this side since it is the traditional URF which should be part of it.