Following its usual schedule, Riot Games has already revealed the big changes coming to League of Legends for the upcoming preseason. The developers have prepared major changes to many game systems in preparation for Season 13. There will be new communication options or adjustments that will make our time in the jungle more entertaining and easier. However, aside from the studio's big plans, there are also a few more low-key changes that are sure to spark some discussion within the community. Among them, the return of a mythical object that disappeared two years ago.
The deleted object that comes back after community requests
Available on the PBE today and with a live server release date scheduled for November 16, Age-Old Staff returns to League of Legends. Disappeared exactly two years ago as part of the sacrifices made by Riot Games to introduce the new object system, the developer has changed its point of view to comply with the constant requests of the community. Recognizing that they couldn't find a reliable way to replace it, they opted for the simplest solution: reintroducing it into the store.
Ancient Staff (Mythical Item)
+60 power
+300 HP
+300 mana
This item gains 20 Health, 20 Mana, and 4 Power every minute, up to 10 times, for a maximum of 200 Health, 200 Mana, and 40 Power. By reaching the maximum number of charges, you gain a level (note: the level limit remains at 18).
Mythic Passive: Grants all other legendary items +5 skill haste.
Although adapted to become a mythical object, the new version of the Age-old Staff is virtually identical to the one that was retired a few years ago. This is because Riot Games took into account the difficulties of its replacement. The developers said they first tried with the Rift Maker introduction and then with the Crown of the Broken Queen. However, they never really satisfied the niche of five or six champions who really benefited from this item.
Additionally, Riot Games has confirmed a small change in its philosophy. The Age-Old Staff was removed because it was only used by four or five champions who purchased this item across all of their games, which went against Riot Games' item diversity goals. In this regard, the MOBA developers claimed to have become a bit more flexible. According to the studio, the new logic is as follows: if someone wants to buy the same item every game because it's more fun or fulfills their champion's need, they should be able to.
We'll have to see how the introduction of the Age-Old Staff ripples to characters who traditionally wielded it. There are certainly a number of candidates who will benefit greatly from this. For example, this might be Ryze's biggest chance to shine after the power cuts that made him one of the worst characters in League of Legends. Likewise, Kassadin or Viktor, who have good late game scaling, could benefit greatly from this addition.
As a reminder, the Age-Old Staff isn't the only item coming to League of Legends for preseason. There will also be a whole assortment of mythic items for tanks or the return of Shojin's fearsome spear.. As usual, once the changes are in place, we will likely have to deal with chaos in our games, something Riot Games will try to fix before the official launch of Season 13.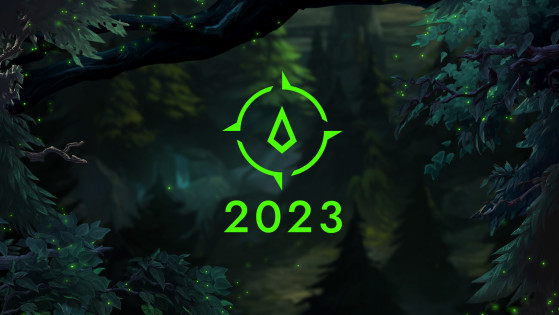 It's almost time for preseason in League of Legends. Appearance of pets in the jungle, improvement of communication systems, new objects and redesigns, find the complete list of changes announced by Riot Games in our dedicated article.