It is rare in the history of League of Legends to speak of a team capable of winning 20 consecutive official matches in one of the major leagues. In history, only four teams have achieved such a streak since the start of competitive play. However, G2 Esports joined the honor roll after completing a perfect group stage at MSI 2022. Not having fallen once in this first stage, they added eight more victories to the twelve they had obtained in the final stretch of the Spring Spring 2022 LEC playoffs.
An absolute record for competitive League of Legends
Among the teams that G2 Esports should beat, only two are from one of Riot Games' four regions. Interestingly, his next rival in this respect is fnatic. In their perfect season in the 2015 EU LCS Summer Split, they managed to string together 21 straight wins. They added three more wins in the first round of the playoffs, but lost two games in the Bo3 of the final against Origen. The other big team in the league is Invictus Gaming, which in 2018 also had 22 straight LPL regular season wins.
Here's how the streak win standings currently stand:
Flash Wolfes

28

LMS Spring Split 2017

Invictus Gaming

22

2018 LPL Spring Split

fnatic

21

2015 EU LCS Spring Split Regular Season

–

2015 EU LCS Summer Split Playoffs (Final)

G2 Esports

20

LEC Spring Split 2022 playoffs

–

To be determined

TPA

20

GPL 2012

–

Worlds 2012
Remember that we are talking about games won consecutively. Each game is considered a different game and we do not count it the same way as Bo. You all know that there are encounters in League of Legends that are best-of-three or best-of-five. That's why, for example, T1 doesn't make the list despite having a 23-game winning streak. Sure, it has merit, but they did it by alternating wins and losses in their Bos and that's not what we're judging now. We have also not taken into account the regions historically considered "wild card".
G2 Esports will struggle to extend their winning streak as their next matches are in MSI's second group stage. At this point in the competition, the strongest teams in the world of League of Legends compete against each other. Maybe with a favorable schedule or a monster performance, they can try to surpass the record of Fnatic or even Invictus Gaming. Start of response from Thursday at 10 a.m. for the start of the Rumble Stage and it is G2 who will open the ball against T1.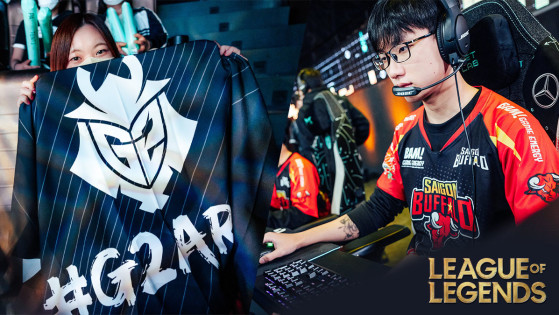 esport-lol
G2 has validated its ticket for the League of Legends MSI Rumble Stage without trembling. Serious things will finally start and we can't wait to see his matches against RNG and T1. But the Samurai will also reunite with old acquaintances… It's time for revenge!