For those who don't know, the LPL's slogan is: Crazy is our game (Our game is crazy). The OMGs of 2022 are probably the Chinese league team that have taken this the most catchphrase literally. League of Legends alumni know that this team had its heyday on the world stage when the game debuted, but for several years it's been pretty much in the game. soft belly of the LPL classification. That hasn't changed too much, and we shouldn't expect too much to see her on the world stage this season. But as the saying goes: it is not necessary to hope to undertake, nor to succeed to persevere.
A well-crafted project
If we look at thehistorical players passed by OMGwe cannot say that the latter does dream. Of course there were the players from the beginning of LoL: Cool, San and Lovelingbut since the only big banger was Uzi on the 2014/2015 season. We are therefore far from a team with big resources. Even they regularly manage to climb into the playoffs, their last "big" perf dates back to 2017where they ended 3rd in the Regional Qualifier (the 5th best team in the league). Performance is decent, but there's nothing to get excited about either. For the year 2022, they have chosen to trust the young generation, by recruiting the 2021 LDL MVP (Chinese 2nd league): Shanji (Spring 2021) and Cream (Summer 2021).
This recruitment has paid off this season, because although Shanji is the most highlighted player in the media, thanks to his individual plays, Creme is equally decisive. Although less flamboyant than its partner, it is his vision of the game and his ability to shift almost all the time that allow OMGs to shine. Creme will not hesitate to fall behind on his lane to join a fight, hoping to make a difference. But these were not the only successes of OMG, which recruited able at Summer 2021. His goal was to bring theaccumulated experience at RNG, when he played for them. Finally Cold and Aki are now veterans, but it's OMG that gave them their chance on the biggest of Chinese stages. Aki was for a long time a jungle lining at Top Esportswhile COLD is a pure OMG product, trained at the club since 2015.
Why are OMGs so fun to watch this season?
The OMG are not a very square team in their game. Lock the map, play the macro ain't in their DNA. Shanji often goes the difference at the top (his Rumble is worthy of the world stage), even if he is on a tank like Sejuani, while Aki does not really play utility characters (except Poppy, but because the champion is super strong ATM, and she still allows to play aggressively in early). This therefore means that unlike other teams who abandon the top lane a bit in certain games, this remains a permanent option for the OMGs.
Same for the botlane, because COLD often has to play the role of frontlaner, and therefore plays supports engages, which are excellent for setting up a gank or even a dive. Finally, Creme roam also a lot, which means that the OMG consistently play around skirmishes. You can be sure thatsomething will happen in their game before 10 minutes of play.
Unfortunately this is not always well executed, andother teams may be better at this (otherwise OMG would be much higher in the ranking). But even in these cases, OMG tries to return via aggression. And we have to recognize that these are often intelligent (no, you won't see the jungler invading the enemy jungle solo and attacking him without knowing where the other players are), and it's very rare to see a player other than Shanji fight alone at OMG (and this last fight on his lane, not in incongruous places). Failing to win OMG is a team always trying to play fight.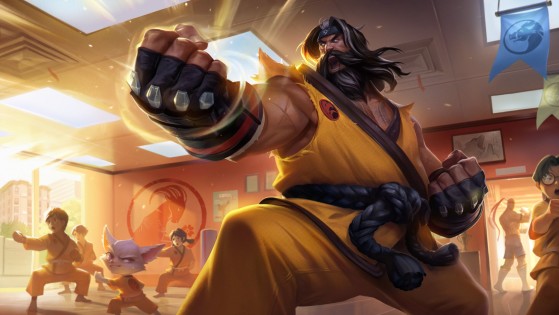 It's time to check out the Spirit Keeper revamp. Announced several months ago, Udyr's rework has arrived on the PBE League of Legends. Discover its new appearance but also its reworked spells.