Photo: LoL Esports
There is a lot of talk about Fnatic and Team Vitality this year in LEC, but keep in mind that the reigning champions are the MAD Lions ! Despite the changes within the roster and the integration of two rookies, the team is holding up for the moment with 2 wins for 2 losses in the regular season. All is not perfect, but the team's coach, Mac, is happy with the state of mind of his players. He stopped by our microphone after the loss to Rogue to give us his thoughts on his team's start to the season. We took the opportunity to learn more about his big secret: his lucky ties.
Hi Mac and thank you for granting us an interview, despite the late hour. How do you feel after this match against Rogue?
Mac: Not too bad, there is a lot to learn from this game. We really need to work on our mid-game, especially in terms of vision to allow us to play more aggressively. We gave Snape too much space on this part. But the most important thing is to progress.
Looking back, are you happy with the draft? Would you change it if you could where do you consider it's mostly an execution story for this loss?
I like our draft and even with hindsight I won't change it.
Tomorrow you play against Astralis and I imagine that you intend to bounce back well. What advice will you give your players before the game?
That's a good question, I haven't thought of it yet! I think the goal is to be on the same page, to play together while picking up the pace a bit. Even if we draft a composition that is not strong in the early game, it is essential to put the vision well, to make resets at the right time and to be well coordinated at the level of the waves. In any case, at this time of the year I especially want my players to communicate well and not be afraid of making mistakes. I want us to be proactive in the field. If we have to leave a dragon, I want at least that we push a sidelane history of, or put two deep wards…
At the moment you have 2 wins and 2 losses. How do you evaluate the results and are you satisfied with them?
I'm used to going 1-1 in the regular season! (laughs) It's kind of my trademark. Whether with Splyce or with MAD Lions, we never managed to get to the playoffs in a position of strength. We play it rather diesel for scale during the season. 2-2 is an acceptable result and I don't think the regular season is very important, other than training for progress. I focus more on the mentality of the team and at the moment I'm happy with the level of cohesion shown by the roster. When we have int, we have int together! That's a good sign at this time of year.
Speaking of cohesion, what can you tell me about the two new MAD Lions recruits, Reeker and Unforgiven? How did you spot them?
Both were relatively easy choices. During our recruiting process after Worlds, both came across as confident, psychologically strong and versatile players. Unforgiven has been playing Jinx a lot lately. He did a lot of damage and received a lot of resources. But he is also capable of playing weakside. This versatility impressed me when recruiting him: Ezreal, Jinx, Aphelios, Ziggs, Karthus… He has a lot of variety in his game. For Reeker, it's a bit the same thing and he's already proven it at ERL level. He is a good player individually and collectively. Twisted Fate, Galio, Irelia, Yasuo, Viktor, Orianna, Azir… He can play anything. In general for scouting, we mainly look at the needs of the team. Balance is the most important element. Then we also look a lot at the culture, the state of mind. Like I said, both of these players are confident, they use direct communication, they're proactive and open-minded.
Since the beginning of the year, the community has only been talking about the two superteams, Fnatic and Team Vitality. But don't forget that the reigning champions are you! However, are you happy to leave the pressure to others?
Pressure and expectations are part of the job. Last year, however, I didn't desperately want to win a title, that's not how I see my job. For me, first and foremost is making sure my team is learning and improving. I have to check the environment of the team, its mentality, its cohesion and provide my players with good training and all the support they need. I have to make the players as good as possible, that's my job. And if that's the case, the victories will come naturally. It was my state of mind last year and it remains so this year.
Finally, I would like to know more about the secret of your ties… How many do you have in your drawers?
I have a lot (laughs)! Today it's a Mickey Mouse tie. I think I have 50 now, people give me some because they know I like it. I get some from my father, my stepfather and they also give me some at Christmas! The collection is only growing.
Do you change your tie every game? Or do you always wear the same ones to bring you luck?
I count the winrates and know which tie brings the most wins. During the regular season, I change every game but for the playoffs, I make sure to wear the lucky ties.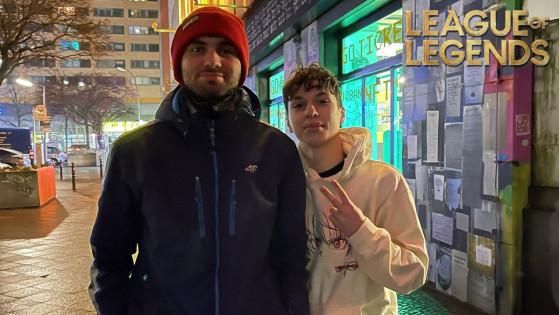 esport-lol
After the LEC Team BDS vs Team Vitality game, we had the chance to interview Adam. Even if he was a little sad after the defeat, he remains confident for the future. He knows that everything can go very quickly in League of Legends and with his team that he likes, he will quickly try to bounce back.