The time has finally come: Microsoft is now expanding its Surface laptop fleet in Europe with a new variant, namely the Surface Laptop Studio. The device was previously only available in the United States. Therefore, the biggest difference to the other Surface models is no longer a secret: the touch display cannot be removed. Instead, there is a hinge mode that allows the screen to be pulled towards you and pivoted. It may not be quite as versatile as other Surface products with true tablet mode, but it still offers significantly more flexibility than a conventional notebook. Find out what else the device has to offer (spoiler: quite a bit) in the test.
Everything premium…
What catches the eye: the absolutely flawless workmanship. The 32.3×28.3×1.9 cm aluminum case conveys an elegant feeling, which is confirmed when you touch the noble surface. It could hardly be finer. The same goes for the touchpad and keyboard. The latter scores with a crisp pressure point and good key drop, which makes for a very pleasant typing experience. Top: The large touchpad has a highly sensitive glass surface with an even pressure point. The touchscreen is just as good, which can be operated using a surface pen (it costs just under 60 euros and is not included in the scope of delivery). Especially artists get their money's worth here. The touchscreen has a refresh rate of 120 Hertz, so drawing feels particularly fluid.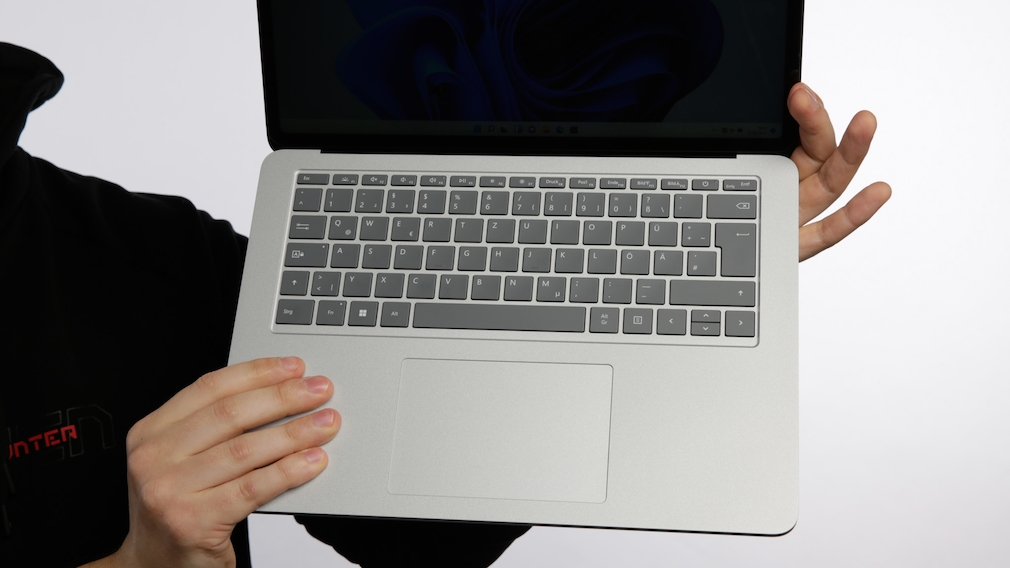 … also the display
Speaking of the display: the screens are traditionally one of the highlights of the Surface series and so the 14.4-inch display of the Laptop Studio is also a feast for the eyes! It has a nice and sharp resolution (2400×1600 pixels at 200 dpi), shows rich colors and reproduces them true to the original (97.3 percent). In addition, it is very bright with 496 candelas per square meter and the sRGB color space coverage is 100 percent. Perfect for editing photos with Photoshop, for example. The notebook actually only has one disadvantage that is typical for touchscreens: the high-gloss surface of the display reflects clearly. Although gamers are happy about the high refresh rate of 120 Hertz, they are annoyed by the somewhat slow image build-up (18.3 ms). For a display with a touch function, this is still very fast.
Microsoft Surface Laptop Studio review: Spoiled for choice
As usual, Microsoft presents different equipment variants: In terms of CPU, there are two Intel processors from the 11th generation (Tiger Lake architecture) to choose from, namely the quad-core Intel Core i5-11300H and the even stronger Core i7-11370H. Both CPUs have either 16 or 32 gigabytes (GB) of RAM available. If you want to upgrade later, you will be disappointed: The working memory is soldered. Data such as videos, photos or the operating system end up on a fast NVMe SSD from Samsung. Those interested can choose between 256 GB, 512 GB, 1000 GB and 2000 GB. A Surface Laptop Studio in the simplest version costs 1,651 euros, the version tested by COMPUTER BILD (A1Y-00005) has the better Intel i7 processor, 16 GB RAM and 512 GB memory. Cost point: 2,199 euros.
Tempo with Office / Tempo with video editing
Pace in games (native / 4K)
Color fidelity / contrast / switching time of the pixels
Image quality (visual test on the display)
Battery life (working / charging time)
Operating noise when working / maximum
Warming up after 2 hours of operation (underside)
Operating the keyboard / touchpad
Operation of the touch screen
CPU/GPU: Core i7-11370H / GeForce RTX 3050 Ti Laptop
Display: 14.4 inches, 2400 x 1600 pixels
Weight: 1,830 grams, power adapter: 390 grams
high (66.7%) / very high (65.5%)
smooth (45 fps) / choppy (12 fps)
high (97.3% / 1,601:1 / 18.3ms)
high (yellow and green tones a bit pale, slight backlight bleeding at the edge of the image)
long (07:00 hrs) / short (02:03 hrs)
very quiet (0.8 sone) / loud (4.5 sone)
477GB, NVMe SSD (Samsung)
1x microphone, 1x headphones (combo jack), Type C (can be used at the same time) / USB 4.0 Type C, Type C with Thunderbolt 4
Wifi 6 (ax) / version 5.1 / not available
crisp pressure point, good key travel, very comfortable typing /
very large, very pleasant glass surface, minimal springing, pressure point evenly everywhere
pleasant surface, good operation, display wobbles in normal "laptop mode" during operation, pen support (not included)
For gambling workers
So much for theory, but how does the notebook fare in practice? It almost gets boring with Office programs. The device even loads performance-hungry Excel mutants with lots of macros pretty quickly. The advantage of the stronger Core i7 is that it can easily handle software for video or photo editing, such as Adobe Photoshop CC. The Surface Laptop Studio performs very well in both disciplines. But that's not all: Microsoft donated a separate graphics chip! A Geforce RTX 3050 Ti with 4 gigabytes of graphics memory works in the Surface – it has a lot of steam. Even complex games like "Cyberpunk 2077" run relatively smoothly in Full HD (1920×1180) at 48 frames per second. If you lower the graphics settings a bit, you can even get more FPS (frames per second). So nothing stands in the way of a little gamble during the lunch break.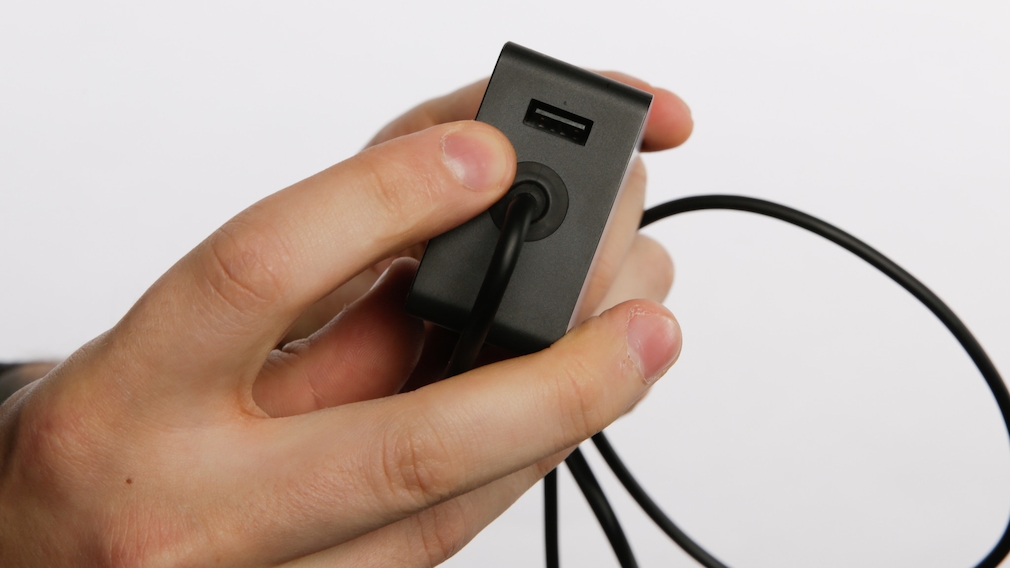 Great battery
So much power draws electricity! Nevertheless, the battery manages about seven hours in moderate use before the lights go out and the notebook has to be recharged. After all, charging doesn't take long, after two hours the battery is full again. By the way: The power adapter weighs only 390 grams, making it an inconspicuous companion, and the notebook itself isn't a chunk at 1.83 kilograms. There is still a small drawback: The Surface Laptop Studio gets a bit loud with 4.5 sone under full load. On the other hand, it is almost inaudible in normal operation (0.8).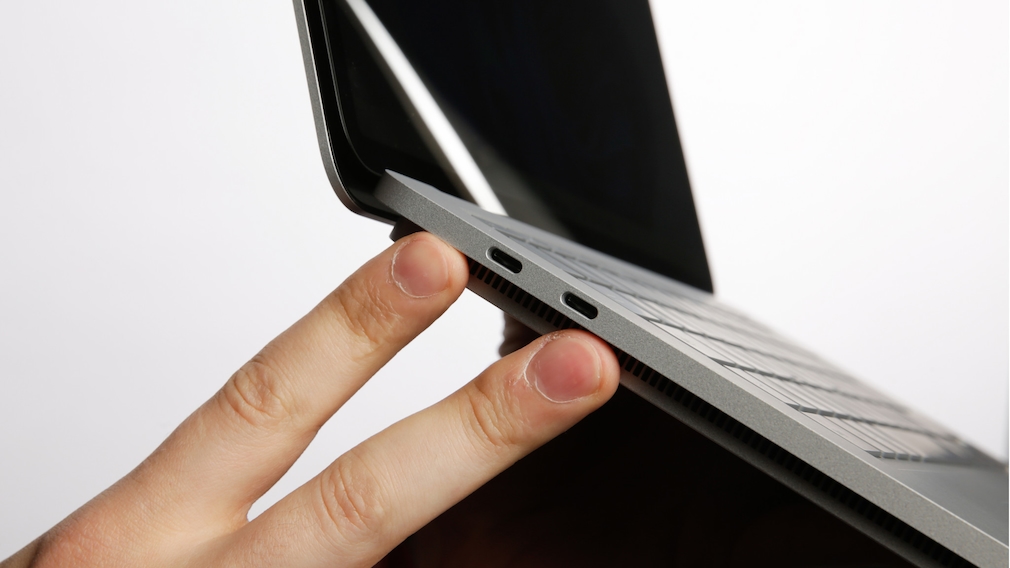 Thunderbolt 4: Few, but the best connections
Unfortunately, this is typical for chic premium notebooks: the Surface Laptop Studio is stingy with connections. Two USBs, all in the modern Type-C format with Thunderbolt 4 (also known as USB 4.0) and a connection for a headset or headphones should suffice. Or the user connects a docking station. On the wireless side, the very fast WLAN 6 (802.11ax) can be used for surfing the Internet, external speakers or headphones make friends with the Surface via Bluetooth 5.1.
Microsoft Surface Laptop Studio (A1Y-00005) in the test: the conclusion
Yes, it's not cheap: Like the other Surface products, the Surface Laptop Studio isn't a bargain. The equipment variant tested (Core i7, 16 GB, 512 GB SSD) already costs a whopping 2,199 euros. But there is also a very high-quality notebook with a lot of power. And it can be used in many different ways: Whether it's for work or gaming, the laptop is fun in every area of ​​application. In addition, the display is nice and sharp, the battery life is very long and the input devices are of high quality. So there is almost nothing to complain about.