MOBILITY

Sesame Solar introduces a mobile mini power plant that uses solar energy to produce "green" hydrogen without the emission of propellant gas. According to the manufacturer, this has never existed in this form before.
The US company Sesame Solar is presenting a mobile power station in the form of a trailer. It should remain operational for 20 years from the date of purchase.
The trailer houses an office and is initially intended for use in crisis areas or in the event of environmental disasters.
However, electric cars or e-bikes can also be charged in places without infrastructure.
In addition to solar cars with an incredible range and solar-powered mobile homes, trailers with the appropriate equipment are also playing an increasingly important role in the search for green electricity. This trailer from Sesame Solar houses an entire power plant.
External content
from Youtube
At this point you will find one Videos from Youtube, which complements the article. You can display this with one click.
I consent to external content being displayed to me. This allows personal data to be transmitted to third-party platforms. More about this in our privacy policy.
The trailer, which varies in length depending on the equipment and costs around 120,000 US dollars, can quickly be used anywhere in the world and can be moved or loaded with a forklift or even a helicopter. When stationary, the solar cells mounted on the roof unfold electrically. The setup should be able to be made operational by individuals within 15 minutes.
Continuous power supply thanks to hydrogen production

Depending on the design, the solar cells produce between 3 and 20 kW of power. The installed batteries store between 15 and 150 kilowatt hours of energy. With the help of the solar power, "green" hydrogen can also be produced directly on site, which is stored at low pressure in special tanks outside the trailer.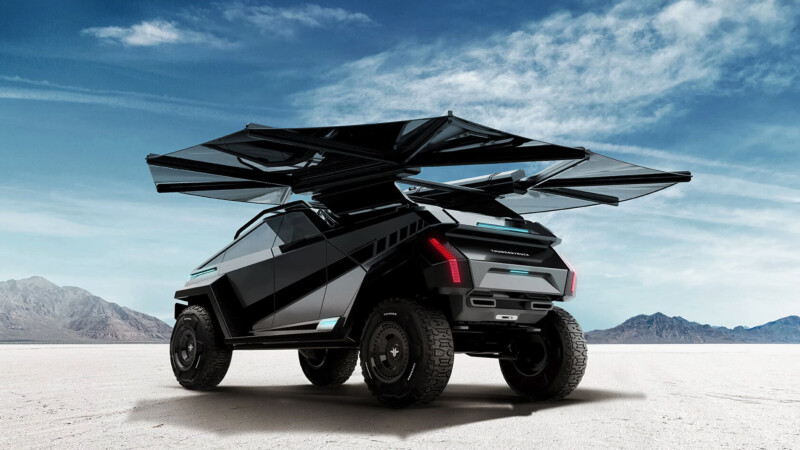 picture series
These are real getaway vehicles
These are real getaway vehicles
As soon as the batteries have reached a charge level of 35 percent and can no longer be charged via the solar cells – for example because the sun is no longer shining – an internal fuel cell starts up and fully charges the batteries again. This guarantees a power supply even in bad weather or in complete darkness. Wind turbines can also be connected. You can find more information here from the manufacturer. Also interesting: the Dutch manufacturer Lightyear presents a solar car that never needs to be recharged.
Don't miss anything with the NETWORK-Newsletter
Every Friday: The most informative and entertaining summary from the world of technology!