Emblematic character of "Plus belle la vie" for eighteen years, Roland Marci will die in the episode which will be broadcast Monday, October 3 on France 3. Michel Cordes, his interpreter, reacts for us to this death and to the stop from the Serie.
Roland's return to the Mistral, which took place last week in Plus belle la vie, was short-lived.
Even before the scheduled shutdown of the soap opera on November 18 on France 3, and as filming ends today in Marseille, a page is already turning for all fans of the adventures of the inhabitants of the Mistral, broadcast daily since 2004 and which revealed Laurent Kérusoré, Laëtitia Milot, Elodie Varlet, Léa François, or even Marwan Berreni.
This Monday, October 3, viewers will indeed witness the death of Roland Marci (Michel Cordes), the patriarch of Plus belle la vie, who will succumb to a heart attack, surrounded by his loved ones.
A shock twist which is no longer really a surprise for anyone, since the channel itself already posted an extract from the next episodes yesterday showing the Marci clan in mourning. But which already promises its share of emotion, for the characters as for the viewers who will certainly not fail to shed a few tears when saying goodbye to Roland.
Met during the last La Rochelle Festival, Michel Cordes, the interpreter of Roland, came back for us on the death of his character, on the symbol that she represents for him and for the series, and on the stop of More good life. Without forgetting to return to this long adventure of eighteen years and to entrust us with his projects for the future.
AlloCiné: How did you react when you learned of the end of Plus belle la vie?
Michael Cordes : I had already distanced myself somewhat from the soap opera. I was no longer recurring, I only came for periods. So it affected me less than others I think. But, personally, I find it unfortunate. Maybe we had to regenerate, change some things. In any case, in my opinion, France 3 should not have marked the end of Plus belle la vie.
This soap opera is unique on French television. Such longevity, with such an audience, is unheard of in France. So I think it's really unfortunate. It's a page in the history of television that is turning. And I understand that the public is very sad.
Do you think Plus belle la vie could come back one day, in one form or another (exceptional bonuses, spin-off)?
I think it would be a mistake to try to do exactly the same thing again. But a series inspired by it, why not. If there has been such a success, it is because there are elements that have contributed to it. So we could imagine a series that would take up some of these elements, with a different structure, a different color. I think we need to find something like that.
It's no longer a secret for anyone: Roland is going to die during the episode which will be broadcast on October 3 on France 3. What was your reaction when you learned that the writers were planning to kill your character?
It didn't surprise me that much. Many people told me that Roland was the emblematic character of the series. Hubert Besson, who contributed to making Plus belle la vie, said that it was the "totemic" character of the soap opera. The mainstay of the series. So, if we remove the tribe, we destroy the totem. Anyway, I experienced it that way. It seems quite logical to me.
Did the production warn you well in advance of its decision to kill Roland?
I had not played in the series for several months. And it was agreed that they had to let me know about three months before if they wanted me to come back occasionally. And there they told me fairly quickly that they wanted to bring Roland back. I wanted to come back for three weeks, but they asked me to stretch my presence a bit. And they told me "Here, we're going to kill Roland". But, again, we already knew the show was going to end so that made sense to me.
Before his death, Roland returned to the Mistral for a few episodes to help Kilian, who is going through a difficult period. Are you happy with this last plot?
Roland is true to himself. He is a big emotional, and the family, the children, it is fundamental for him. There was this storyline, a year and a half or two years before, where Kilian and Lola appeared. He ended up with two more children, it's the magic of soap operas (laughs). And so there he comes to revive this family. I really liked that the authors write these scenes, it is in the logic of the character.
We will therefore be entitled to beautiful scenes between Roland and his relatives before his death?
Oh that yes. Sure. Kilian, in particular, is still a very young man. He's not quite an adult yet. There are very beautiful scenes where Roland tries to make his son grow up. I shared very beautiful moments on the set with Tim Rousseau.
We imagine that Roland's death will be a real explosion for Thomas, Mirta, and all his family…
Sure. I believe the following week is very busy with the aftermath of his death and the tears. But it also gave us a lot of giggles on set, and that was good (laughs).
Were those last scenes filled with emotion?
I shot Roland's death a week before quitting. But I must say that the day of the last sequence, it was something. When the whole team applauds you for 10 minutes, it stirs. This series is eighteen years of adventure.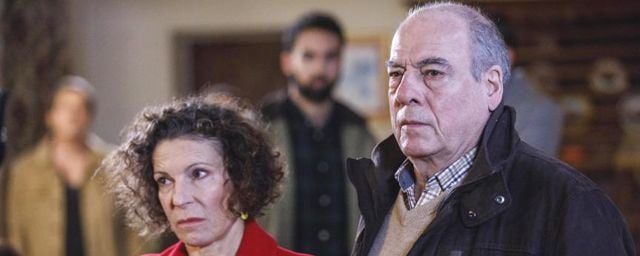 Over the eighteen years of Plus belle la vie, is there a plot that has marked you?
I don't really remember a plot in particular, no. Rather atmospheres. For example the bar, of course. With Laurent Kérusoré and Laëtitia Milot, we formed a very nice trio. It was very strong. They always made fun of me (laughs).
I prepared the props a lot, because playing and having physical action went hand in hand for me. So they laughed at me saying "That's it, Roland loses the ball, he talks to his rag" (laughs). These are moments that will remain etched in my memory.
You mention Laëtitia Milot. Do you regret that she didn't come back before the end of the series?
I do not know what happened. They might have been able to bring her back, yes. From time to time there are misses like that. But, yes, I think it would have been good for Mélanie to come back to the Mistral.
Despite this page that turns, we imagine that you will stay in touch with your playing partners, especially with Laurent Kérusoré. Have you forged very strong ties?
Sure. Laurent, I'm his fictional dad. It is important. But even with Laëtitia Milot and Sylvie Flepp. We have forged unbreakable bonds. It's normal, it's eighteen of our lives that we spent together.
How do you envision the future and after Plus belle la vie?
I am 77 years old, so the future is still a bit reduced for me (laughs). But I do a lot of sculpture so I'm going to devote myself to that. I have a new partner, just retired, with whom I get on very well, so I think we're going to have a good time.
And after 53 years of career, it will do me good to slow down. I traveled a lot, a little too much I think (laughs). I worked a lot in decentralization, in the theater, so I changed cities a lot. I have traveled millions of miles. So now I'm going to rest.
Before the end of the series, you came to meet the public with a large part of the team at the La Rochelle TV Fiction Festival in mid-September. Was it important for you, this last goodbye to the public that has followed you for so many years?
Yes really. I take it as a "last stand". We come to say thank you to the public. If we existed, it's still because, for eighteen years, millions of people followed us faithfully. For me, the boss is the public. It is for him that we work. So goodbye and thank you.