The star, the legend… NB2K23 will honor Michael Jordan via specific game modes on this basketball legend. Here's what to remember!
First appearing in NBA 2K11, the Jordan Challenge traces the basketball legend's career highlights. After more than ten years of absence, NBA wanted to once again honor him through NBA 2K23 to adapt to this generation of current consoles.
A game mode that also serves as a documentary in NBA 2k23
As 2K explains, most players in the 2011 release never had the chance to see Michael Jordan play live on TV or directly in the stands. This is why this new generation Jordan Challenge will allow sneaker fans to enjoy the history of Michael Jordan's career through a narrative experience that is intended to be totally immersive (dixit 2K).
A nice list of challenges
The Jordan Challenge mode actually consists of the presence of 15 unique match experiences, from the player's early days at the University of North Carolina through his heyday for the Chicago Bulls. In short, great moments in perspective. Here is the list of the 15 highlights of his career that it will be possible to experience:
1982 College Championship Final
Team USA 1984 practice match
Game 2 of the 1986 Eastern Conference playoffs first round
NBA All-Star Game 1988
Game 5 of the first round of the 1989 Eastern Conference playoffs
Reception of the Atlanta Hawks by the Chicago Bulls 1990
Reception of the Chicago Bulls by the Cleveland Cavaliers 1990
1990 Eastern Conference Finals Game 3
1991 NBA Finals Game 5
1992 NBA Finals Game 1
Reception of the Chicago Bulls by the New York Knicks 1995
1996 NBA Finals Game 6
1997 NBA Finals Game 5
Chicago Bulls vs. Los Angeles Lakers 1997
1998 NBA Finals Game 6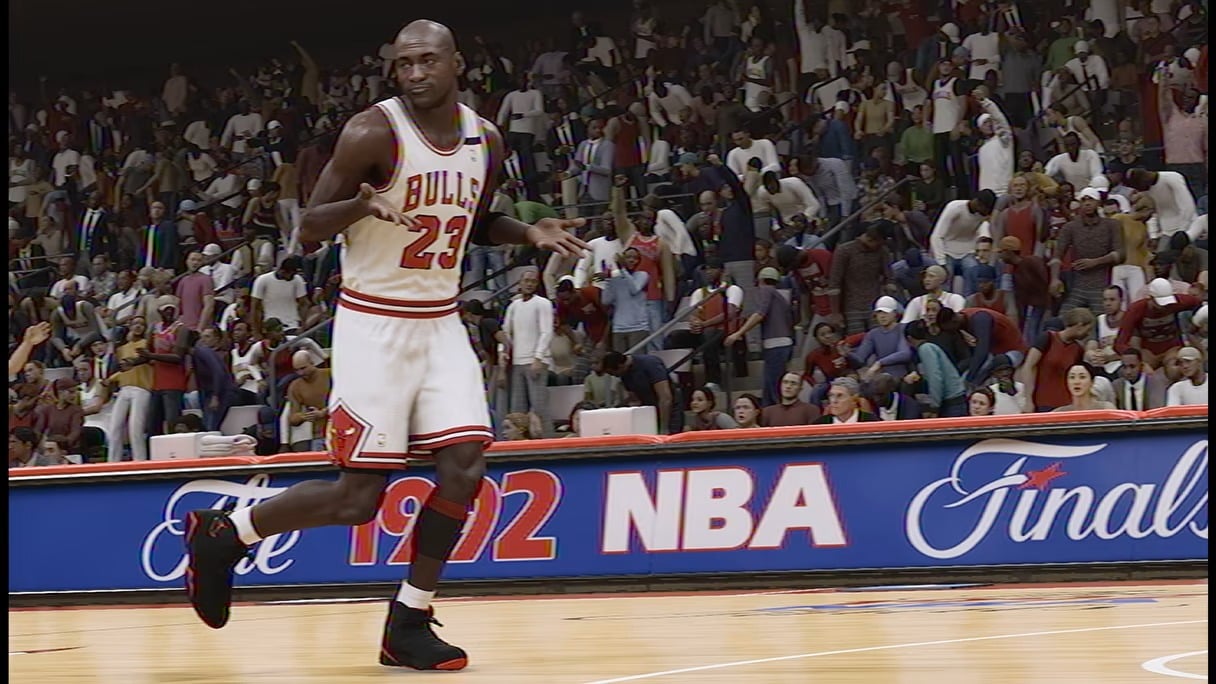 Realism down to your fingertips?
To get you in the mood, each of the 15 Jordan Challenge matches also includes a pre-match interview with a celebrity who may have helped make each match so special. Immersion at its peak. The vice is even pushed even further since un video filter system has been designed to recreate the experience of watching these matches on TVas they were broadcast in the 1980s and 1990s. You can see an example of this via the screenshots that dot this news.
Finally, authenticity is also found in Jordan's game with his passes behind the back, his way of moving, his jump shots, etc. Everything is obviously done to make the movements as faithful as possible.
Finally, the mode will be present on all versions of NBA 2K23. For the record the title must come out on PC, PlayStation 4, PlayStation 5, Xbox One, Xbox Series and Nintendo Switch on September 8. And it is the athlete Devin Booker (Phoenix Suns) who will be honored this year on the cover of the game.