During our last AG French Direct, Neverlooted Dungeon was present to show us some unpublished images. In order to know a little more about this atypical title, Arnaud-Emilien of Wild Mage Games gave us some of his time to answer a few additional questions to learn more about this project.
The Challenges of Developing a Solo Game
First of all, thank you for this interview! Can you quickly introduce yourself, who are you and what is your role in the game?
Thank you for granting me this interview and for your interest in Neverlooted Dungeon ! I am Arnaud Emilien, the founder and sole member of Wild Mage Games.
After a doctorate in computer science on the procedural generation of virtual worlds, I founded Wild Mage Games to create my own adventure games, inspired by games that had marked me a lot, such as Deus Exand my role-playing experiences like Dungeons & Dragons.
I have been working for 7 years on my first game, Neverlooted Dungeonon which I do all the programming, design, writing, 3D modeling, etc.
How do you approach the development of the game alone at the controls? Do you use feedback from the community?
Working alone on such an ambitious game is a complex task that requires a lot of organization and perseverance. First of all, I work with a "mind mapper" to organize all the tasks to be carried out in a hierarchical and dynamic way, which gives me both a high level view and a very detailed view of the tasks to be carried out.
Then, as wearing all the hats at the same time is not easy, I like to focus several days or weeks on certain tasks in the same field, with a well-defined general objective, for example: to achieve a new level, add a new feature, update marketing elements, etc.
Even though I'm developing the game alone, I have a small community of very active enthusiasts on Discord, some of whom have access to the game's private alpha, and with whom I regularly discuss my work in progress, the latest levels or new features. Some players already count more than 100 hours of play!
To put my game to the test, I regularly do observational playtests, where I watch live a playtester playing the game. By observing the game and the reactions, I see if the game provides the experience I want. imagined, what are the problems encountered, if the way of playing gives me ideas on things to change or add.
Were all game assets created by you?
I did all the design, programming, writing, 2D and 3D assets. For the areas that were really not my specialty, I called on external skills: I bought the sounds and some particle effects, the excellent background music is composed by Alexandre Sciré, and the Artwork for the game was done by David Alvarez.
A dungeon crawler like no other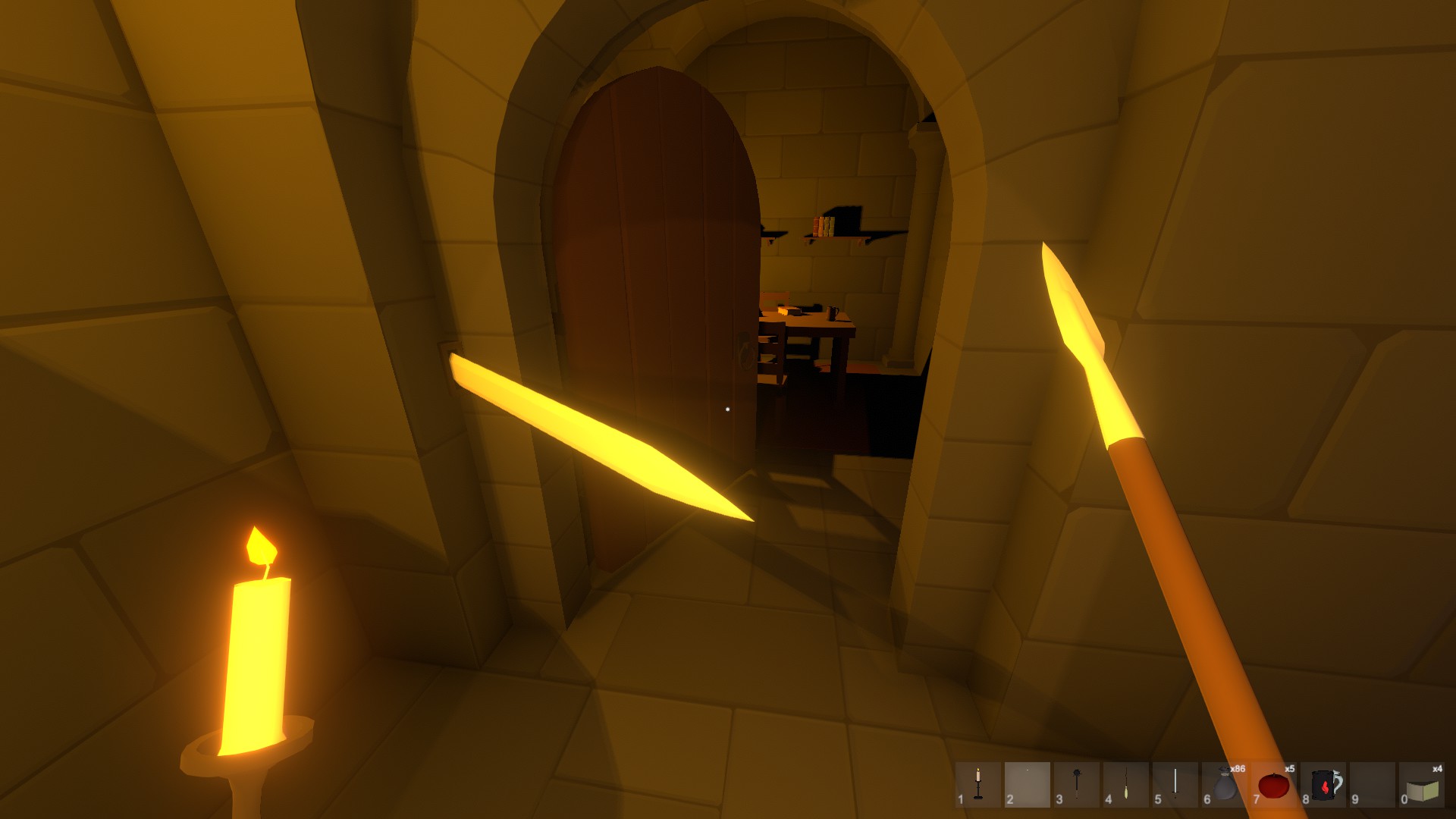 The game is distinguished by its twisted and labyrinthine level design, but also by its sandbox side with multiple possibilities. What were your inspirations for the creation of the title?
With Neverlooted Dungeonmy goal is to create a dungeon crawler with rich and immersive gameplay offering great freedom of action.
For this, I was inspired by my experience as a dungeon master on role-playing games such as Dungeons & Dragons, where the player is free to imagine their own solutions to the challenges encountered. I was also inspired by "immersive sims" like Ultima Underworld Where Arx Fatalis who try to offer a richness of game that is close to that of paper role-playing games, and games that have marked me a lot like Deus Ex and Thief: The Dark Project.
At the moment, I am also playing again tomb Raiderfor its atmospheric exploration, and I spend hours studying in detail the level-design of the different Dark Souls.
Neverlooted Dungeon promises to be a rather difficult and punishing game, is this a guideline in the creation of the title? Do you plan to offer easy options?
My guideline is to offer an intense experience, which is neither frustrating nor unfair, but a real challenge for the most hardcore gamers while remaining pleasant and accessible to a wider audience.
The player explores a dungeon full of deadly traps. A careless mistake is often unforgivable, as traps often kill unwary adventurers in one shot.
However, each trap is detectable, and the player will gradually learn to pay attention to the details so as not to be surprised. When the player dies, I want them to think "I was sure, I didn't pay enough attention, ah I wasn't paying attention anymore" and not "what an unfair game".
The punishment is present but limited. When the player dies, they restart from a nearby checkpoint, and single-use traps are not reactivated. The player recovers his equipment from his corpse and continues his progress, being more careful.
The game offers several difficulty modes, which can be customized and changed at any time during the game. We can for example define the visibility of the traps, to make them more or less easy to detect, or configure the damage caused by the traps, so as not to die each time.
A point on the future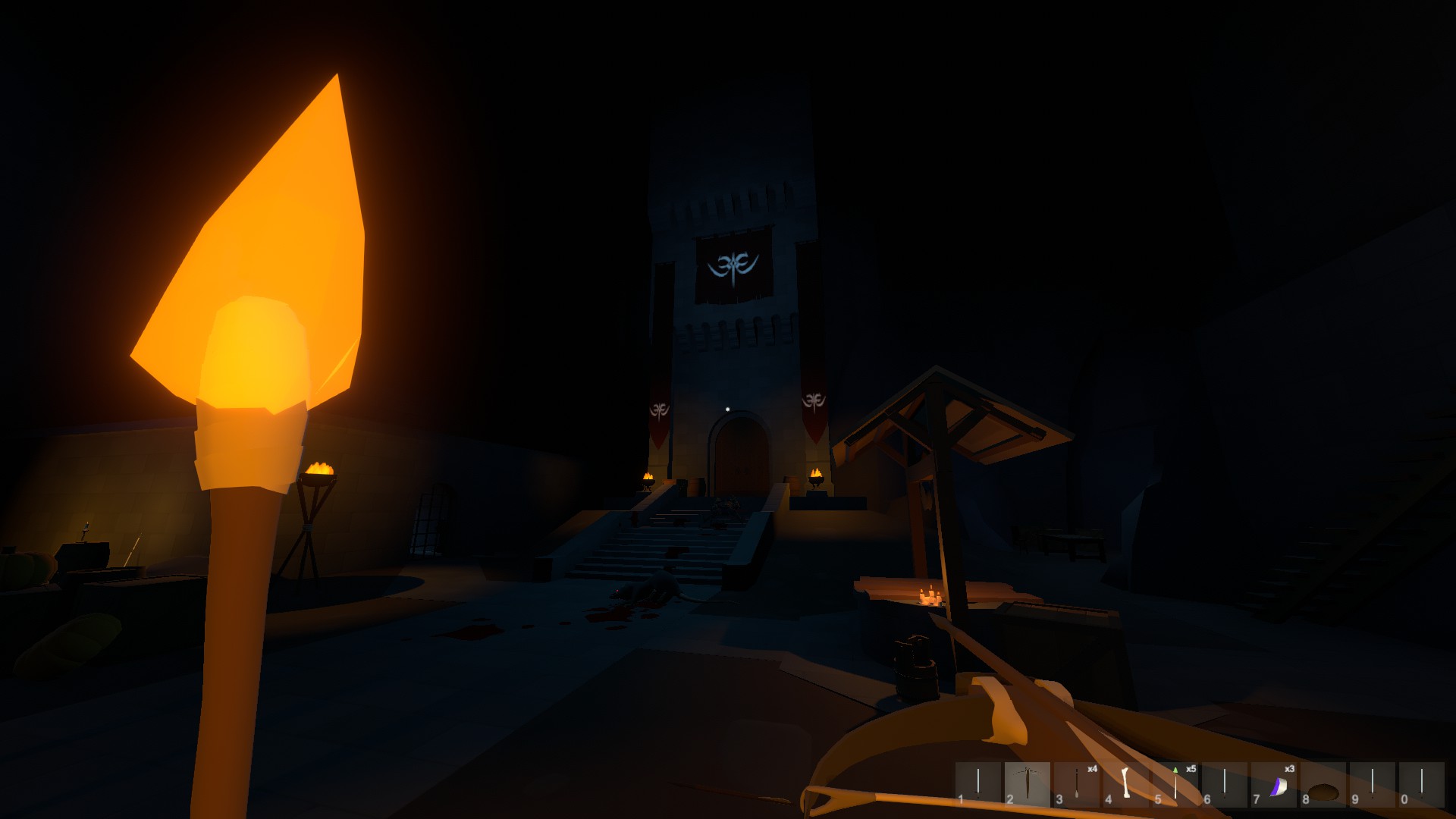 What new features/new content can we expect in the future?
I just finished an update containing a lot of new features: a large number of magic wands and equipment that offer new abilities. You can see some of them in the new trailer released during the AG French Direct, and try others in the demo that has just been updated!
For the sequel, I'm finishing the last big feature, deep water, which will allow swimming, underwater exploration, and above all to add water-based traps and puzzles.
Finally, I will work on new monsters to trap adventurers who dare to enter the Never Looted Dungeon…
You are also on another project "The Goblin's Week", can you tell us more about it?
What happens in a dungeon after the adventurers have passed? Someone has to clean up the corpses and reactivate the traps… That's the concept of The Goblin's Weekthe game I was working on when the studio launched.
The player embodies a goblin in charge of cleaning and various other thankless tasks. However, the evil dungeon master hides many secrets, which the player will have to discover by exploring a gigantic dungeon, infiltrating forbidden places, while continuing to play the obedient goblin.
After four years of development, I was facing design issues due to the complexity of the gameplay and the mixing of genres. I decided to put the project on hold and focus on a single gameplay: trapped dungeon exploration. That's how I started working on Neverlooted Dungeon.
A last word for our readers?
I invite you to try the demo and feel free to join the community to share your experience and give me feedback!
We thank Arnaud Emilien for his time and for his answers. You can try the demo of Neverlooted Dungeon on Steam. You will also find all the demos of the AG French Direct directly on the dedicated page of the event.