---
Do you need new games for the switch? Then you should take a look at the eShop now. Nintendo lets you save up to 80 percent on hundreds of games there. However, you don't have much time left to secure hits like Super Mario or Monster Hunter.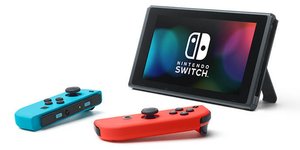 Nintendo Sale: Switch games are a lot cheaper right now
The big showdown sale in the Nintendo eShop has started. Until August 14th you can with several switch hits save loads of money. It's all about games that you can play competitively or cooperatively in multiplayer. You can find some highlights of the sale here:
Super Mario 3D World + Bowser's Fury for 59.99 euros 39.99 euros
Monster Hunter Rise for 59.99 euros 29.99 euros
Diablo III: Eternal Collection for 59.99 euros 29.99 euros
WarioWare: Get It Together for 49.99 euros 34.99 euros
LEGO Star Wars: The Skywalker Saga for 59.99 euros 44.99 euros
Super Mario party for 59.99 euros 39.99 euros
Super Mario Bros. U Deluxe for 59.99 euros 39.99 euros
Just dance 2022 for 59.99 euros 25.19 euros
Crypt of the NecroDancer: Nintendo Switch Edition 19.99 euros 3.99 euros
Tetris Effect: Connected for 39.99 euros 23.99 euros
Among Us for 4.29 euros 3.00 euros
You can find the full list of discounted games on the Nintendo eShop.
In our video you can see what secrets are hidden in the Nintendo Switch.
Switch sale for multiplayer games: something is missing
With every purchase in the Nintendo eShop, you will receive an additional 5 percent of the purchase price in Gold Points, which you can redeem later. to get Switch hits cheaper. However, sales in the Nintendo eShop are usually a little less lucrative than, for example, on the PC platform Steam. Big Nintendo games like Super Mario, Link or Kirby in particular often only drop slightly in price.
After all, the current showdown sale lets you save on Mario Party and Super Mario 3D World + Bowser's Fury. The current Unfortunately, Super Mario Party Superstars is completely missing. Also, in a sale geared specifically towards multiplayer games, it would be nice to see discounts on Mario Kart 8 Deluxe or Super Smash Bros. Ultimate as well.